EMC Boosts Sales, Profit Forecasts as Demand Climbs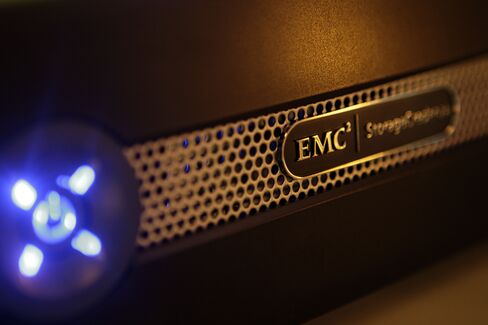 EMC Corp., the world's biggest maker of storage computers, boosted its full-year sales and profit forecasts as corporate customers resumed spending on information-technology products after the recession.
Sales will be $16.5 billion this year, EMC said today in a statement. Analysts in a Bloomberg survey had predicted revenue of $16.1 billion, on average. Per-share profit, minus some costs, will be $1.18, EMC said. That also topped estimates.
Companies are replacing computers and buying more data- storage services after delaying purchases amid the recession last year. EMC's customers also are buying more expensive storage products as they shift to cloud computing, said Daniel Ives, an analyst at FBR Capital Markets & Co. in New York. Cloud users store and access data on external servers.
"Storage, especially on the high end, is at the early beginnings of a monster growth cycle," said Ives, who rates the shares "outperform" and doesn't own them. "EMC is at the front and center of benefitting from that trend."
Information-technology spending will climb 1.7 percent in 2010, after dropping 3.1 percent last year, according to an estimate from Morgan Stanley. EMC's competitors include Hewlett- Packard Co. and Sunnyvale, California-based NetApp Inc.
EMC, based in Hopkinton, Massachusetts, rose 44 cents, or 2.3 percent, to $19.85 at 4:01 p.m. in New York Stock Exchange composite trading. The shares have climbed 14 percent this year.
Net Income Rises
The company benefited from "pent-up" demand for its services in the first quarter, though the heaviest spending won't last through the year, Chief Financial Officer David Goulden said on a conference call. Spending on information technology is "on track" to increase 3 percent to 5 percent in 2010, he said.
Net income climbed 92 percent, to $372.7 million, or 17 cents a share, compared with $194.1 million, or 10 cents, a year earlier. Revenue rose 23 percent to $3.89 billion, beating the average estimate of $3.7 billion.
First-quarter profit, excluding some costs, was 26 cents a share, compared with the 24-cent average of analysts. In January, EMC said full-year per-share profit, excluding restructuring and acquisition-related costs, would be $1.12 on sales of $16 billion.
First-quarter revenue got a boost from EMC's majority stake in VMware Inc., the largest maker of virtualization software. VMware reported a 35 percent increase in sales yesterday, as companies spent more on programs that help run multiple operating systems on the same computer.
In March, EMC said it would purchase shares of VMware on the open market to maintain 80 percent ownership of the company.
Before it's here, it's on the Bloomberg Terminal.
LEARN MORE