EADS May Benefit From Tanker Bid Even If Entry Loses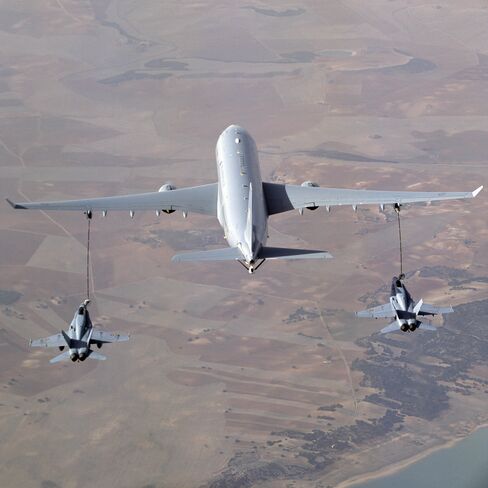 April 21 (Bloomberg) -- European Aeronautic, Defence & Space Co.'s planned bid for the U.S. military's $35 billion refueling tanker program may pay off by raising the planemaker's stature for future competitions even if this one fails.
"It's an extremely long shot" with possible strategic benefits, said Richard Aboulafia, an aerospace analyst at Teal Group, a defense consulting firm in Fairfax, Virginia. "Showing up for the first competition should help in terms of being part of the second competition."
The European parent of planemaker Airbus SAS said April 20 it would submit a bid for the Air Force contract based on its A330, vying against Boeing Co.'s 767-based tanker. The rivals received 60 extra days to prepare entries after EADS's senior partner, Northrop Grumman Corp., dropped out in March. EADS and Northrop had bid in the contest in 2008 and beat Boeing, only to see their victory unravel after the losing party protested.
Winning the tanker competition would help the Paris- and Munich-based company expand its U.S. presence with a planned manufacturing facility in Mobile, Alabama, that would assemble tankers and Airbus A330 commercial freighters. EADS is the prime contractor on an order valued at as much as $2 billion to supply the U.S. Army with a fleet of light-utility helicopters.
The winner of the tanker competition will replace 179 of the Pentagon's more than 500 KC-135 planes. The remaining planes and a fleet of about 60 larger KC-10 tankers are to be upgraded later. The first plane in the KC-135 class built by Boeing flew in 1956, and the last one was delivered decades ago.
'Good Chance'
"We think that we have a good chance to win because our machine has won every previous competition and especially because it exists, it's not a paper aircraft or an artist's view as our rival's aircraft," EADS Chief Executive Officer Louis Gallois said today at a Paris press briefing.
Winning the tanker competition would "positively establish EADS North America as an extension of the largest aerospace company in the world," Sean O'Keefe, CEO of EADS North America, said at a news conference in Washington on April 20.
O'Keefe said the company's bid would meet all of the Air Force's 372 criteria. About 30 of those requirements necessitate handling of sensitive U.S. military technology, O'Keefe said.
"We have all the clearances necessary to do that," he said. The company may complement its expertise in the area with U.S. partners, he said.
Australian Tanker
EADS is also assembling A330-based tankers for the Royal Australian Air Force in Spain and could use those facilities to assemble the first three U.S. Air Force tankers while preparing its assembly line in Alabama, said Ralph Crosby, chairman of EADS North America.
That site would be among the key benefits to EADS from winning the contract, Douglas Harned, a New York-based analyst for Sanford C. Bernstein & Co., wrote in a note to clients yesterday. EADS potentially would be able to build A330 commercial freighters and other planes there in the long term.
"In addition, EADS North America sees this as an opportunity to position itself as a credible competitor for major U.S. defense contracts," Harned wrote.
Boeing expressed disappointment over the bid extension and said its tanker is best-suited for the U.S. military's needs. The company said it's also concerned that the bidding process won't consider World Trade Organization findings about subsidies to Airbus.
'Rules of Fair Play'
Some U.S. lawmakers who support the Boeing bid cited the WTO ruling as grounds for opposing EADS.
The Pentagon is "bending over backwards to include a company that has broken rules of fair play," said Senator Patty Murray, a Democrat of Washington, which is home to Boeing's manufacturing hub. "We cannot and should not be rewarding this behavior."
Representative Todd Tiahrt, a Republican from Kansas, where Boeing has manufacturing facilities, said in a statement that the Pentagon must "account for the illegal subsidies" provided to EADS.
The Pentagon said EADS's bid would benefit both taxpayers and the military by providing competition.
"The department is committed to conduct a fair, open and transparent acquisition process," Geoff Morrell, the Pentagon spokesman, said in an e-mail. Qualified U.S. companies that want to partner with EADS are "welcome to do so," he said in a phone interview later.
Change of Mind
Gallois said in March there wasn't enough time to compete for the contract after Northrop pulled out. He changed his mind after the U.S. Defense Department indicated it was willing to accept EADS as the prime contractor and extended the deadline by 60 days, EADS spokesman Alexander Reinhardt said yesterday.
"I believe EADS management knows this will be a tough competition for them to win, but they've simply come too far and the prize is too big for them not to continue," Jason Adams, an analyst at Nomura International Plc in London, said in an e-mail. He has a "buy" rating on the company's shares.
Assembling commercial planes on American soil, as Airbus has said it would do in Alabama, would let it fix more costs in U.S. dollars, the currency for international plane purchases.
O'Keefe said EADS's tanker bid will be supported by U.S. suppliers including General Electric Co., which makes engines for the Airbus A330 airplane, and Honeywell International Inc., which makes cockpit control equipment. Cobham Plc, based in Wimborne, England will make the refueling equipment, he said.
EADS competing for the tanker competition "is good news for the U.S. tax payer" as EADS can "further sharpen its pencil on price" with Boeing probably following suit, Adams said.
Boeing rose 45 cents to $71.41 yesterday in New York trading. EADS fell as much as 0.5 percent to 14.56 euros in Paris trading today.
To contact the reporter on this story: Gopal Ratnam in Washington at gratnam1@bloomberg.net.
To contact the editors responsible for this story: Kevin Miller at kmiller@bloomberg.net; Benedikt Kammel at bkammel@bloomberg.net.