Boeing Profit Tops Estimates as Margins Improve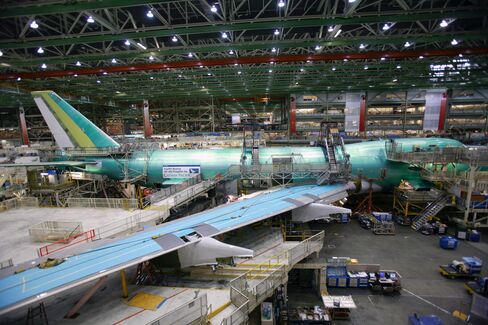 Boeing Co. posted first-quarter profit that beat analysts' estimates as higher operating margins for commercial planes helped compensate for a drop in jet deliveries and the loss of a health-care tax benefit.
Net income fell 15 percent to $519 million, or 70 cents a share, from $610 million, or 86 cents, a year earlier, Chicago- based Boeing said in a statement today. The average estimate of 20 analysts surveyed by Bloomberg was 64 cents. Sales fell 7.8 percent to $15.2 billion.
The company's operating margin rose 1.5 percentage points to 7.7 percent from the year-earlier quarter, which was hurt by a charge on the 747 airliner program. Profit still may double this year amid "tangible improvement" in the air-travel outlook, Chief Executive Officer Jim McNerney said today.
"'Stability' is the one word I'd use to describe both financial and order performance," said George Van Horn, an analyst with Los Angeles-based research firm IBISWorld Inc. "The performance is stabilizing, and it's certainly well along in the process of getting it going in the right direction."
Boeing rose $2.75, or 3.9 percent, to $74.16 at 4:15 p.m. in New York Stock Exchange composite trading. The shares have more than doubled in the past 12 months.
Deliveries Decline
An 11 percent drop in deliveries, to 108, was tempered because a greater number of them were more-profitable 777 freighters, Chief Financial Officer James Bell said on a conference call with analysts and investors. Bell said in January that the first quarter of 2010 would be the year's weakest.
Airbus SAS, the world's largest commercial aircraft producer, delivered 122 planes in the quarter and will announce first-quarter earnings on May 14. Boeing is the second-biggest maker of airliners and the No. 2 U.S. defense contractor.
A previously announced $150 million charge reduced earnings by 20 cents a share after Boeing lost a tax benefit under the new U.S. health-care reform law. That hurt the forecast for the year by a commensurate amount, so Boeing said today it expects profit of $3.50 to $3.80 a share, compared with $1.84 a share in 2009.
Revenue will rise next year from an expected $64 billion to $66 billion in 2010, Boeing repeated. Orders may benefit from airline passenger traffic growth, which will be at the upper end of a forecast of 3 percent to 5 percent this year, marketing chief Randy Tinseth said in an interview last week.
777, 737 Production
Last year's 142 net orders were a 15-year low. Boeing plans to restore production of the 777 in 2011 after cutting it this year because of a drop in air travel during the recession and will decide this quarter whether to boost output of the 737, McNerney said. The backlog of delivery-deferral requests from airlines is decreasing as travel demand grows, he said.
Boeing still expects to ship 460 to 465 jets, compared with 481 last year. First-quarter deliveries fell after Boeing stopped making jumbo jets while working on a new 747 variant and some planes were delayed because of defective seats from a Japanese supplier. The year-ago quarter benefited as Boeing delivered planes that had been held up by a two-month strike at the end of 2008 that idled its airliner factories.
The company said it still expects operating cash flow to be zero this year after a negative $285 million in the first quarter. Cash flow may reach more than $5 billion in 2011 as revenue benefits from deliveries of two new models, the 787 and the 747-8, both due to enter service at the end of 2010.
Dreamliner Progress
The 787 Dreamliner still has a month to a month and a half of cushion left in its schedule even though the U.S. Federal Aviation Administration is about a month behind in putting its pilots aboard for flight tests, McNerney said.
The buffer has been helped because fewer configuration changes were required than expected, since delays to the program gave engineers extra time to work on its design. The team is aiming to increase the contingency period, he said.
McNerney repeated that the composite-plastic Dreamliner is on schedule to be delivered to the first customer at the end of this year, which will be more than two years behind the original May 2008 target because of struggles with development and production. The integrity and configuration of the new jet's wing have been shown to be "superb" in flight testing, he said.
The delayed 747-8 jumbo jet also has adequate cushion in its flight-test schedule to meet a first-delivery target at the end of the year, even after engineers have had to make changes "to improve handling characteristics," McNerney said.
Commercial Backlog
Boeing's commercial backlog fell to 3,350 planes valued at $250 billion, from 3,375 aircraft at the end of December, as deliveries surpassed new orders. The commercial unit's earnings rose 63 percent to $679 million, in the absence of a year-ago charge on the loss-making 747-8 program, while sales dropped 13 percent to $7.47 billion. Profit was aided by a shift in research & development spending that will be made up later this year, Bell said.
The defense unit posted a profit decline of about 6.3 percent to $664 million, as sales decreased 1.4 percent to $7.61 billion. Military spending in the U.S. continues to be under "significant budget pressures," and the company is seeking opportunities abroad to boost revenue, McNerney said.