U.K. March Inflation Accelerates More Than Forecast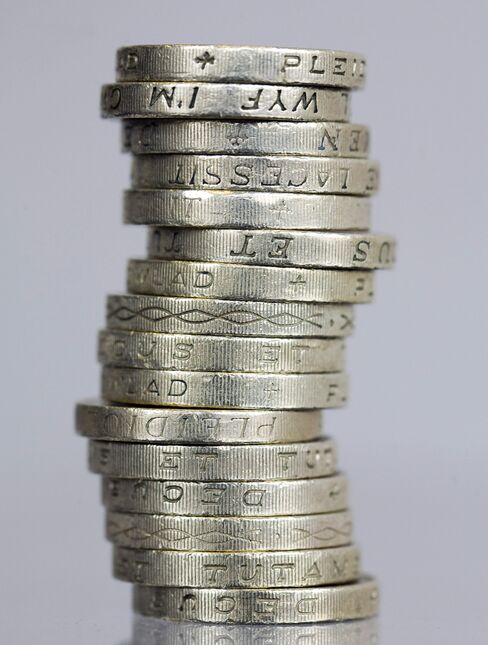 April 20 (Bloomberg) -- The U.K.'s inflation rate jumped more than economists forecast in March, breaching the government's upper limit for the second time this year after energy costs rose within weeks of the election.
Consumer prices climbed 3.4 percent from a year earlier, compared with a 3 percent increase in February, the Office for National Statistics said in London today. The median forecast of 30 economists surveyed by Bloomberg News was 3.1 percent. On the month, prices increased 0.6 percent.
A weak pound is helping push up the cost of imports as Prime Minister Gordon Brown tries to convince voters ahead of a May 6 election that he is the best choice to help nurture the economic recovery and reduce the budget deficit. The Bank of England has a mandate to target inflation at 2 percent and keep it within 1 percentage point of that goal.
"We have upward pressures from commodity prices and we have yet to see full impact of past weakness of sterling filtering through," Nick Kounis, chief European economist at Fortis Bank Nederland NV in Amsterdam and a former U.K. Treasury official, said in a telephone interview. "We're going to see above target inflation persisting in coming months and our base case is for the Bank of England to raise its rate in August."
The pound extended its gain against the dollar after the report. It rose as much as 0.5 percent to $1.5415 and was at $1.5378 as of 9:42 a.m. in London. The pound has dropped about 25 percent on a trade-weighted basis since the start of 2007.
Energy Costs
Inflation accelerated due to higher prices for gas, fuel, air transport and food, the statistics office said. Transport costs rose 11.3 percent in March from a year earlier, the most since the series began in 1997. Overall inflation has exceeded the central bank's 2 percent target for the last four months.
Centrica Plc, Britain's biggest energy supplier, said on March 24 that household energy prices may rise in future years as the global oversupply of natural gas dissipates.
Oil prices have soared 77 percent in that last 12 months and the Automobile Association Ltd. said this month that the price of petrol at filling stations climbed to an average 119.9 pence ($1.84) a liter on April 7. That beat the previous record in July 2008.
Core inflation, which excludes costs of energy, food, alcohol and tobacco, unexpectedly accelerated to 3 percent in March from 2.9 percent in February. Economists had forecast a 2.8 percent rate, according to the median of 10 estimates in a Bloomberg News survey.
'Stable'
The Bank of England this month kept its bond-purchase plan at 200 billion pounds and held its benchmark interest rate at a record low 0.5 percent.
Central bank Governor Mervyn King was forced to write a letter to Chancellor of the Exchequer Alistair Darling in February after inflation accelerated to 3.5 percent. Brown said on April 14 that one of his main responsibilities is to keep inflation and interest rates low.
King didn't need to write another letter today explaining the deviation of inflation above 3 percent because he only needs to do so at three-month intervals. The governor last wrote one in February, which was the sixth such occasion since the central bank was granted independence in setting interest rates in 1997.
"I've got to make sure coming out of this global recession we have a stable low level of inflation and interest rates," he said. "If we lose the economy this year and suddenly plunge down, that would be a major problem."
GDP Report
With national elections two weeks away, Brown is banking on the U.K. economy's return to growth to help his Labour Party win a fourth consecutive term. Gross domestic product probably rose 0.4 percent in the first quarter, matching the pace of the final three months of 2009, according to the median forecast of 31 economists surveyed by Bloomberg. The statistics office will release that data on April 23.
Retail price inflation, a cost of living measure used in wage negotiations, was 4.4 percent in March, the statistics office said. Excluding mortgage payments, the rate was 4.8 percent. Both are at the highest since September 2008.
To contact the reporter on this story: Svenja O'Donnell in London at sodonnell@bloomberg.net.
To contact the editor responsible for this story: John Fraher at jfraher@bloomberg.net