Johnnie Walker, Ferragamo Sales Suffer Amid Ash Cloud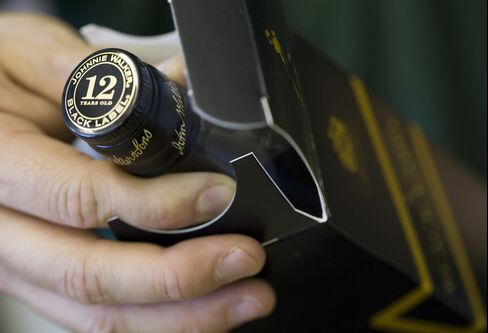 April 20 (Bloomberg) -- The closure of European airspace is costing duty-free retailers 25 million euros ($34 million) a day in lost revenue as items like Ferragamo shoes and Johnnie Walker whisky go unsold, Generation Research estimates.
The shutdown is hurting an industry struggling to recover from last year's recession. Sales of duty-free items sold at airport shops and on planes fell 8 percent to $22.7 billion last year, Örnsköldsvik, Sweden-based Generation estimated. European sales accounted for almost half of that.
The lack of passenger traffic from delayed flights at airports inside and outside the restricted fly zone already accounts for four or five days' lost duty-free revenue, according to Luca Solca, an analyst at Sanford C. Bernstein Ltd. in London. Airports are empty and, where travelers are stranded, they're probably not in the mood to shop, Solca said.
"This is certainly a negative for the industry," Solca said in a telephone interview.
Traffic authorities across Europe imposed a flight ban after Iceland's Eyjafjallajökull volcano erupted April 14, spewing dust across Europe. While airspace is gradually reopening across the continent today where the dust is thinnest, a new ash cloud headed for the U.K. means London's airports may not be able to open, National Air Traffic Services said.
Ash Cloud
The ash, which can clog plane engines, has resulted in the cancellation of as many as 81,000 flights and prompted the closure of airports from Dublin to Moscow. The International Air Transport Association predicted that it will take as long as six days for traffic to get back to normal once a ban ends, as carriers work through a backlog of stranded passengers and reposition planes.
Salvatore Ferragamo SpA, the Italian luxury shoemaker, has about 130 duty free stores worldwide, accounting for between 10 percent and 11 percent of annual sales, according to Chief Executive Officer Michele Norsa. The disruptions are hurting airport sales of Ferragamo handbags, wallets and ties, he said.
"Our concessions are located beyond the security gates," Norsa said in a telephone interview. "People are being sent away and therefore not entering the stores."
Travelers are also not arriving from Asia, said Norsa, who in a January interview said Chinese people are the biggest spenders on luxury goods in Europe. On the plus side, sales at Ferragamo stores in cities across Europe are being boosted as shoppers stay home or on holiday, he added.
Luxury Brands
Other luxury brands that will be affected by the airport closures include LVMH Moet Hennessy Louis Vuitton SA and Burberry Plc, said John Guy, an analyst at RBS in London. Even so, duty-free "is a relatively small part of their businesses," he added. LVMH's sales that will be most influenced are at its drinks business, which sells items including Veuve Clicquot champagne and Hennessy cognac, Guy said.
The volcano is not affecting sales, Burberry Chief Financial Officer Stacey Cartwright said today. Sonia Fellmann, a spokeswoman for LVMH, didn't immediately return calls seeking comment.
Folli Follie SA, the Athens-based owner of Hellenic Duty Free Shops and British jeweler Links of London, said April was not important month for travel retail.
Travel Season
"For us the season really starts in May," Folli Follie spokeswoman Mantalena Kasidiaropoulou said in a telephone interview. Easter last year fell on the weekend just passed so "it's not really comparable in terms of figures," she said. Traffic was up at border stations at ports in the Aegean and in the Balkans, she added.
Distillers including Diageo Plc and Pernod Ricard SA rely on duty free stores to sell some of their priciest products, such as Diageo's "The John Walker" limited-release whisky, which retails for $3,000 a bottle and is only sold in travel retail outlets. Duty free is the fifth-biggest market for spirits sales behind the U.S., France, Spain, and the U.K., with 16 million cases sold globally in 2009, according to Pernod's annual report.
"Duty free is a key part of the business for ultra-premium products," said Andy Blain, an analyst at Shore Capital in London.
Pernod, Diageo
Pernod generates about 5 percent of total sales from duty-free, while London-based Diageo generates about 2 percent of annual sales from its global travel unit.
"There will be a negative impact as long as it lasts; however, we do not expect it to impact our full-year results or the recovery we are seeing in our global travel business," James Crampton, spokesman for Diageo, said in an e-mail. "We expect to recoup some sales when people fly again."
Pernod has "yet to see an impact" on customer order patterns and "some parts of Europe continue to trade as normal," John Smailes, marketing director of Pernod Ricard Travel Retail Europe, said in an e-mail.
"The ferry business in the English Channel and the Baltics are likely to see significant uplifts as a result of the situation," Smailes said.
To contact the reporter on this story: Andrew Roberts in Paris at Aroberts36@bloomberg.net.
To contact the editor responsible for this story: Celeste Perri at cperri@bloomberg.net.