EADS to Bid for Tanker, Seek Partner to Beat Boeing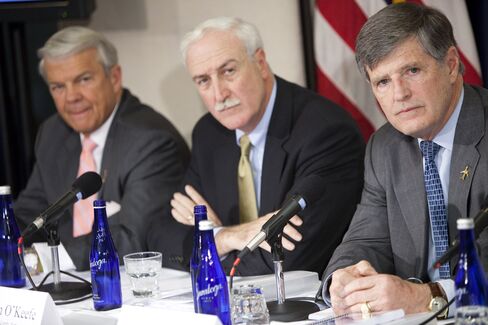 European Aeronautic, Defence & Space Co. said it will bid in the $35 billion contest to build aerial refueling tankers for the U.S. Air Force in a challenge to Boeing Co., the sole provider since the 1950s.
The parent of Toulouse, France-based Airbus SAS is in talks with potential U.S. partners and plans to bid on July 9, EADS said in a statement today. EADS said the tankers, which it calls the KC-45, and Airbus A330 commercial freighters would be manufactured at a facility to be built in Mobile, Alabama.
The European company, based in Paris and Munich, is seeking to build a larger presence in the U.S., the world's biggest defense market. Its efforts have been assailed by Boeing supporters on Capitol Hill, including some who sought to use a U.S.-European dispute at the World Trade Organization as ammunition to keep it from bidding on the tanker program.
"EADS is clearly the underdog," Jason Adams, an analyst at Nomura International Plc. in London, said in an e-mail. "EADS management knows this will be a tough competition for them to win, but they've simply come too far and the prize is too big for them not to continue." He has a "buy" rating on the company's shares.
EADS had bid as a junior partner with Northrop Grumman Corp. and beat Chicago-based Boeing in the contest in 2008, only to see the victory unravel after the losing bidder protested. Northrop dropped out of a revived competition on March 8, saying the rules favored Boeing's 767, a smaller plane than the Airbus A330 it was offering with EADS.
Change of Mind
Louis Gallois, EADS's chief executive officer, originally said that there wasn't enough time to compete for the contract after Northrop pulled out. Gallois changed his mind after the U.S. Defense Department indicated it was willing to accept EADS as the prime contractor and extended the deadline by 60 days, EADS spokesman Alexander Reinhardt said today.
The Pentagon is seeking to buy 179 planes to replace its fleet of KC-135 tankers. The first plane in the class built by Boeing flew in 1956 and the last one was delivered decades ago.
"We have consistently supported competition" on the tanker program, Geoff Morrell, a Pentagon spokesman, said today. "Any company that is interested and qualified to participate in this important program should do so."
Assembling commercial planes on American soil, as Airbus has said it would do in Alabama, would let it fix more costs in U.S. dollars, the currency for international plane purchases.
"The KC-45 offers what the Air Force needs today," Sean O'Keefe, CEO of EADS North America, said in the statement. The plane would support tens of thousands of jobs, he said.
Boeing Response
Boeing said today it's disappointed by the bid extension and considers its tanker best-suited for the competition. The company said it's also concerned that the bidding process won't consider the WTO findings about subsidies to Airbus and EADS.
O'Keefe said EADS's tanker bid will be supported by U.S. suppliers including General Electric Co., which makes engines for the Airbus A330 airplane, and Honeywell International Inc., which makes cockpit control equipment. Cobham Plc, based in Wimborne, England, will make the refueling equipment, he said.
Boeing rose 45 cents, or less than 1 percent, to $71.41 at 4:15 p.m. in New York Stock Exchange composite trading. EADS rose 22 cents, or 1.5 percent, to 14.64 euros today in Paris.