Democrats Likely to Drop Fund to Draw Republicans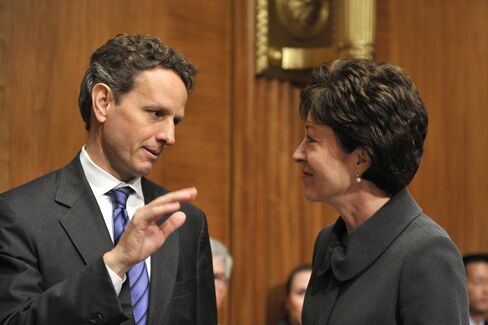 Senate Democrats likely will scrap a proposal for a $50 billion fund to wind down big failing companies in an effort to draw Republican support for financial-overhaul legislation being considered later this week.
Senators Susan Collins and Olympia Snowe, both Maine Republicans who are seen as potential supporters of the bill, told reporters yesterday they oppose the fund. Treasury Secretary Timothy Geithner told Collins that the Obama administration also is lukewarm to the idea.
"This can be worked out in a bipartisan bill that will greatly strengthen our financial system and prevent the too-big-to-fail phenomenon," Collins said following her meeting with Geithner, who has spent the last week courting Republicans to back the bill. "We need to prevent creating a moral hazard, which the $50 billion bailout fund clearly does."
The Obama administration and Senate Democrats need at least one Republican vote to start debate on the financial- markets overhaul in the chamber. That task became harder when all 41 Republican senators signed a letter last week opposing the legislation, sponsored by Senate Banking Committee Chairman Christopher Dodd, a Connecticut Democrat.
'Reverse Course'
Dodd and Senate Majority Leader Harry Reid, a Nevada Democrat, today sent a letter to Senate Minority Leader Mitch McConnell, a Kentucky Republican, asking McConnell "to reverse course" and join them in producing "a strong, bipartisan" bill.
"We stand ready to consider additional suggestions from Senate Republicans before and after the bill reaches the Senate floor," wrote Dodd and Reid.
McConnell, in a Senate floor speech today, said the bill "is not unfixable," and that he's "heartened to hear that bipartisan talks have resumed in earnest."
The fund stoked Republican opposition to the legislation. The measure would set up a mechanism to allow the government to unwind systemically important failed financial institutions in a process that would be paid for by the industry-supported fund. Republicans say the provision would institutionalize taxpayer-funded bailouts of Wall Street banks.
Dropping the fund would take away a Republican talking point against the bill. The move wouldn't necessarily secure votes from Republicans, who are seeking additional changes to the legislation.
Rainy-Day Fund
Asked if removing the rainy-day fund would entice her to back the bill, Snowe said, "That would be helpful."
The $50 billion fund would be paid for by the large financial firms with money collected in advance of any failure. President Barack Obama last year proposed having the industry repay the government for the cost of dissolving a failed firm only after one collapses.
Dodd told reporters yesterday he isn't committed to the fund, which he said was a Republican idea. He added that he is willing to consider alternatives.
"There are many ways of doing this," Dodd said. "The common point of interest is not to have taxpayers be exposed."
One option is to create a pre-paid trust that could be used only to unwind failed firms, said Dodd, 65.
Richard Shelby, the Senate Banking Committee's top Republican who is negotiating a compromise bill with Dodd, said he supported dropping the fund.
'Knock That Out'
"We need to knock that out," Shelby, 75, of Alabama, told reporters following a meeting with Dodd. "We want to send the message, as I keep saying -- unambiguous -- that nothing is too big to fail."
The overhaul legislation would have prevented the fraudulent activity alleged in the Securities and Exchange Commission's April 16 lawsuit against Goldman Sachs Group Inc., Dodd said yesterday at a Washington news conference.
"By not enacting our legislation, by filibustering it, stopping it, we leave the American public vulnerable once again to the kind of shenanigans that have occurred in our large financial institutions across this country," Dodd said.
The Obama administration has stepped up its lobbying of lawmakers in recent weeks after debate over the Wall Street overhaul grew more rancorous. Geithner was on Capitol Hill yesterday for another round of meetings with potential Republican backers of the bill.
Both Maine senators expressed a willingness to work with the White House on a final package.
'Only Republican'
"I'm always willing to be the only Republican, if it's the right thing," Snowe, 63, said.
"I don't think we can address these concerns in the next three days," said Collins, 57. "But I see no reason why we could not negotiate a bill in the next three or four weeks."
To keep up momentum for the drive to pass the legislation, Obama is undertaking a campaign for public support, including a speech April 22 in Manhattan.
Obama is returning to New York's Cooper Union where as a candidate he called for new rules governing banks and other financial institutions.
It "makes no sense" to stick with the status quo on Wall Street, Obama, 48, said at a political fundraiser last night in California.
Obama predicted a "big battle" over the proposed overhaul of financial regulations, speaking in Los Angeles at a fundraiser for California Senator Barbara Boxer's re-election bid. "There are some things that are worth fighting for, and financial regulatory reform is one of those things."