Calpine Said to Be Nearing $1.5 Billion Pepco Deal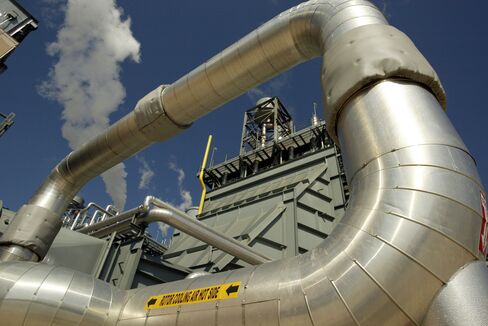 Calpine Corp., the largest U.S. producer of natural gas-fueled power, is nearing an agreement to buy Pepco Holdings Inc.'s Conectiv Energy unit for more than $1.5 billion, said a person with knowledge of the matter.
An agreement may be reached within days, said the person, who declined to be identified because the talks are private. Negotiations could fall apart, the person said.
The purchase would help Calpine Chief Executive Officer Jack Fusco maintain the company's lead as the largest U.S. independent power producer after two rivals, Mirant Corp. and RRI Energy Inc., agreed earlier this month to merge.
Investors think Calpine "can do a better job than the current owners with extracting value from these assets," said Brandon Blossman, an analyst at Tudor Pickering Holt & Co. in Houston, who rates Calpine "hold." Conectiv has 23 power plants and Calpine has 76.
Calpine shares rose 43 cents, or 3.6 percent, to $12.17 at 4:01 p.m. in New York Stock Exchange composite trading. Pepco dropped 58 cents, or 3.5 percent, to $16.25. Calpine spokeswoman Norma Dunn declined to say whether the Houston-based company is negotiating with Pepco. Clay Anderson, a spokesman for Washington-based Pepco, declined to comment.
A sale of Newark, Delaware-based Conectiv would allow Pepco CEO Joseph Rigby to concentrate on his regulated utility business. Pepco, named for its Potomac Electric Power Co. unit, delivers electricity and gas to customers in Washington D.C. and nearby states.
Falling Prices
Electricity prices dropped by almost half last year as the recession cut demand 3.7 percent. That pushed down the value of power-generation assets, making it more attractive for producers to buy existing plants than build new ones, Neel Mitra, an analyst at Simmons & Co. International in Houston, said.
Calpine emerged from bankruptcy protection in 2008. Since then, its practice of signing contracts to secure higher prices for natural gas and power have limited the impact from declining prices. The company was able to accumulate cash that it can now use to buy assets from peers needing to reduce debt, Mitra said.
Conectiv will probably have $165 million of earnings before interest, taxes, depreciation and amortization in 2010, JPMorgan Chase & Co. analysts led by Andrew Smith said in an April 8 research note. That would imply a valuation of about nine times EBITDA if it were sold for $1.5 billion, and 12 times if it were sold for $2 billion.
Funding Investments
The median multiple for seven recent deals in the power and utility sectors was 10 times EBITDA, according to data compiled by Bloomberg.
Pepco needs sale proceeds to fund at least $300 million of utility investments and reduce borrowing, JPMorgan said in a note today.
Calpine had about 24,802 megawatts of generation capacity at the end of the year, it said in a regulatory filing. It agreed this month to sell two plants that generate 931 megawatts. Conectiv owns 3,845 megawatts. The combined Mirant-RRI, known as GenOn, would have 24,700 megawatts, the companies said. NRG Energy Inc. had 24,115 megawatts at year end, it said in a regulatory filing.
The deal would help Calpine benefit from higher electricity prices in the U.S. Mid-Atlantic states. Calpine's plants are in Texas, California and 15 other U.S. states. The company said Feb. 25 that one of its goals for 2010 is to expand into the PJM power market, in the Eastern U.S., the world's largest electricity market by volume of megawatts traded.
"The Eastern PJM market is probably more attractive than others," said Paul Patterson, an analyst at Glenrock Associates LLC in New York. "The reason why it's more attractive is because the prices are higher."