BMW to Halt Three German Plants Because of Ash Cloud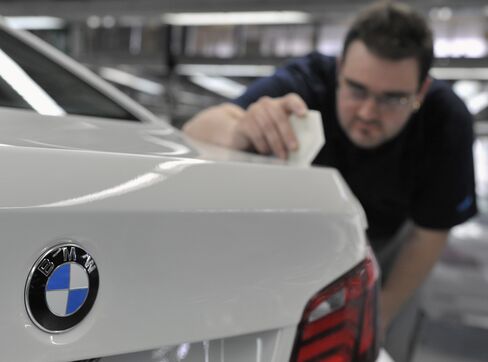 Bayerische Motoren Werke AG, the world's largest maker of luxury cars, will temporarily stop production at three German factories due to a supply shortage caused by the volcanic ash cloud over Europe.
The carmaker will halt its plant in Dingolfing, which produces 5- and 7-Series vehicles, starting with the late shift today, Mathias Schmidt, a spokesman for the manufacturer said in a telephone interview. A plant in Munich, which assembles the 3-Series, and a facility in Regensburg, where 1-Series and Z4 models are produced, will stop production starting tomorrow.
BMW aims to restart production for all three plants on April 23, he said. The temporary production shutdown, caused by a shortage of interior and electronic parts which are normally delivered by air, will delay production of about 7,000 vehicles. No plants outside Germany have been affected, Schmidt said.
The flight ban, introduced after the Eyjafjallajökull volcano erupted on April 14, has led to the cancellation of 81,000 flights and is costing carriers as much as $300 million a day in lost revenue, the International Air Transport Association said. With planes out of position and airlines concentrating on repatriating stranded passengers, the restoration of full timetables may take six days, the industry group estimates.
Daimler AG, the maker of Mercedes-Benz cars and trucks, may face isolated logistic and supply disruptions starting tomorrow if European airspace remains closed, Ute von Vellberg, a spokeswoman for the Stuttgart, Germany-based company said.
BMW, based in Munich, is in talks with unions about making up for the production shortfall and aims to ensure customer deliveries aren't delayed, Schmidt said.
Before it's here, it's on the Bloomberg Terminal.
LEARN MORE