Asahi May Buy Food, Alcohol Companies in Asia-Pacific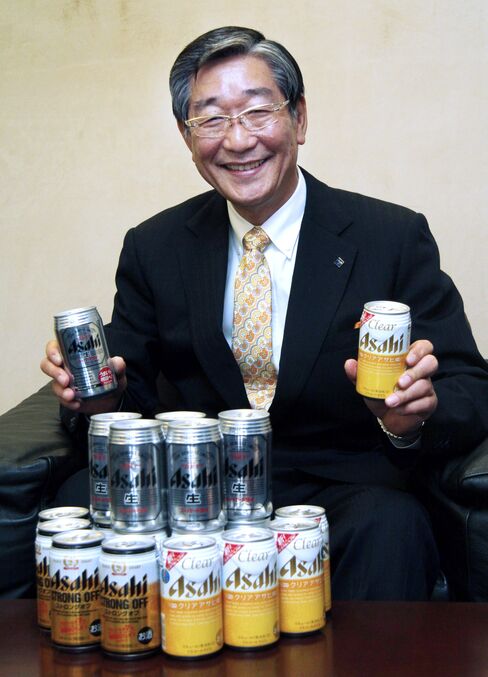 April 21 (Bloomberg) -- Asahi Breweries Ltd., Japan's second-largest beermaker, may buy food and alcohol companies in the Asia-Pacific region as it aims to raise the proportion of sales it gets overseas by almost fourfold in five years.
"What we would need is a company with annual sales of 300 to 400 billion yen," President Naoki Izumiya said in an interview in Tokyo yesterday. Asahi is looking for targets in countries including India, Indonesia and Russia as it plans to boost sales 33 percent to at least 2 trillion yen ($22 billion) by 2015, from an estimated 1.5 trillion yen in 2010, he said.
Japanese beverage makers are accelerating overseas expansion after domestic beer demand shrank 16 percent from a peak in 1994. The Tokyo-based brewer of Super Dry-brand beer can spend as much as 400 billion yen to buy companies in Japan and abroad, the company said in December.
"It's inevitable for Japanese brewers to use mergers and acquisitions as a means to expand globally," Yoshiyasu Okihira, an analyst at Credit Suisse Group AG who has a "neutral" rating on Asahi shares, said. "Beermakers need to hurry to invest overseas and in other growth areas, as we expect beer demand in Japan to fall further."
Asahi advanced 0.5 percent to close at 1,726 yen on the Tokyo Stock Exchange. The stock has risen 0.8 percent this year, compared with an 8.1 percent decline in larger rival Kirin Holdings Co.
International Revenue
The brewer aims to make overseas sales account for more than 20 percent of its total revenue in 2015 from 5.3 percent last year, it said in December. Kirin gets about 25 percent of sales outside Japan, while Suntory Holdings Ltd. derives 14 percent of sales from abroad, according to the companies' financial reports.
Asahi plans to turn its overseas business profitable this year, Izumiya said. The business has been losing money since at least 1996 when it began brewing Super Dry in North America.
The company plans to double its sales in China to about 20 billion yen in two years by offering more products and strengthening beer sales, Izumiya said.
Asahi owns a 40 percent stake in a soft-drink venture with Tingyi (Cayman Islands) Holdings Corp., China's biggest maker of packaged food, and Ting Hsin, parent of Tingyi. Asahi may supply baby food made by its Wakodo unit to Tingyi, Izumiya said.
Asahi agreed last year to expand its partnership with China's Tsingtao Brewery Co., in which it has a 19.99 percent stake. Asahi aims to use Tsingtao's breweries and sales network to expand its sales in China.
To contact the reporter on this story: Naoko Fujimura in Tokyo at nfujimura@bloomberg.net; Shunichi Ozasa in Tokyo at sozasa@bloomberg.net
To contact the editor responsible for this story: Frank Longid at flongid@bloomberg.net