New York's Fifth Ave. Sets Record with Uniqlo Lease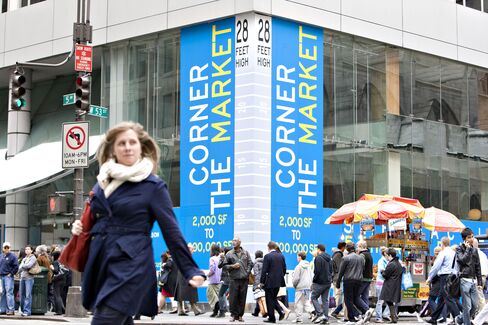 New York's Fifth Avenue is claiming a city retail record: Japanese clothier Uniqlo agreed to pay $300 million over 15 years to bring its affordable fashions to the world's most expensive shopping area.
Uniqlo owner Fast Retailing Co., Japan's biggest apparel seller, announced the deal today, with broker Cushman & Wakefield Inc. and landlord Crown Acquisitions disclosing the price. The space lies at 666 Fifth Ave. near 53rd Street.
"Uniqlo identified this location as being the one that they were willing to make the biggest bet on," said C. Bradley Mendelson, the Cushman & Wakefield broker who represented landlords Carlyle Group, Crown Acquisitions and Kushner Cos. "They're one of the biggest retailers in the world; they're just small in the U.S."
The contract shows Fifth Avenue's appeal even after U.S. consumer purchases fell for two straight years, the first such decline since the 1930s. Fast Retailing entered the Russian market earlier in 2010 and plans to open its largest store in Shanghai next month.
The stretch of Fifth Avenue it will occupy lies between Central Park and Rockefeller Center, a strip including Tiffany & Co.'s flagship location and Apple Inc.'s "Cube," both positioned to capture a mix of wealthy New Yorkers and tourists.
The corridor holds the greatest potential of any Manhattan shopping district, said Sandeep Mathrani, executive vice president of the retail property division at New York-based Vornado Realty Trust. He spoke during an April 15 panel discussion at Bloomberg LP headquarters in New York.
Apple Nearby
Apple's Cube probably has annual sales of more than $350 million, the most of any Apple store, Jeffrey Roseman, executive vice president of real estate broker Newmark Knight Frank, said last year. It's the only Apple location open 24 hours a day, seven days a week.
Designer Tommy Hilfiger opened a Fifth Avenue shop last year during New York's Fashion Week, a time when the world's top designers are in town showing their latest creations.
Fast Retailing opened 16 stores each in South Korea and China in the first half of this year. It has 791 outlets in Japan and expects to have 4,000 Uniqlo stores worldwide by 2020, it said last year.
The company will spend about $20 million a year to lease the 8,300-square-meter (about 89,000-square-foot) space at 666 Fifth, according to Cushman's Mendelson and Haim Chera, principal of Crown Acquisitions. Mendelson represented the landlords in the Uniqlo transaction.
Vote of Confidence
"It's just another reinforcement that retailers have to have a Fifth Avenue presence," said Faith Hope Consolo, chairman of retail leasing, marketing and sales for Manhattan-based Prudential Douglas Elliman Real Estate. "Fifth is going to be their face to the world."
The deal will be the highest aggregate amount paid to lease retail space in New York City, beating Gucci Group NV's $16.5 million in annual rent for about 45,000 square feet at Trump Tower three blocks north, Mendelson said.
The landlords at 666 Fifth Ave. paid Brooks Brothers Inc. $47 million in 2008 to vacate the space eight years before its lease ran out, Chera said.
"People thought we were crazy, but we thought they were under-market," he said.
Uniqlo Brand
Fast Retailing President Tadashi Yanai, Japan's richest man, has introduced products such as the company's HeatTech thermal clothes under the Uniqlo brand as falling wages pushed consumers out of department stores in search of bargains.
Uniqlo's only other U.S. outlet is in Manhattan's Soho neighborhood, where it has been for five years, Mendelson said.
The company declined to comment on details of the rental contract, Fast Retailing spokesman Terunobu Aono said today in Tokyo. The new lease will have little effect on earnings for the fiscal year ending in August, the company said in a statement.
"We're very excited to have Uniqlo as a tenant," said Jared Kushner, principal of New York-based Kushner Cos., an owner in the building. "This further validates our investment thesis that the retail block between 52nd and 53rd streets on Fifth Avenue has the potential to be the best retail block in the world."
His company transferred its debt on the 1.5 million square-foot tower that will house the Uniqlo store to a special servicer last month after vacancies increased and rental income dropped.
Kushner paid $1.8 billion for the tower in 2007, at the time the highest price ever for a single U.S. building. The company sold a 49 percent stake in the retail space to a Carlyle-Crown partnership for $525 million.
Kushner declined to comment on how the deal would affect his company's finances.