Qantas Says Europe Shutdown Costs $1.4 Million a Day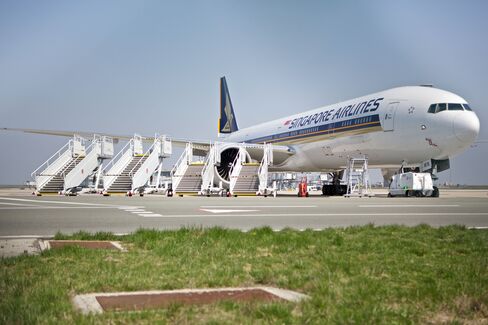 Qantas Airways Ltd., Australia's largest airline, said a closure of European airspace caused by volcanic ash was costing as much as A$1.5 million ($1.4 million) a day as it helped out stranded passengers.
The carrier is assisting travelers and putting them up in hotels, spokesman David Epstein told reporters in Sydney today. The net loss for Thai Airways International Pcl is 100 million baht ($3.1 million) a day, President Piyasvasti Amranand said in a Bloomberg TV interview.
Qantas extended its cancellation of European flights to April 21 as the dust cloud from Iceland's Eyjafjallajökull volcano spread across the continent shutting airports. Disruptions to some 8 million passengers may cost carriers worldwide $2 billion, the Centre for Asia Pacific Aviation said.
"This is really serious," said Derek Sadubin, chief operating officer of the Sydney-based industry consultant. "It's a major issue across the board."
Singapore Airlines Ltd. hasn't made an estimate of the impact from the flight cancelations, said Nicholas Ionides, a spokesman. "The priority right now is managing the situation and attending to the affected customers."
The carrier will likely have a net loss of about S$3.7 million ($2.7 million) a day from the shutdown, and lose sales of S$7.6 million a day, UOB-Kay Hian Research's Singapore-based analyst K. Ajith said by phone today. Cathay Pacific Airways Ltd. will probably lose about HK$5.5 million ($710,000) a day, and about HK$16 million daily in revenue, Ajith said. The estimates don't include additional expenses incurred for stranded passengers, he said.
Cathay Pacific spokesman Thomas Lau declined to comment.
Singapore Air Cancelations
Singapore Airlines, which operates on average 25 flights to Europe a day, has canceled services to cities including London and Paris. The carrier will only fly one return service to Europe today, to Athens, according to a statement on its Web site. The airline operates a total of about 200 flights a day across its entire network.
Qantas fell 2 percent to A$2.92 in Sydney trading, the largest decline in almost two months.
The Australian airline's credit-default swaps, the cost of protecting against a default, jumped 6.5 basis points to 129 basis points as of 5:57 p.m. in Sydney, according to Westpac Banking Corp.
"Clearly, it's going to impact cashflow, and it's at a point in time where Qantas is looking hard at its free cash, because they've got a lot of capex to do," said Sydney-based Westpac credit analyst Brendon Cooper.
Thai Air
Singapore Air fell as much as 3.6 percent and Cathay Pacific, Hong Kong's largest airline, tumbled as much as 2.9 percent. Thai Air fell as much as 6.1 percent in Bangkok.
Thai Air had about 15,000 stranded passengers as of yesterday, about half in Bangkok and the rest in Europe, Piyasvasti said. The airline has canceled 22 flights a day, including flights to London, Frankfurt and Munich, he said.
"The impact is quite substantial," he said. The cancelations affect 6,000 passengers a day, he said.
Korean Air Lines Co., the country's largest carrier, has canceled 18 flights to London, Brussels and other European cities since April 15, it said in an e-mailed response to query.
Air China Ltd., the nation's largest international carrier, has suspended bookings for all flights to Europe through the end of the month.
As many as 63,000 flights have been canceled industrywide after the April 14 volcanic eruption spewed dust across European airspace, causing airports from Dublin to Moscow to shutter. Spain, holder of the European Union presidency, called a video conference among transport ministers today to discuss emergency plans.
Deutsche Lufthansa AG, Air France-KLM Group and industry groups are pressing European governments to re-examine the shutdown.
Before it's here, it's on the Bloomberg Terminal.
LEARN MORE