Where to Eat Well When You Hop Off the Eurostar: Paris Dining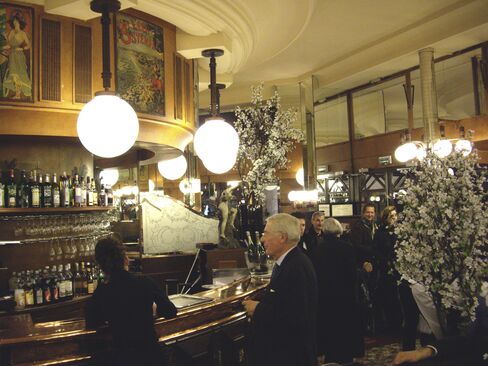 The traveler's introduction to dining in Paris near the Gare du Nord can be discouraging: Neon signs flash above rundown cafes with poor service and food that makes a meal aboard the Eurostar a tempting alternative.
Don't despair. You can eat well in charming brasseries that are handy for the train. Here are some venues that won't upset your stomach or your budget.
All will store luggage -- useful when the Eurostar is packed on account of grounded flights and Icelandic volcanoes.
L'Ardoise Gourmande is on a sleepy street, away from the mayhem of the station. Swarovski crystal chandeliers illuminate the soft gray walls with their original artworks that change every few months.
A tasting platter of four entrees costs 22 euros ($29) and includes a slice of foie gras made with a Lebanese white wine, which produces a subtle, fruity flavor.
A salad of prawns (20 euros) has just the right sprinkling of spicy paprika to offset the sweetness of the sate compote.
Main courses start at 13.50 euros and include creative versions of French classics, such as a millefeuille of blood sausage with apples. Sea bass is cooked in a crust of salt from Guerande. There are also daily specials.
Desserts include "After Eight" French Toast, a warm caramelized crust enclosing chocolate-mint ice cream. Or how about a Limoncello baba?
Date Place
There's a good selection of wines starting at 5 euros a glass and bottles ranging from 25 euros to 50 euros.
The room is quiet enough for a relaxed conversation. It's ideal for a date.
L'Ardoise, which opened in 2008, is a partnership between Francois Mimault, who once owned a restaurant in Martinique, and chef Gilles Ravary.
Mimault said Ravary used to work in an establishment near Restaurant Guy Savoy in the 17th arrondissement and Savoy was a regular customer.
If he tries this place, he just might become a regular here, too.
L'Ardoise Gourmande, 12, rue de Belzunce, 75010 Paris. Information: +33-1-48-78-40-03. Rating: ****.
Smoked Sausage
At the nearby Chez Michel, Thierry Breton serves the home cooking of his native Brittany. A 32-euro three-course menu includes specialties such as a "brandade de morue" (a salt-cod dish) and Brittany's version of "pot au feu." For the former, potatoes are mashed with the fish to creamy perfection and then grilled. In the latter, smoked sausage and pork chops are simmered with leaks, potatoes, cabbage and carrots in a light broth.
My starter, a frothy shellfish soup, arrives in a large carafe. For a 15 euro supplement, my guest chooses Brittany's version of "pied paquet," pig's trotter stuffed with foie gras and sprinkled with black truffle. The meat melts in the mouth.
Desserts include a rich Paris-Brest, a thick layer of hazelnut cream sandwiched within a doughnut-shaped pate a choux. The Kouign Amann, a thin tart made with bread dough that's folded several times and loaded with butter, butter and more butter was warm and crispy. A bottle of regionally produced cider (9 euros) was the perfect accompaniment to the meal.
The place is open at weekends from 10 a.m. to 7 p.m. for a 25-euro "Brittany buffet," when wine is sold at cost.
Chez Michel, 10 rue de Belzunce, 75010 Paris. Information: +33-1-44-53-06-20. Rating: ***.
Trading Pit
Terminus Nord is a classic Parisian brasserie. Paintings of flappers don the walls, tulip lamps light the dining room and waiters shout and run about so much that it feels like the culinary equivalent of a trading pit.
While the eatery is noisy and overpriced, it's also conveniently located across the street from the Gare du Nord.
Service is quick, yet my scallops and risotto with asparagus (26 euros) arrive cold. My guest's steak with fries (25 euros) is fine, except for the salty bearnaise sauce.
The French couple next to us, celebrating a birthday, orders a beautiful seafood platter loaded with langoustines, lobster, shrimp, clams and an entire crab, all encircled by a crown of oysters. Probably not the best idea if you have a train to catch, as our neighbors are still picking meat out of shells long after we finish three courses.
The desserts are best. Baked Alaska, flambeed with Grand Marnier is delicate, while profiteroles with Valrhona chocolate sauce are dense and rich.
Terminus Nord, 23 rue de Dunkerque, 75010 Paris. Information +33-1-42-85-05-15. Rating: *.
What the Stars Mean
**** Incomparable food, service, ambience.
***  First-class of its kind.
**   Good, reliable.
*    Fair.
0 (no stars) Poor.
(Adria Cimino writes for Bloomberg News. The opinions expressed are her own.)