Garland's Openness to 'Learn My Craft' May Lead to High Court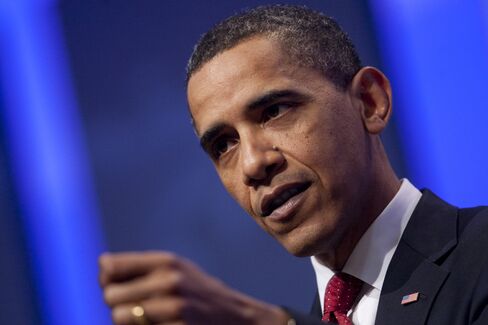 Merrick Garland is a lawyer who knows what he doesn't know.
In 1988, the man who might become the newest Supreme Court justice was working part-time for the independent counsel investigating an ex-White House aide. Lawrence Barcella, the defense lawyer, was impressed as he watched Garland question two witnesses and offered some advice.
"I am glad you didn't have more witnesses," Barcella recalls saying. "Just one suggestion: Slow down a bit."
The next year, Garland left private practice to try cases as a federal prosecutor in Washington. "I think I have to learn my craft better," he told Barcella. "You can count the number of people that would do something like that on very few digits," Barcella said.
Garland's drive to become a better trial lawyer put him on a path that may make him the most easily confirmable candidate on President Barack Obama's short list. Garland, 57, later supervised the prosecution of Oklahoma City bomber Timothy McVeigh and became a federal appeals court judge known for sticking to precedent during 13 years on the bench.
Republican Senator Orrin Hatch of Utah said Garland would be "terrific" and could be confirmed "virtually unanimously."
The encouraging words from Republicans may worry Democrats seeking a justice to push for expanding individual rights.
Another Fight
"There's always that pressure," said Jennifer Duffy, senior editor at the nonpartisan Cook Political Report in Washington. At the same time, Obama may not want another fight with Republicans, she said.
When the Senate Judiciary Committee considered Garland in 1995 as a candidate for the Washington appeals court, he said he would follow Supreme Court rulings including upholding the death penalty.
At the time, he was working at the Justice Department and focused on the Oklahoma City bombing that killed 168 people 15 years ago today. He had asked his boss, Deputy Attorney General Jamie Gorelick, for the assignment.
"It was hard, because he was my right arm," Gorelick said. Still, "you couldn't have thought of anyone better."
Within days, Garland was coordinating the investigation. Later, after the trial was moved to Denver, Garland insisted that his team make monthly trips to visit victims' families, said Beth Wilkinson, one of the prosecutors.
Changed by Case
"He believes that working on that case changed him," said Wilkinson. "I don't know anyone, certainly no one on the court, who has sat across from victims of a terrorist act who have lost small children in a daycare center or grandmothers, aunts and uncles and had to balance showing compassion" with ensuring the defendants a fair trial, she said.
Garland won't pontificate about things he doesn't know, said Philip Horton, a partner at Garland's former Washington firm, Arnold & Porter, who was on a team that tried a 1988 civil fraud case against the operators of a failed Maryland thrift.
At one point, "some of the firm's most senior partners were all holding forth on what they thought were the answers," said Horton. Garland said, "I think you guys are all smarter than me. I will have to go read some cases before I tell you what I think," Horton recalled.
Garland later helped win a $112 million judgment by insisting on getting original documents and poring over them until he found one that was backdated. He suggested showing the document to a witness and each juror using a flashlight that revealed white correction fluid and new typing.
It was "like a bomb going off in the courtroom," Horton said.
Coveted Clerkship
These days, a clerkship with Garland is coveted by students at his alma mater, Harvard Law School in Cambridge, Massachusetts, said Professor Philip Heymann. Students admire his legal smarts and easy manner, Heymann said.
Heymann, who worked with Garland at the Justice Department, remembers him as "relaxed and comfortable," walking around with a lollipop in his mouth. Gorelick recalls piles of Hershey's Kisses wrappers.
A native of Chicago, Garland comes from a family of "very modest means," Gorelick said. He dotes on his wife, Lynn, and their two daughters, spending his free time with family, friends say.
"He's so square," Gorelick says with a laugh. His family likes "to play tennis; they like to garden; they like to take family vacations, and other than that, he works," she said.
Harvard Standout
Garland attended Harvard College, graduating summa cum laude in 1974. Immediately after, he entered Harvard Law.
"He was clearly one of the smartest guys in our section who was constantly challenging the professor," said Randy Barnett, now a professor at Georgetown University in Washington. "He was definitely among those that you noticed because he was constantly making points."
Garland landed clerkships with federal appeals court Judge Henry Friendly in New York and Supreme Court Justice William Brennan in Washington. He worked at the Justice Department from 1979 to 1981 before joining Arnold & Porter.
Garland told the Senate Judiciary Committee in 1995 that the Supreme Court members he most admired were Chief Justice John Marshall and Justice Oliver Wendell Holmes. Garland promised to try to be "as brief and pithy" as Holmes.
Notable Ruling
One of Garland's most notable rulings as an appellate judge was a 2008 decision striking down enemy combatant status for a Chinese man held in Guantanamo Bay. Garland's opinion mocked the government's contention that it had enough evidence because of allegations in three documents.
"The fact that the government has 'said it thrice' does not make an allegation true," Garland wrote, referencing a 19th century poem by Lewis Carroll, "The Hunting of the Snark."
Former colleagues aren't surprised Garland is on the Supreme Court short list.
"The only reason that I thought he might not go on the Supreme Court is that he doesn't have a political bone in his body," Gorelick said.