Europe Flights Resume Where Ash Thinnest; London Shut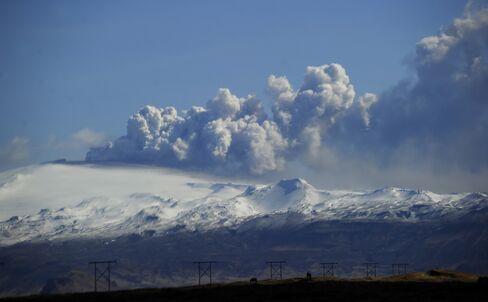 European airspace that was closed by the volcanic eruption in Iceland gradually reopened to flights today after transport ministers said planes could fly through thinner parts of the ash plume.
Operations in areas where dust is detected will be assessed by the U.K.'s Volcanic Ash Advisory Centre, which will also determine which zones are entirely safe and which should remain closed because of the potential threat to aircraft engines. A new ash cloud headed for Britain means London airports including Heathrow may not open, National Air Traffic Services said.
With planes out of position and airlines concentrating on repatriating stranded passengers, the restoration of full timetables may take six days, according to the International Air Transport Association. The flight ban introduced after the Eyjafjallajökull volcano erupted on April 14 grounded 81,000 services through yesterday, costing carriers as much as $300 million a day in lost revenue, the industry group says.
"It's a positive thing for the airlines, provided that it's done in such a way that safety is maintained," said John Strickland, an analyst at JLS Consulting Ltd. in London. "But it's a long way short of any semblance of normal operations."
Ash from the Icelandic eruption represents a threat to jetliners because it could stop their engines by melting and congealing in turbines.
Paris Reopens
Paris's terminals reopened this morning, with 30 percent of flights likely to operate, according to French Transport Minister Dominique Bussereau. Among arrivals at Charles de Gaulle airport this morning were services from Los Angeles and New York, while planes departed for Beirut, Algiers and Cairo. Flights to European destinations are schedule to resume at noon.
In line with the easing of restrictions, Britain's Civil Aviation Authority is permitting flights through the country's airspace above 20,000 feet (6,100 meters), flight-control authority NATS said today in a statement on its Web site.
Skies over Glasgow, Edinburgh and Aberdeen were reopened to limited services at 7 a.m., according to BAA Ltd., which owns airports in the Scottish cities. Manchester may open later today but Heathrow, Europe's biggest hub, remains closed.
British Airways Plc, the largest carrier between London and New York, halted plans to resume short-haul flights from the U.K. capital after news of the fresh ash cloud. Long-haul services due to operate after 4 p.m. may resume, "subject to the full and permanent opening of airspace," it said. Planes are currently en route from Mexico, China and Mauritius.
Lufthansa Services
Deutsche Lufthansa AG resumed a limited service yesterday evening and 50 long-haul planes are also flying to Frankfurt, Dusseldorf and Munich tomorrow with stranded passengers, said spokesman Wolfgang Weber.
Asian carriers including Singapore Airlines Ltd., Cathay Pacific Airways Ltd. and Air China Ltd. have added extra flights or larger planes on services to Rome and other open airports to help stranded passengers.
European airlines have asked governments and the European Union for aid, British Airways Chief Executive Officer Willie Walsh said yesterday, adding that money was paid after the Sept. 11 terror attacks on the U.S. "and clearly the impact of the current situation is more considerable."
European Union Competition Commissioner Joaquin Almunia said restrictions on aid may be eased as the impact of the disruption is discussed by ministers.
'Adequate Response'
"The situation now calls for a full assessment of the financial impact on the aviation industry at large, with an adequate support response at the European level," Olivier Jankovec, director general at Airports Council International, said in a statement.
About 70 percent of European services remained grounded yesterday as the ash cloud stretched from Moscow almost as far as Canada, according to Brussels-based Eurocontrol, which oversees flight paths and drew up the new strategy.
The European Commission announced the three-zone system after carriers said their own trials showed it was safe to fly.
British Airways, which is losing 20 million pounds ($30 million) a day, said a test trip showed no deterioration in engine performance and produced no odors in the cabin. Flight recorders, structural checks and monitoring by engine maker Rolls-Royce Group Plc also revealed no impact from the dust.
'Best Positioned'
"Airlines are best positioned to assess all available information and determine what, if any, risk exists to aircraft, crew and passengers," Walsh said before the EU announcement.
Air France-KLM, losing about 35 million euros ($47 million) a day, said a flight from Paris to Toulouse with an Airbus SAS A320 aircraft showed "no anomalies." Its KLM unit operated 10 test flights over the weekend and concluded that the quality of the atmosphere is "in order."
U.K. Prime Minister Gordon Brown said he's examining the financial impact of the shutdown on airlines and associated companies. Royal Navy aircraft carriers may be used to bring Britons back across the English Channel and people stuck in Asia and the America's could be flown to Spain and then put on buses, trains and ferries to complete their journey, he said.
The Eyjafjallajökull eruption began on March 20 with a lava flow on the eastern flank of the volcano, according to the Institute of Earth Sciences at the University of Iceland. After a lull, it resumed early on April 14, directly under the glacier that covers most of the mountain.
Fire and Ice
The previous eruption of the 1,666-meter peak in December 1821 continued until January 1823. The current blast has sent ash to 7 kilometers, according to Gudrun Larsen, a volcanologist at the University of Iceland. The magma had to pierce 200 meters of ice before reaching the air, she said.
"We really don't know if this eruption is going to last as long as the previous one, but we can't say it's not a possibility," Larsen said by telephone.
Haraldur Eiriksson, a meteorologist at the Icelandic meteorological office, predicts little change in the ash pattern in Europe, at least through April 23.
"The forecast hasn't changed, although the height the volcano is spewing the ash into has decreased from 5 to 6 kilometers to less than 3 kilometers and now it can't be seen on our radars," he said.
Delta Air Lines Inc., the world's largest carrier, aimed to have overnight flights to Madrid, Barcelona, Rome, Athens and Istanbul, spokesman Anthony Black said. The company canceled 90 services yesterday and 39 for today until European airspace controllers provide further updates, he said.
UAL, AMR
UAL Corp.'s United Airlines intends to operate all of its flights from the U.S. to Europe later today and have a "full recovery" with normal schedules by tomorrow, said Robin Urbanski, a spokeswoman for the Chicago-based carrier.
AMR Corp.'s American Airlines also aims to operate Europe-bound flights tonight, spokesman Tim Wagner said.
Asia-Pacific airlines canceled most Europe-bound flights yesterday. Qantas Airways Ltd. axed services to European destinations through today. The shutdown is costing the Australian carrier as much as A$1.5 million ($1.4 million) a day, according to David Epstein, a spokesman.
Thai Airways International Pcl, which is losing 100 million baht ($3.1 million) a day from the closure, is seeking to add more Rome and Madrid flights and may begin flying to Toulouse in southern France, it said in a statement.
Cathay Pacific said that all Europe-bound flights are fully booked for the rest of the month. Air China has added extra Moscow-Beijing services today and a flight from Rome.
United Parcel Service Inc., the world's largest package-delivery firm, responded to the closure of its hub in Cologne, Germany, by flying goods from Asia to Istanbul and then putting them on trucks for distribution around Europe, according to spokesman Norman Black.
Before it's here, it's on the Bloomberg Terminal.
LEARN MORE