Lilly First-Quarter Profit Falls on Health Overhaul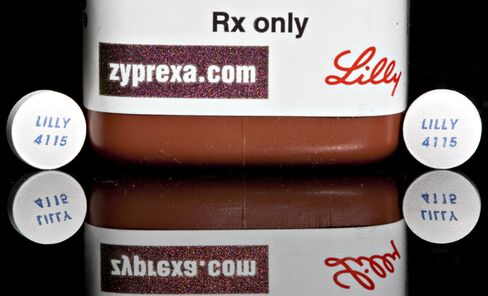 Eli Lilly & Co., maker of the antipsychotic Zyprexa, said first-quarter profit fell 5 percent on higher costs from U.S. health-care legislation.
Net income declined to $1.25 billion, or $1.13 a share, from $1.31 billion, or $1.20, the Indianapolis-based company said today in a statement. Adjusted for some items, profit was $1.18 a share, beating by seven cents the average $1.11 estimate of 15 analysts surveyed by Bloomberg.
President Barack Obama's health-care overhaul, passed in March, reduced earnings by 12 cents a share, Lilly said. The company lowered its profit forecast for 2010 to include effects from the legislation. The bill includes industry discounts to government health-care programs -- Medicare, for the elderly and disabled, and Medicaid, for the poor -- and taxes on drugmakers, said Seamus Fernandez, an analyst at Leerink Swann & Co.
"Lilly's U.S. sales represent more than 55 percent of revenue, with overall government sales accounting for 35 percent of U.S. sales," said Fernandez, who had estimated a potential reduction of 1 to 2 cents a share in Lilly's first-quarter earnings because of the legislation, in an April 15 research note.
First Pharmaceutical Results
Lilly, the first major pharmaceutical company to report quarterly earnings since the legislation was enacted, forecast 2010 earnings, adjusted for one-time items, of $4.40 to $4.55 a share, lower than its January projection of $4.65 to $4.85, which didn't include effects of the overhaul. Twenty analysts surveyed by Bloomberg estimated $4.75, on average.
The company projected the health law would reduce full-year earnings by about 35 cents and revenue by $350 million to $400 million. Lilly took a one-time tax charge of $85.1 million in the quarter associated with a prescription drug subsidy of its retiree health plan, and also said it raised the forecast for the underlying business by 10 cents on the lower end of its projected range and 5 cents on the top end, partially offsetting the effects from the overhaul.
Lilly said today that the revenue reduction from the health-care legislation will grow to $600 million to $700 million in 2011 when additional provisions kick in.
Lilly rose 4 cents, or less than 1 percent, to $36.58 at 4:15 p.m. in New York Stock Exchange composite trading. The shares have gained 2.4 percent in 2010, after falling 11 percent last year for the worst performance in the Standard & Poor's 500 Pharmaceuticals Index of 11 companies.
R&D Spending
Research and development costs rose 9.7 percent to $1.04 billion, or 19 percent of revenue, driven mostly by higher expenses for late-stage clinical trials, the company said. Lilly also reported a 6 percent increase in marketing, selling and administrative costs, to $1.61 billion, because of higher expenses outside the U.S. and the impact of foreign exchange rates. Cost of sales increased 37 percent to $1.12 billion.
The company also reported a first-quarter tax rate of 26.9 percent, an increase from 22 percent a year earlier. Tony Butler, an analyst at Barclays Capital, estimated 23.5 percent.
Revenue rose 8.7 percent to $5.49 billion, falling short of 12 analysts' average projection of $5.59 billion. Sales were boosted by Zyprexa, Lilly's top-selling drug; Cymbalta, its second-best seller, for depression; and the cancer medicine Alimta. Patents on Zyprexa and Cymbalta expire in 2011 and 2013, respectively, and Butler, who is based in New York, said he doesn't expect Lilly to make up for looming sales declines with new products.
Patent Expirations
"Lilly's large pipeline, most of which will deliver post-2012, will not offset the revenue loss expected from a rapid succession of patent expirations," Butler, who has a "neutral" rating on Lilly shares, wrote in an note to clients on April 12. "More significant steps, such as acquisitions of risk appropriate, late-stage assets, would need to be taken to truly change Lilly's long-term outlook."
Zyprexa sales rose 8 percent to $1.22 billion, while Cymbalta revenue gained 13 percent to $803.2 million. Sales of Alimta grew 57 percent to $527.4 million. The impotence pill Cialis had revenue increase 14 percent to $408.3 million, while the insulin Humalog saw sales rise 12 percent to $506.4 million.
The blood thinner Effient, a new product Lilly developed with Tokyo-based Daiichi Sankyo Co., had sales of $8.8 million, missing Butler's $26 million estimate.
"Effient's launch has been relatively unimpressive," said Fernandez of Leerink Swann.
Approval of a new product, a once-weekly version of the diabetes drug Byetta, was delayed in the first quarter as the U.S. Food and Drug Administration asked for clarification of manufacturing processes, labeling and a risk-management plan. Lilly and its partners on the medicine today said they plan to submit a response to the FDA this week. The company also submitted the drug, called Bydureon, for review in Europe.
Butler said he expects the medicine to gain clearance in this year's second half. Lilly markets Byetta outside the U.S., and co-markets it in the U.S. with San Diego-based Amylin Pharmaceuticals Inc. The drug was developed by Amylin, and the technology enabling it to be used in a longer-acting form came from Alkermes Inc., based in Waltham, Massachusetts.
Before it's here, it's on the Bloomberg Terminal.
LEARN MORE