Bank Equity-Derivative Fees Rise as Rules Push Threatens Profit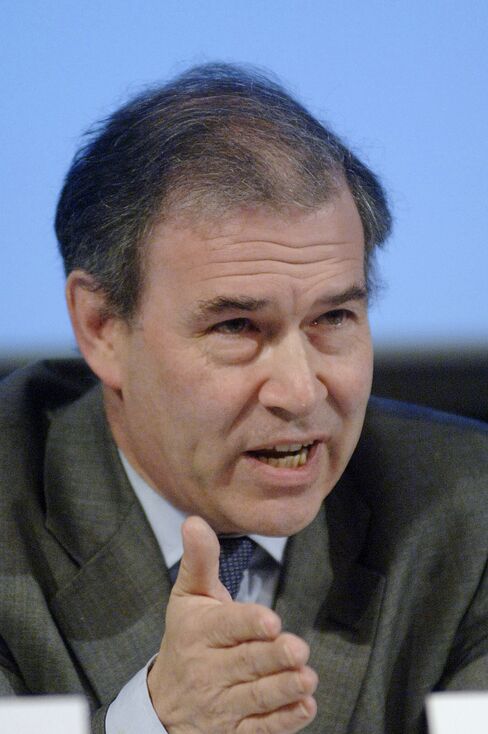 Banks are making more money arranging customized equity derivatives for clients in Europe than from managing initial public offerings, one reason they're resisting reforms that may curb that profit.
Credit Suisse Group AG, JPMorgan Chase & Co. and Deutsche Bank AG are among firms that made a total of $2 billion to $2.5 billion last year creating tailor-made equity derivatives in Europe, the busiest region, estimates from six banks in the business show. That's as much as 10 times the $250 million they earned from IPOs in 2009, and more than the $2.2 billion they made in 2006, according to data compiled by Bloomberg.
Regulators and lawmakers are seeking to boost transparency and cut risk by requiring more of the $605 trillion over-the-counter derivatives market be processed through central clearing parties and traded on exchanges. A U.S. fraud suit against Goldman Sachs Group Inc. is intensifying the push for new regulations. The Basel Committee on Banking Supervision has also proposed rules that would force banks to set aside more capital.
"Trades shouldn't get punished by higher capital requirements," said Anthony Belchambers, chief executive officer of the London-based Futures & Options Association, which lobbies for banks and exchanges. "End-users have made their point very clear: They don't want product diversity to be disturbed."
Reduced Profit
At stake is trading revenue in unregulated markets that last year generated an estimated $28 billion for five U.S. dealers including JPMorgan, Goldman Sachs and Morgan Stanley, according to filings collected by the U.S. Federal Reserve and people familiar with banks' income sources.
Forcing privately negotiated swaps to trade on exchanges and be processed through clearinghouses would reduce bank profit because dealers would no longer control the prices offered on the contracts and would have to post collateral. JPMorgan CEO Jamie Dimon told analysts last week that derivatives legislation could reduce trading revenue by "several hundred million dollars to a couple of billion dollars," depending on details.
Companies and shareholders use derivatives to limit the effect of changes in stock prices, currencies and commodities during takeovers and fundraisings. Banks also sell contracts to help clients overcome tax, regulatory and accounting hurdles, and more frequently to provide financing, said bankers. Fees from the transactions aren't disclosed.
Rights Offers
The business has thrived because it offers clients funding when banks are unwilling to extend loans. In some cases, borrowers can use equity swaps to raise funds for the entire value of a stock bet, according to one banker who declined to be identified because the transactions are confidential.
Rights offers, which can take weeks to complete, are another source of equity-derivatives deals. Investors planning to order stock can borrow money from a bank by pledging some of their shares as collateral. Banks can also use swaps to hedge their own underwriting risk by buying protection against indexes or a basket of related assets. Rights offers raised a record $145 billion in Europe last year, Bloomberg data show.
An 80 percent gain in the MSCI AC World Index since March 2009 is also leading companies and private-equity firms to hedge their positions against potential losses.
$6.6 Trillion
"We're starting to see corporates thinking about hedging" against stock markets falling, said Alan Rifkin, Citigroup Inc.'s head of strategic equity solutions for Europe, the Middle East and Africa.
The value of outstanding equity derivatives traded outside exchanges worldwide rose to $6.6 trillion at the end of June, up from $6.2 trillion at the end of 2008, according to data compiled by the Basel-based Bank for International Settlements. That total is lower than the $10.2 trillion peak reached in June 2008, the data show.
The use of derivatives is booming, even as they draw increased scrutiny from officials concerned that they may be used to circumvent laws or hide borrowings.
Derivatives bets helped bring American International Group Inc. near collapse, putting the financial system at risk and forcing the U.S. insurer to seek a government rescue in 2008. Goldman Sachs has drawn criticism from lawmakers in Europe and the U.S. for arranging currency swaps for Greece in 2002 that may have helped the country conceal the extent of its debt.
Merrill, Fiat
The U.S. Securities and Exchange Commission is suing Goldman Sachs for creating and selling collateralized debt obligations linked to subprime mortgages without disclosing that hedge fund Paulson & Co. helped pick the underlying securities and bet against the vehicle. Goldman Sachs called the SEC's charges "completely unfounded in law and fact."
Two Merrill Lynch & Co. bankers in 2007 were fined 250,000 euros ($337,000) by Italy's regulator for failing to disclose in 2005 that the firm had equity swaps that entitled it to more than 5 percent of Fiat SpA stock, according to filings. A Turin judge on April 22 will rule on whether two Agnelli-family holding companies and their advisers manipulated the market by withholding information on another Fiat swap agreement with Merrill. Neither Merrill nor its bankers are accused of criminal wrongdoing in the latter case.
The European Union plans to publish proposals by June that would move more derivatives trades onto exchanges. The U.S. Congress is also considering a bill that would push trading of standardized swap trades between banks onto exchanges or similar systems that would then be processed by clearinghouses. The Basel committee is scheduled to release its new rules on capital requirements by the end of the year.
'Very High Profitability'
"Traditionally, our business has a very high profitability because our trades are bespoke and very ad hoc," said Thibaut de Gaudemar, head of the strategic derivatives group for Europe at Zurich-based Credit Suisse. "If we are asked to put aside more capital, then that would obviously put some pressure on profit. And that is probably coming."
Industry groups on both sides of the Atlantic have opposed rules to force derivatives trades onto clearinghouses.
"New regulations for derivatives might seem a good idea if they are aimed at reducing risk in the economy," Matthew Fell, director for company affairs at the Confederation of British Industry, Britain's biggest business lobby group, said in a statement on April 15. "The regulations could actually increase risk by making it harder for companies to protect themselves from factors outside their control."
Some structured derivatives may escape the push from regulators for greater transparency because the contracts are so customized, bankers and lawyers say.
Societe Generale
Societe Generale SA, France's second-largest bank by market value, doesn't expect regulatory changes to "significantly" affect revenue at its equity-derivatives unit, Christophe Mianne, head of the bank's global markets unit, said in a March 17 presentation posted on the bank's Web site. The bank, based in Paris, had record revenue from equity derivatives last year, according to the presentation. Societe Generale executives didn't return calls seeking comment.
"There will always be a need to do transactions that are different to the market," said David Roylance, a partner at law firm Simmons & Simmons LLP in London who advises companies on setting up swaps. "For a while things may change due to the costs, but bespoke derivatives will always be needed."
Demand for derivatives has increased in line with a rise in mergers and acquisitions, bankers said. Dealmaking, which hit a monthly low of $70 billion in November 2008, jumped to $219 billion in March, the highest since Lehman Brothers Holdings Inc. collapsed in 2008, according to Bloomberg data.
'More Demand'
"Corporate transactions do stimulate our world, and confidence is coming back," said Peter Lovibond, London-based head of the corporate equity-derivative structuring team at Germany's Commerzbank AG. "With volatility coming down, we are seeing more demand."
Increased spending this year by investors, particularly sovereign wealth funds in emerging markets, where access to bank loans is limited, will underpin the structured equity-derivatives industry, bankers said.
"The financing business is picking up faster in emerging markets than it is in western Europe," said Citigroup's Rifkin, who said he plans to hire more bankers as demand increases.
In August, the Qatar Investment Authority, the country's sovereign wealth fund, used derivatives to purchase a stake in Wolfsburg, Germany-based Volkswagen AG, Europe's largest carmaker, from Porsche SE. Credit Suisse brokered the deal, helping the fund finance the acquisition, said two people familiar with the talks who declined to be identified.
Porsche Swap
Porsche, based in Stuttgart, Germany, gained control of a stake in Volkswagen in 2008 through call options that were to be settled in cash and didn't need regulatory disclosure. Credit Suisse in 2009 assumed Porsche's derivatives and turned them into new options to be settled in shares that were sold to Qatar, said the people.
Qatar obtained a loan to buy the options by pledging securities as a deposit and an interest payment, said the people. A drop in the value of Volkswagen shares would have triggered demand for more collateral.
Credit Suisse had a "very successful year" in 2009 after selling Qatar the Volkswagen derivatives, de Gaudemar said. His unit also arranges equity derivatives that help companies reduce costs from stock-option plans.
"This is one of the most profitable businesses in the markets activity," said Geoffroy Wallier, head of strategic equity at Edinburgh-based Royal Bank of Scotland Group Plc. "There will be some higher capital requirements that will reduce part of the activity, but the business has always been capable of re-adapting itself, and it will do so again."
Before it's here, it's on the Bloomberg Terminal.
LEARN MORE