Canada Matching China Profits at Discount Lure Cash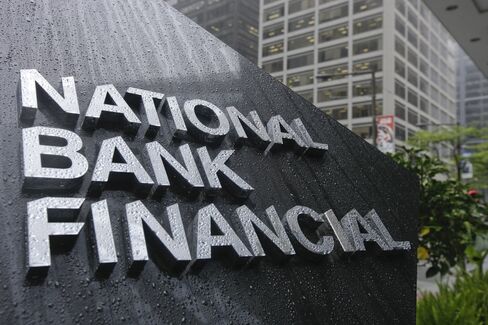 Investors are pouring more money than ever into Canada, drawn by earnings growth that almost equals China's and shares trading for 18 percent less.
International funds pumped in $2.7 billion over the last year as analysts forecast companies in the Standard & Poor's/TSX Composite Index will boost profits 42 percent and pay the best dividends relative to global equities on record. The market value of Canadian stocks has risen the most among the world's 15 biggest nations this year in U.S. dollar terms. Prices gained 2.8 percent and the Canadian currency strengthened 3.6 percent, according to data compiled by Bloomberg.
Canada is becoming investors' favorite because its banks avoided bailouts and the budget deficit is less than half that of the U.S., compared with their economies. The benchmark index may beat global equities for a fourth year as the recovery lifts demand for energy and metals providers, which make up 46 percent of the market. The S&P/TSX's price-earnings ratio was 18 percent below China's CSI 300 Index before today, Bloomberg data show.
Peter Sorrentino, a senior money manager who helps oversee $13 billion at Huntington Asset Advisors in Cincinnati, said he's buying shares of Suncor Energy Inc. of Calgary and reducing a stake in Irving, Texas-based Exxon Mobil Corp.
"I bought Suncor this morning," he said in an April 15 interview. "Canada is a more stable environment at this time and they have what India and China need: raw materials, energy, along with rational government and a stable currency."
Compound Growth
The S&P/TSX fell 0.9 percent last week, its first retreat since March. Concern that fraud charges against New York-based Goldman Sachs Group Inc. signal an extended crackdown on banks sent the S&P 500 Index down 0.2 percent for the week, cutting the 2010 advance to 6.9 percent. The Canadian index gained 0.3 percent to 12,102.97 in Toronto today.
Profits in the S&P/TSX may increase 16 percent a year, the most among the world's 10 largest developed markets, according to long-term growth estimates from analysts in a Bloomberg survey. Annual earnings for companies in the gauge slipped 1 percent since 2005 on average, the smallest retreat for any country in the group except Spain. That compares with a compounded annual decrease of 3.2 percent for the S&P 500, Bloomberg data show.
The S&P/TSX paid 2.62 percent in dividends during the past year, compared with 2.30 percent for the MSCI World Index of 23 developed nations. The yield advantage for Canada of 2.65 percent versus 2.26 percent on March 26 was the most on record.
Economic Growth
Canada's economy is projected to expand by 3.1 percent in 2010 and 3 percent in 2011, compared with 3 percent in both years for the U.S., according to a Bloomberg survey of economists. That's the most for any Group of Seven nation. Canada gets 30 percent of its export revenue from commodities compared with 7.1 percent in the U.S., data compiled by Bloomberg show.
Oil, Canada's leading export, accounted for 12 percent of sales last year, and the country sold C$5 billion ($4.9 billion) of coal abroad, according to Statistics Canada. China uses more coal than any other country, and the International Energy Agency projects Chinese oil imports will almost quadruple over the 2006 level by 2030.
China's economy grew at an 11.9 percent pace in the first quarter, the country's statistics bureau said April 15. Efforts to hold down inflation may derail the rally in commodity producers, said Stephen Gauthier, a money manager at Demers Valeurs Mobilieres in Montreal, which manages C$150 million.
'Have to Slow Down'
"Inflation in China is going up, and they will have to raise rates at one point," Gauthier said. "They will have to slow down, and the U.S. is not picking up as far as demand is concerned for commodities."
Canadian stocks remain almost as cheap relative to earnings estimates as U.S. equities, even though the S&P/TSX beat the S&P 500 six years in a row. Canadian companies trade at 15.7 times the average 2010 profit forecasts of analysts in a Bloomberg survey. U.S. companies sell for 15.2 times projected net.
Chinese stocks traded at a 19.1 multiple at the end of last week, before equities plunged the most in eight months on concern a government crackdown on the property market will increase bad loans and reduce consumer spending. The CSI 300 retreated 5.4 percent. That cut its price-earnings multiple using 2010 profit projections to 18.1.
International investment is accelerating. Funds tracked by EPFR Global in Cambridge, Massachusetts, spent a net $549.1 million on Canadian equities in the eight weeks ended March 31, the most since July 2009. The S&P/TSX returned 31 percent in 2009 compared with 23 percent in the S&P 500.
'Won't Get Burned'
"It's a way to play in North America that you probably won't get burned on," said Michael Mullaney, who manages $9 billion at Fiduciary Trust Co. in Boston and may add to a stake in EnCana Corp. "It's a safe way to diversify away from your U.S.-based holdings without going to the riskier emerging markets."
EnCana, the country's biggest natural-gas producer, climbed 10 out of the past 11 years, increasing eightfold. The Calgary- based company retreated 16 percent in 2008 when the S&P/TSX plunged 35 percent, its worst slump since 1931.
Canadian financial institutions required no bailouts during the credit crisis that spurred $1.77 trillion in global losses tied to subprime loans. The World Economic Forum has said that Canada's banks are the world's soundest for two straight years.
Smaller Deficit
That helped the government hold its budget gap to half the size of the U.S. relative to gross domestic product and 22 percent below the average in Europe, according to the Organization for Economic Cooperation and Development. Ottawa's Finance Ministry projects the deficit, which reached C$53.8 billion last year, will shrink 97 percent by 2014.
The Congressional Budget Office in Washington says America's shortfall may reach $1.5 trillion this year.
Traders expressed their confidence by bidding up the Canadian dollar 22 percent against the U.S. currency and 17 percent against the euro over the past year.
"In terms of our dealings with a lot of the managers of these companies, they are very frugal," said Matthew McCormick, who helps oversee $2.8 billion at Bahl & Gaynor Inc. in Cincinnati. He owns at least 400,000 shares of Toronto-based Bank of Nova Scotia and visited with management in 2007.
"When we met with their executive team, they said, 'Would you like some water?' They gave us two plastic cups and asked us to share a bottle. That alone says to me that they're cheap, which is great," McCormick said.
Subprime Losses
Bank of Nova Scotia, the country's third-largest by assets, posted $1.8 billion in write-downs related to the credit crisis since 2007, 102nd among financial firms tracked by Bloomberg. Minneapolis-based U.S.Bancorp, which has about the same market value, reported $8.9 billion in losses from the collapse of the U.S. housing market.
Profits at S&P/TSX companies will jump 42 percent this year, compared with a 24 percent gain for the S&P 500 and 45 percent for China's CSI 300, analyst estimates compiled by Bloomberg show.
Commodity and energy producers account for most of the advantage over the U.S. benchmark index. Analysts forecast earnings at S&P/TSX materials suppliers will double this year and earnings of energy companies will jump 81 percent.
Suncor's net income is forecast to grow 99 percent this year, twice as fast as Exxon, according to analysts' estimates compiled by Bloomberg. Canada's biggest oil and gas company may report first-quarter earnings of 17 cents a share on May 4, data compiled by Bloomberg show.
15 Times Higher
Yields for S&P/TSX stocks, based on dividends paid in the past 12 months, are 46 percent higher than those of S&P 500 companies, the widest gap in Bloomberg records dating to 1993. Royal Bank of Canada, based in Toronto, yields 15 times more than Bank of America Corp. of Charlotte, North Carolina. EnCana has a dividend payout triple that of Chesapeake Energy Corp. in Oklahoma City.
"We've been looking for higher-yield stocks in the states and are coming up more empty," said Blair Falconer, who helps oversee about C$19 billion as a money manager at HSBC Securities (Canada) Inc. in Toronto. "You're seeing an enormous amount of money coming into Canada. People are running to our market."
Before it's here, it's on the Bloomberg Terminal.
LEARN MORE