Brown Must Avoid 1970-Style Surprise as GDP Data May Turn Vote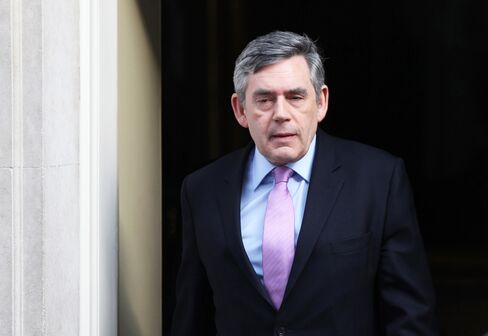 Prime Minister Gordon Brown can't afford a repeat of 1970 for his governing Labour Party when figures on the U.K. economy are published this week.
A sudden deterioration of the trade balance reported just days before that year's vote helped the Conservatives eject Labour Premier Harold Wilson. British high-school students are taught "poor trade figures" cost him the election.
Brown's early day of reckoning could come April 23, when the Newport, Wales-based Office for National Statistics publishes its initial first-quarter economic growth estimate two weeks before the May 6 election.
"It's an extremely important number," said Mike Turner, head of strategy at Aberdeen Asset Management Plc in Edinburgh. "If that number surprises either way, I suspect that it will have a significant bearing on the polls because either party will make hay while the sun shines."
After the longest economic slump since World War II, sustaining growth and cutting a record budget deficit have become overriding campaign issues. Brown says the proposal by Conservative leader David Cameron to start cutting spending this year risks a double-dip recession.
Gross domestic product rose 0.4 percent in the three months ended in December, the first growth since March 2008. Economists expect the same rate for the first quarter, according to the median of 31 forecasts in a Bloomberg News survey. That matches an estimate by the National Institute of Economic and Social Research, a research group in London whose clients include the Bank of England and the Treasury.
'Highly Significant'
"Provided it's right, it's not a game changer," said Jeremy Peat, director of the David Hume Institute in Edinburgh and a former chief economist at Royal Bank of Scotland Group Plc in the Scottish capital. "If it's 0.1 percent or 0.2 percent, we are back in the risk of a double-dip recession and it would be highly significant."
While the most recent polls indicate the May 6 election won't produce a majority for Brown or Cameron, they show voters favor Brown and Chancellor of the Exchequer Alistair Darling when it comes to handling the economy.
In a ComRes Ltd. survey conducted after Darling announced his budget on March 24, 33 percent of respondents backed Brown and Darling to steer the economy, compared with 27 percent favoring Cameron and his finance spokesman, George Osborne. No margin of error was provided.
Darling last week underscored the risks of a single economic release roiling markets, noting that this will be the first of three estimates of GDP.
'Three Cuts'
"Whenever you get the GDP numbers, you've got to remember there are three cuts at them," Darling told reporters in Nottingham, central England, on April 13. "People don't think about GDP every day of the week."
The economy surprised the last time GDP figures were published, at least at first. GDP expanded 0.1 percent in the fourth quarter, the ONS said initially on Jan. 26, less than the median 0.4 percent forecast in a Bloomberg survey of 33 economists. The figure then was revised up to 0.3 percent and finally on March 30 to the originally expected 0.4 percent.
The initial measure from the ONS uses data for the first two months of the period provided by about 40 percent of companies assessed, or about 40,000 businesses, Joe Grice, the organization's chief economist, said in a February interview. It also includes the full three-month figures for a further 20,000 respondents. The government gets to see the data 24 hours before they are released, the ONS said.
Deteriorating Trade
In 1970, Labour had been in power for six years and led opinion polls, prior to a report that showed a trade deficit for May, according to British Broadcasting Corp. archives. The ONS, which says it doesn't keep monthly records, today reports the second-quarter trade surplus as having shrunk to 48 million pounds from 220 million pounds.
Conservative leader Edward Heath scored his victory three days later after claiming the pound may have to be devalued and the public turned against Wilson, according to the BBC.
Haig Bathgate, head of strategy at Edinburgh-based firm Turcan Connell, which invests on behalf of rich families, said he wouldn't bet against the GDP number this week having an effect on the outcome of the 2010 election.
"If it's massively worse, the Tories are going to seize on it and if it's massively better then Labour will benefit," said Bathgate. "If it's an extreme figure, it will have an impact."