Plume Provides Short-Term Boost to Europe's Recovering Hotels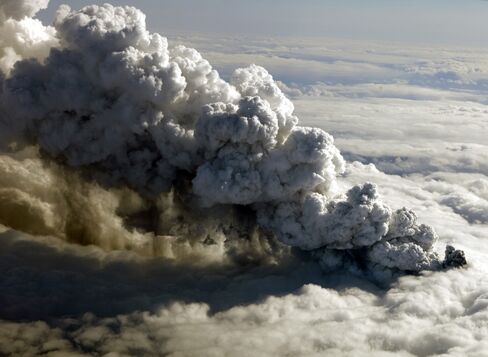 April 17 (Bloomberg) -- European hotels, still recovering from last year's recession, may get a temporary boost from the plume of volcanic ash spreading across Europe.
"It's going to be a great weekend at last for the industry," said Guillaume Rascoussier, an analyst at Oddo & Cie in Paris. "It's tremendous good news for the main players involved," he said, citing Whitbread Plc, Accor SA and Rezidor Hotel Group AB as the main beneficiaries.
Ash from the eruption of Iceland's Eyjafjallajökull volcano drifted southeast, shutting airports across the continent yesterday and possibly all of today. As many as 6 million passengers may be affected if the closures extend into a third day, according to the Centre for Asia Pacific Aviation. While that means many can't get to their destinations, some are finding themselves stuck and in need of accommodation.
David Benson, an information technology consultant, had planned to return to Barcelona from London last night and instead has rebooked for next week. He estimates the delay will set him back about 500 pounds ($771).
"I'd rather not be up there with the ash about," said Benson, 45, in the lobby of the Travelodge near Liverpool Street station. "They can't really predict it just yet."
European occupancy rates dropped to 61.1 percent in 2009 from 65.1 percent in 2008, with clients paying 11 percent less per night for an average rate of 94.23 euros ($127.05), according to STR Global.
Full Capacity
Hotels are scrambling to add concierge services to help guests find ways home, while operating at full capacity.
InterContinental Hotels Group Plc had "a significant rise" in bookings at its Crowne Plaza and Holiday Inn airport hotels in the U.K. Thursday, said Kirk Kinsell, the hotelier's president for Europe, Middle East and Africa.
Still, a prolonged period without air travel may end up doing hoteliers more harm than good, according to Ian Gamse, a director at Otus & Company Advisory Ltd. in London, which provides advisory services to the industry.
"The longer the disruption goes on, the worse it is," Gamse said. "If it's just a couple of days, the industry as a whole could actually see a net positive effect."
The Icelandic volcano is still showing "sporadic eruption," Eurocontrol, which oversees the region's flight paths said.
'Can't Take Anymore'
Most travelers are taking the natural emergency in stride.
"This is clearly an exceptional situation for the airlines, the guests and for us," said Patrick Bonnaure, director of Hotel Novotel Zurich Airport Messe, which got 500 additional stranded guests at the end of the week. "We can't take anyone more. The guests are very patient, no one is panicking."
Some hotels are having to send guests to other cities and chains to find accommodation.
Rezidor's Radisson Blu Hotel Amsterdam Airport on Thursday directed people to Hotel Haarlem-Zuid in Haarlem, a city some 15 miles west of Amsterdam, said Tom Verheul, the airport hotel's revenue manager. Haarlem-Zuid isn't a Rezidor hotel.
"We were flooded with phone calls," said Verheul, whose hotel has 279 rooms and was fully booked before the volcano erupted. The hotel isn't altering rates and is allowing people to cancel rooms without charge, he said.
Rezidor's Chief Executive Officer Kurt Ritter was not immediately available for comment via telephone.
Stranded Passengers
Hotels with vacancies this weekend are benefiting from the unexpected event. Hilton Hotels Corp.'s two Zurich hotels have more than 100 rooms available, which the company expects to fill with stranded passengers, said Christoph Glaser, Hilton's director of operations for Zurich Hotels.
Nicola Lafleur, 29, a curriculum developer for Apollo Group Inc., came a day short of not needing accommodation. She cleared out her London apartment last week after a two-month stint for work and was supposed to return to Phoenix yesterday. Instead, she's sleeping at the Travelodge London Liverpool Street.
"We're here, happy to get a room," said Lafleur. "We'll probably go to see St. Paul's Cathedral; we wouldn't have seen it otherwise."
The longer the volcanic disruption occurs, the more costly it may prove to hotels which lose new conference business and face cancellations. Three days of disruptions could cost the aviation industry $1 billion in lost revenue, according to the Centre for Asia Pacific Aviation.
"The situation is what it is and we are letting people cancel as long as they call us to tell us they can't make it," said Marcus Majewski, the managing director of Clarion Hotel Stockholm. "We're not getting richer because of the volcano cloud, but we may well be getting poorer."
Free Teleconferencing
TeliaSonera AB, the biggest telecommunications company in the Nordic region by market value, is offering free teleconferencing services on April 19 to Finnish clients who've had to cancel hundreds of meetings, it said in a statement.
Some are taking matters into their own hands. Members of British pop star Mika's entourage had to spend an extra night at Paris's InterContinental Hotel. They were planning to spend the night on a bus to Barcelona last night.
"It's going to be a 12-hour drive instead of a short flight, but at least we are sure to get there," said Cherisse Ofosu-Osei, 23, a drummer in the band, while lounging on sofas in the hotel's marble lobby. "It's something you would never expect to happen -- a volcano! The funny and frustrating thing is that there is no one to blame."
To contact the reporters on this story: Ladka Bauerova in Paris at lbauerova@bloomberg.net; David Altaner at daltaner@bloomberg.net
To contact the editor responsible for this story: Celeste Perri at cperri@bloomberg.net.