Sony PlayStation 3 Sales in U.S. Jump on 'God of War' in March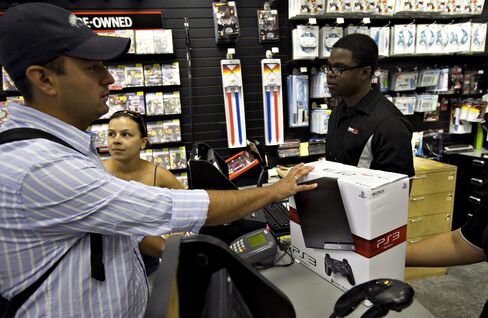 Sony Corp.'s sales of PlayStation 3 video game consoles jumped 44 percent in the U.S. in March, helped by the release of the "God of War III" title, according to market researcher NPD Group Inc.
Sales of the PS3 gained for the eighth straight month, rising 44 percent to 313,900 units from a year earlier, Port Washington, New York-based NPD said in a statement yesterday. Nintendo Co.'s Wii was the top-selling console even after sales dropped 7.2 percent to 557,500 units, while Microsoft Corp.'s Xbox 360 sales rose 2.5 percent to 338,400.
Sony, which loses money on each PS3 it sells, aims to make the games unit profitable in the fiscal year started April 1, helped by the introduction of its "Move" motion-sensing controller and 3-D gaming. The new hardware may help the company extend the PS3's lifespan and narrow Nintendo Wii's lead by appealing to casual gamers, researcher ISuppli Corp. said.
"The combination of motion controller and games played in 3-D has a lot of potential," said Masahiko Ishino, a Tokyo-based analyst at Mitsubishi UFJ, who rates Sony "strong outperform." "The extent to which these moves can help take on Nintendo in the casual market" will depend on the details Sony announces at the E3 trade show in Los Angeles in June, Ishino said.
The new controller, which will go on sale later this year, will face competition from Nintendo's heart-rate-tracking "Vitality Sensor" and Microsoft's "Natal" motion-sensing device for the Xbox.
'God of War'
Sony fell 1.5 percent to 3,360 yen as of the 11 a.m. trading break on the Tokyo Stock Exchange, while Nintendo declined 1.6 percent and the benchmark Nikkei 225 Stock Average retreated 1.4 percent.
"God of War III," a Sony-published game in which players battle legions of Greek gods and mythical creatures, led U.S. software sales last month with 1.1 million units, NPD said. Nintendo's new "Pokemon" title was second with 1.02 million copies sold, followed by Square Enix Holding Co.'s "Final Fantasy XIII" with 828,200.
Nintendo's Wii dominates this generation of game consoles with more than 67.5 million units sold, compared with more than 39 million Xbox 360s and 33 million PS3s worldwide, according to separate statements by the companies. The Wii captured a 43 percent share of the global console shipments measured by units in 2009, El Segundo California-based ISuppli said in yesterday.
Microsoft plans to offer its Natal controller-free system which lets players operate Xbox games with body motions instead of pressing buttons or waving a device later this year. Nintendo introduced the Wii motion-controller in 2006.
Sony released a new version of the PS3 in August and cut the price by 25 percent to $299. The system also works as a Blu-ray movie player and has wireless Internet access.
Before it's here, it's on the Bloomberg Terminal.
LEARN MORE