U.S. Economy: Starts, Permits Rise as Builders Gain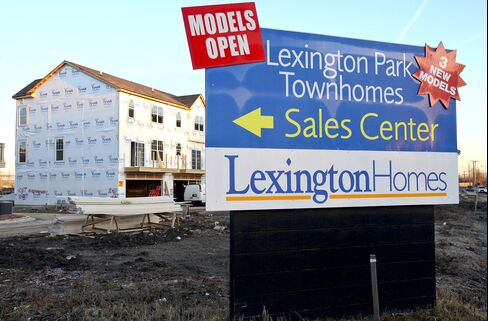 Builders broke ground on more U.S. homes in March than anticipated and took out permits at the fastest pace in more than a year, a sign the weakest part of the economy has stabilized.
Housing starts climbed to an annual rate of 626,000 last month, up 1.6 percent from February's 616,000 pace, the Commerce Department figures showed today in Washington. Building permits, a sign of future construction, climbed to the highest level since October 2008.
"We are unambiguously seeing an improving trend in housing," said Richard DeKaser, president of Woodley Park Research in Washington. "We have got a rebound in residential activity which counters the collapse over the last three years."
An improvement in the housing market, after a crash that contributed to the deepest recession in the post-World War II era, signals a broadening of the economic recovery. A separate report showed consumer confidence unexpectedly slumped in April, indicating Americans are worried the expansion will be too slow to bolster the labor market.
Stocks fell, halting a six-day rally, after the Securities and Exchange Commission charged Goldman Sachs Group Inc. with fraud, and earnings at Google Inc. trailed some analysts' estimates. The Standard & Poor's 500 Index declined 1.6 percent to close at 1,192.13.
Lumber Prices
Lumber surged by the maximum allowed on the Chicago Mercantile Exchange, touching the highest price in almost four years, as the housing report revived optimism that demand for wood will rebound.
The Reuters/University of Michigan preliminary index of consumer sentiment unexpectedly dropped to 69.5 this month from a final reading of 73.6 in March. The gauge was projected to rise to 75, according to the median forecast in a Bloomberg News survey of 69 economists.
A measure of current conditions, which reflects Americans' perceptions of their financial situation and whether it's a good time to buy big-ticket items like cars, dropped to the lowest level this year.
The index of expectations six months from now, which more closely projects the direction of consumer spending, posted its weakest reading since March 2009.
Health Care
The report also showed almost four in 10 Americans thought President Barack Obama's health care legislation would have a negative effect on their finances. Eight percent said they expected it to help.
Housing starts, which last month reached the highest level since November 2008, were forecast to rise to a 610,000 rate from a previously reported 575,000 for February, according to the median projection of 74 economists in a Bloomberg survey. Estimates ranged from 580,000 to 650,000.
New-home construction rose 20 percent in March from the same month last year. Permits were up 34 percent in the 12 months ended in March.
Construction of single-family houses decreased 0.9 percent to a 531,000 rate in March, while permits increased 5.6 percent. Work on multifamily homes, such as townhouses and apartment builders, climbed 19 percent to an annual rate of 95,000.
The increase in starts was concentrated in the South. New construction fell in the rest of the country.
Confidence, Starts
A report yesterday showed builder confidence rose this month more than anticipated as a measure of single-family sales reached the highest level in two years. The National Association of Home Builders/Wells Fargo index rose to 19 from 15 in March. Even though the gauge reached the highest level since March 2008, a reading below 50 means a majority of respondents said conditions remained poor.
The Obama administration extended a credit for first-time homebuyers in November and expanded it to include some current owners. The deadline for signing purchase contracts is the end of this month, and transactions must be completed by June 30.
Defaults remain a concern. Foreclosure filings in the U.S. rose 16 percent in the first quarter from a year earlier and bank seizures reached a record. This may continue to drive down prices, creating increased competition for builders.
A difficult labor market will probably also restrain demand. Economists surveyed by Bloomberg earlier this month projected unemployment would end the year at 9.4 percent, according to the median forecast. The jobless rate reached 10.1 percent in October, the highest level since 1983.
Fewer Incentives
Lennar Corp., the third-biggest U.S. homebuilder by revenue, is among companies cutting costs and incentives to try to return to profitability. The Miami-based company last month said orders climbed 18 percent in the quarter ended Feb. 28 from the same time last year as it benefited from selling homes in communities where there was less competition from foreclosure sales.
"We are extremely well-positioned to navigate the rocky bottom and ultimate recovery that lies ahead," Chief Executive Officer Stuart Miller said in a March 24 conference call with investors. The company expects to return to profitability this year, he said.