Shortened BRIC Summit Pledges to Boost Trade in Local Currency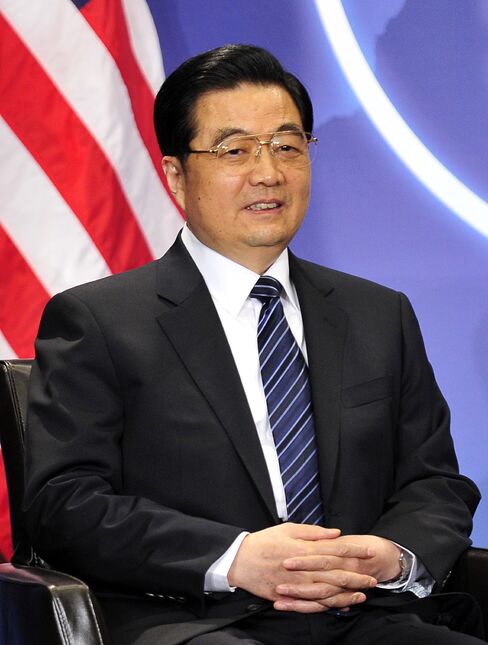 Brazil, Russia, India and China pledged to study ways to use their currencies, instead of the U.S. dollar, in local trade at a heads-of-state summit of the four biggest emerging economies.
The so-called BRIC summit taking place in Brasilia ended a day earlier than scheduled after Chinese President Hu Jintao decided to return home early because of an earthquake in the western province of Qinghai that killed at least 760 people and displaced another 100,000.
The leaders, who oversee economies estimated to fuel 60 percent of worldwide growth through 2014, said in a statement yesterday they would make efforts to sustain their domestic expansion to aid a global recovery that's "not yet solid."
Even while vowing to promote cross-border trade and investment, the leaders made no mention of China's controlled exchange rate, which economists say is a barrier to closer commercial ties. The yuan was not discussed during the meetings, Chinese Foreign Ministry spokesman Ma Zhaoxu told reporters.
"It doesn't surprise me they didn't touch the yuan, and it's disappointing," John Williamson, senior fellow at the Washington-based Peterson Institute for International Economics, said in a phone interview. "Part of the problem is that this is regarded as a bilateral affair between China and the U.S., and it really isn't."
International pressure has been building on China to scrap the currency peg that has valued the yuan at about 6.83 to the dollar since July 2008. Last month 130 U.S. lawmakers sent a letter to Treasury Secretary Timothy Geithner demanding the administration take actions including higher tariffs on Chinese-made imports.
Yuan Forwards
Yuan forwards, after rising two straight days on speculation Chinese policy makers will allow appreciation to resume soon, declined in trading today.
Twelve-month non-deliverable forwards fell 0.1 percent to 6.6225 per dollar as of 11:16 a.m. in Hong Kong, according to data compiled by Bloomberg. The rate reflected bets the currency will strengthen 3 percent from the spot rate of 6.8263.
A government report yesterday showed China's economy expanded 11.9 percent in the first quarter from a year earlier, the fastest pace in almost three years.
Instead of confrontation, China and Brazil agreed to cooperate in oil exploration and to build infrastructure needed to ship Brazilian iron, coal and other minerals to China, Hu and host President Luiz Inacio Lula da Silva said in a statement.
IMF Reform
Brazilian billionaire Eike Batista, controlling shareholder of EBX Investimento Ltda., reaffirmed a $5 billion steel project between EBX and Wuhan Iron & Steel Group Co. in Rio de Janeiro state will go forward.
As during their first summit almost a year ago in the Ural Mountains city of Yekaterinburg, Russia, the four leaders called for a bigger voice for emerging economies in management of the International Monetary Fund and World Bank. They also pledged to "resist all forms of protectionism" and help conclude the Doha round of global trade talks.
"The world needs today a reformed and more stable financial architecture that will make the global economy less prone and more resilient to future crises," the statement said. "There is a greater need for a more stable, predictable and diversified international monetary system."
The leaders of the economies, who Goldman Sachs Group Inc. says will collectively match the size of the U.S. by 2020, will meet again next year in China.
Jim O'Neill, the Goldman Sachs chief global economist who coined the BRIC term in 2001, said April 14 that until China abandons its controlled exchange rate commercial integration among the countries "won't work."
Brazil's real has gained 34 percent against the dollar since China last revalued its currency by 2.1 percent in July 2005, more than any major currency tracked by Bloomberg.
Before it's here, it's on the Bloomberg Terminal.
LEARN MORE