Palin Launches Campaign for Bendable Straws: Margaret Carlson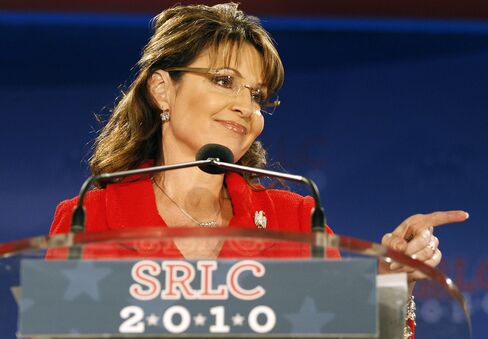 Sarah Palin made a rare unpaid appearance in New Orleans before the Southern Republican Leadership Conference, a loss leader that pays for itself by keeping Republicans in her thrall.
Even those Republicans who don't want her to run for president in 2012 -- John McCain's 2008 chief campaign strategist said it would produce "catastrophic" results for the GOP -- need her magnetic appeal and ability to raise money. As her appearance yesterday before an estimated 10,000 people at a Tea Party event on the Boston Common shows, she is the putative leader of that movement, one Republicans desperately need to co-opt.
For her part, Palin is far more interesting so long as "will she or won't she" is mentioned along with her name. Her initial fame from an improbable run for vice president opened the door to writing a memoir about her improbable run, as well as television shows on TLC and Fox News Channel. She's paid six figures per speech, helping her make $12 million in the last nine months, according to an estimate by ABC News. The zing a potential presidential run brings to all of this is essential to keeping her aloft.
The press cooperates in the mutually assured seduction. After President Barack Obama signed an arms-control treaty with Russia, ABC's George Stephanopoulos asked him not about Senate Minority Leader Mitch McConnell's comments but about Palin's negative assessment. And Obama took the bait, saying that last time he checked, Palin's "not much of an expert on nuclear issues."
Still Jabbing
That was all she needed to get in another jab, mocking Obama for "all the vast nuclear experience that he acquired as a community organizer." Evidently she still views as a liability Obama's one-time career helping the residents of poor neighborhoods come together to get jobs, schooling and health care.
John F. Kennedy was considered the first modern-day politician to have "jumpers" -- in his case, teenage girls who hopped up and down and squealed with delight upon seeing him. As Palin came into the ballroom in New Orleans, women jumped up on their chairs pumping lipstick tubes, waving copies of "Going Rogue."
Her speeches are much like her Tweets, short bits, one after another: "It's not a time to retreat, it's time to reload," and "How's that hopey-changey thing working for ya?" It's less a political manifesto than a series of pokes by the outs against the ins. Every word delighted the crowd.
Study Time
It's clear Palin decided against taking the advice of Republican wise men to study the issues confronting the country and come up with a coherent set of proposals to solve them. Instead, she's blitzing the lower 48 for fun and profit.
Ask female candidates such as Texas Senator Kay Bailey Hutchison, who lost her race for the Republican nomination for governor, how that serious thing is working for them. Palin and her cartoonish twin, Minnesota Representative Michele Bachmann, are all the rage. They appeared together last week before a rocking "Don't Tread on Me" crowd in Minnesota.
To live out her dream, Palin doesn't have to be a serious candidate, just play one on TV and on tour. From the confab in New Orleans she headed to Caesar's Palace in Las Vegas to talk to wine-and-spirits wholesalers.
In her book, Palin expressed disdain for the rigors of campaigning. She now travels without the constraints of having to prep for debate, and in style.
Bend That Straw
Students at the California state university campus where she is speaking in June dug out of the trash the addendum to her standard speaking contract, according to the Associated Press. It says that because she is a person of "professional endeavors and high profile," her travel must include two first-class plus two unrestricted coach tickets, if not a private jet, which must be a Lear 60 or better. Also, two bottles of water at the podium with "bendable straws," meaning the kind rarely used outside a nursery school or nursing home.
Palin loves what she regularly calls "you good, patriotic people here," but not their uncensored questions, which, at least at Cal State, are to be collected, screened and asked by a designated representative.
Tina Fey may have a way forward for Palin. In a "Saturday Night Live" sketch, Fey-as-Palin announced plans for the Sarah Palin Network, with programs including "Are You Smarter Than a Half-Term Governor?" and "Hey Journalist, I Gotcha!" in which Palin gets back at CBS's Katie Couric.
Here's another idea. To marry her avocation and vocation, Palin should develop a show about a former governor who quits to barnstorm the country. Perhaps by the sixth season, the reason becomes clear.
(Margaret Carlson, author of "Anyone Can Grow Up: How George Bush and I Made It to the White House" and former White House correspondent for Time magazine, is a Bloomberg News columnist. The opinions expressed are her own.)
Click on "Send Comment" in the sidebar display to send a letter to the editor.