'Jerk' Insurance Soothes Property Sellers Amid Recovery Signs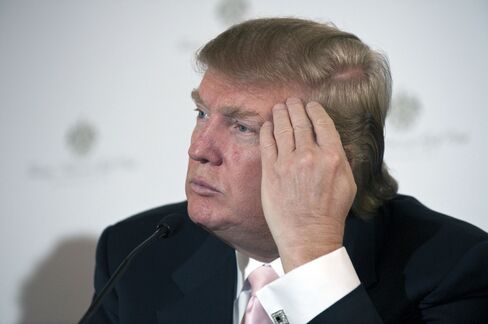 When private-equity investor Tony Avila negotiated a purchase of empty lots in Las Vegas in March, he persuaded the selling bank to accept 30 cents on the dollar by pledging to share profits from developing the land.
When developer Donald Trump sold apartment buildings in Brooklyn and Queens, he says he demanded terms that restricted the buyers from reselling within five years. "I don't want to look like a jerk," he said.
Sweeteners to protect one side in a transaction from looking like a loser have been used by hedge-fund managers William Ackman and Carl Icahn and the Federal Deposit Insurance Corp. They're helping seal deals amid signs that the worst real estate crisis in 80 years may be easing, said Woody Heller, an executive managing director at Studley, a New York-based commercial broker. Avila, Trump, Ackman and Icahn call the practice "schmuck insurance," derived from a vulgar Yiddish word that has come to mean "jerk," "fool," or "easy mark."
"No one worries about schmuck insurance when the market is in decline," said Heller, who has worked in New York real estate since 1981 and said the expression has been around for decades. "That this is a topic anyone is thinking about or talking about is an affirmation that the market is in recovery."
Median U.S. home prices have dropped 28 percent since their peak in July 2006, while offices, stores and warehouses are down 40 percent since the top in October 2007.
Higher Asking Prices
"Things have fallen so far, if someone needs to sell, they don't want to be hitting the low bid," said Neal Elkin, president of Real Estate Analytics LLC, a New York firm that provides commercial property data.
As a sign of recovery, Heller pointed to the prices for Manhattan office buildings at 340 Madison Avenue, which he expected to fetch $700 a square foot, and 600 Lexington Avenue, which is being bought by SL Green Realty Corp. for about that price. Last year, a comparable tower at 1540 Broadway sold for $392 a square foot, Heller said.
Another positive sign: Manhattan commercial property sales tripled in value in the first quarter from the same period a year earlier, brokerage Cushman & Wakefield reported April 6. Beyond New York, the S&P/Case-Shiller index of home prices in 20 U.S. cities rose unexpectedly in January, the most recent month available.
Trump's Rationale
Trump said he has designed deals to prevent people who buy his properties from flipping them for a profit big enough to hurt his reputation.
"I view schmuck insurance as having a covenant that you can't sell for a five-year period or greater," the 63-year-old developer-cum-reality television star said in a telephone interview.
The need to protect his image is driven in part by the scrutiny that comes with being host of the "The Celebrity Apprentice" on the NBC television network and chairman of companies that run casinos, hotels and golf courses, Trump said.
"In my case, it gets magnified," said Trump, who this week won control of Trump Entertainment Resorts Inc. in bankruptcy court.
An example of a seller that should have used some protection is New York Times Co., Trump said. The newspaper publisher sold its headquarters building at 229 West 43rd Street for $175 million in 2004 to Tishman Speyer Properties LP. Africa Israel Investments Ltd., Israeli billionaire Lev Leviev's real estate company, bought the 15-story tower three years later for $525 million. Abbe Serphos, a spokeswoman for Times Co., declined to comment.
Shifting Meaning
"Not everyone will agree to it," Trump said.
Schmuck, also spelled shmuck, is a coarse Yiddish word for penis, said Paul Glasser, associate dean of the YIVO Institute for Jewish Research in New York. (Shmo is a gentler, Americanized variation, according to Leo Rosten's book "The Joys of Yiddish.")
The meaning has shifted in English usage from being an aggressor to being a fool or loser, Glasser said in a telephone interview.
"The insurance is you won't be a victim," he said.
The concept is more universal than Yiddish, a language with roots in German and used by Eastern European Jews and, with diminished frequency, their descendants. The British equivalent is "anti-embarrassment clause," said Camille Douglas, an adjunct associate professor at the Columbia Business School in New York and a specialist in international real estate finance.
See 'Chump Tax'
"I used to call it a chump tax," said Robert L. Freedman, chairman of New York property broker FirstService Williams. "If I sold too early in the cycle, I wanted some participation in the third party's upside."
It's also more than a New York phenomenon. Avila, the private-equity fund manager, offered the bank 20 percent of any price above $100 per square foot he gets for homes built on the Las Vegas lots.
"To get them over that nervousness and make sure they're comfortable, there's this insurance -- schmuck insurance," said Avila, the 44-year-old managing principal of the $100 million Encore Housing Opportunity Fund in San Francisco. "That way, they don't look like a schmuck for selling too cheaply."
The FDIC, the Washington-based federal bank regulator run by Chairman Sheila Bair, built a variation of the insurance into sales of $15.2 billion of assets of failed lenders, said Richard Gaudet, principal at GlassRatner Advisory & Capital Group LLC, an Atlanta-based firm that has worked with the FDIC. In these structured sales with investors such as Barry Sternlicht's Starwood Capital Group LLC and Lennar Corp., the agency's share of proceeds increases when the buyers' internal rates of return surpass thresholds, he said.
FDIC Euphemism
"It's a new paradigm the FDIC has brought," Gaudet said. "We'll allow you to participate, but you're not going to get a windfall."
In the cases of five banks that failed since December and were acquired by other lenders, the FDIC demanded future cash payments, similar to warrants, to share the acquiring bank's gains, said Andrew Gray, an FDIC spokesman.
"We use the term 'equity-appreciation instrument,' " Gray said in a telephone interview.
The five failed banks were AmTrust Bank in Cleveland; Evergreen Bank in Seattle; Premier American Bank in Miami; Florida Community Bank in Immokalee, Florida; and the Park Avenue Bank in New York. They accounted for $2.55 billion of the insurance fund's $43 billion in losses since Jan. 1, 2009.
"It's a way to do a hedge in an illiquid market where values are uncertain," said Steven M. Friedman, national director of homebuilding services for Ernst & Young LLP in Washington.
Ackman v. Icahn
The FDIC's advantage is that it can afford to wait for a payoff since its cost of money is lower than private investors, Friedman said.
One problem with such agreements is they can bind rival parties together after a transaction, Friedman said. A dispute between fund managers Icahn and Ackman led to a lawsuit, now in its sixth year.
In 2003, Ackman's Gotham Partners LP sold Icahn a limited partnership participation in Hallwood Realty Partners LP for $18.8 million, or $80 a unit, according to court papers. The deal included an "additional purchase price" clause if Icahn resold the partnership at a profit within three years.
In July 2004, Hallwood announced it was merging with its general partner for $136.39 a unit. Icahn considers the transaction a merger that didn't obligate him to pay Ackman, as a sale would. Ackman sued in August 2004, demanding more than $5 million.
Award, Appeal
"He proposed a concept which he called schmuck insurance, which was to protect us from looking foolish," Ackman, 43, said in a deposition for the lawsuit. "This would be a way for us to participate if something great were to happen quickly."
In June 2009, New York State Supreme Court judge Eileen Bransten awarded $7.68 million to Ackman, including interest and attorney fees. Icahn has appealed.
"There's no way in the world I would have even done this deal if I thought I had to give away any profit, to give him schmuck insurance, in the situation of a merger," Icahn, 74, said in telephone interview. "This deal simply wasn't that good."
Before it's here, it's on the Bloomberg Terminal.
LEARN MORE