Singapore's Revaluation May Spur China, South Korea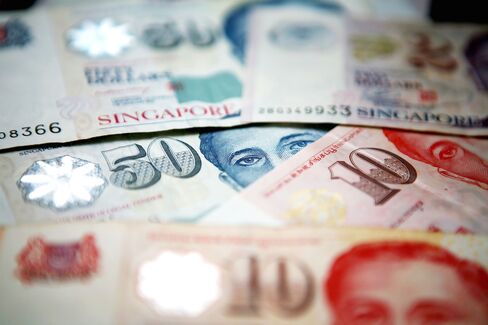 Singapore's currency revaluation may prompt policy makers in China, Indonesia and South Korea to start withdrawing monetary stimulus as economic growth in the region outpaces the rest of the world.
Asian central banks are mostly "behind the curve" in tightening monetary policy and inflationary pressures may rise, said HSBC Holdings Plc's Robert Prior-Wandesforde. Singapore yesterday announced it will allow its currency -- the city-state's principal monetary tool -- to strengthen, even as China, South Korea and Indonesia keep interest rates unchanged.
"Singapore's move is a signal that tightening in other nations in the region may come sooner or be more aggressive than what is currently expected by the market," said Matt Hildebrandt, an economist at JPMorgan Chase & Co. in Singapore.
Most Asian currencies have strengthened as the region, driven by China, leads the recovery from the deepest global recession since World War II. Rising commodity costs are spurring price pressures, and economists surveyed by Bloomberg News predict China may allow the yuan to appreciate by June 30 to curb inflation while avoiding a one-time jump in value that might endanger export jobs.
"Growth in the region has picked up sharply over the last six to 12 months," said Brian Jackson, an emerging-markets strategist at Royal Bank of Canada in Hong Kong. "It seems increasingly appropriate that policy settings should be returned to more neutral levels in the months ahead."
Yuan Peg
Singapore's economy expanded an annualized 32.1 percent in the first quarter from the previous three months, the trade ministry said yesterday. China said today its economy grew 11.9 percent last quarter from a year earlier, the fastest pace in almost three years and adding pressure on Premier Wen Jiabao to loosen the yuan's peg to the dollar and raise interest rates.
Singapore's GDP figure "represents the start of a series of strong Asian first-quarter numbers which will emphasize that central banks across the region have fallen significantly behind the curve," said Prior-Wandesforde, who is senior Asian economist at HSBC in Singapore.
The Monetary Authority of Singapore uses the currency instead of interest rates to conduct monetary policy. It said yesterday it will "re-centre the exchange rate policy band at the prevailing level" of the Singapore dollar, shifting to a stronger trading range for the currency. The Singapore dollar extended yesterday's 1.1 percent gain, rising to S$1.3735 as of 9:13 a.m. local time.
China Moves
Singapore's currency revaluation may have been prompted by expectations China was preparing yuan appreciation, said Tim Condon, chief Asia economist at ING Groep NV in Singapore. Twelve-month non-deliverable yuan forwards climbed for a second day to 6.613 per dollar, reflecting bets the currency will strengthen 3.1 percent from the spot rate of 6.8259, according to Bloomberg data.
Asian central banks have moved in lockstep on currency policy in the past. Malaysia on July 21, 2005, removed a seven-year peg on the ringgit to the dollar less than an hour after China said it would let the yuan appreciate by 2.1 percent against the dollar and let it fluctuate versus a basket of currencies.
Policy makers in Australia, Malaysia, India and Vietnam have raised interest rates in recent months. China has left its key one-year lending rate unchanged at 5.31 percent even as it increased the amount of money lenders have to set aside as reserves to drain cash from the economy. Bank Indonesia has kept its policy rate at a record low of 6.5 percent since August.
'Next Likeliest'
"We believe Indonesia and Korea are the next likeliest to begin tightening in the region, although currency strength will take some pressure off the need to hike policy rates until sometime closer to mid-year," said Win Thin, a New York-based senior currency strategist at Brown Brothers Harriman & Co.
Asian swap contracts, in which traders exchange a fixed rate for a floating one, jumped for a second day after Singapore yesterday raised its growth forecast for 2010 and allowed a one-time appreciation of its currency, widening the spreads over benchmark interest rates.
The one-year contract in Malaysia rose to 2.905 percent as of 8:50 a.m. in Kuala Lumpur, the highest since December 2008, according to data compiled by Bloomberg. Similar contract in South Korea climbed to 3.03 percent, the highest since April 2 while the rate in India stood at 5.06 percent, the highest level this year.
Korea, Thailand
The Bank of Korea raised its 2010 GDP forecast this week to 5.2 percent even as it left the benchmark interest rate at a record-low 2 percent at its April 9 meeting. Thailand's central bank has said it plans to "normalize" rates, a move that may be delayed after political violence killed 22 people and injured hundreds this month.
Asian economies can afford to keep rates steady, said ING's Condon, who predicted South Korea may wait until after the U.S. Federal Reserve moves to increase borrowing costs.
"I don't see why any other central bank in Asia" should also start raising rates, Singapore-based Condon said. "There are wide output gaps, no inflation problems. What exactly is the hurry?"
The Philippines may need to increase interest rates from a record-low 4 percent this year as the economy improves, central bank Deputy Governor Diwa Guinigundo said April 7. Hildebrandt of JPMorgan predicts Thailand and the Philippines may raise rates in June.
Indonesia's central bank will maintain a "careful" stance on monetary policy in the second half of 2010 because of a possible increase in commodity and electricity prices, Deputy Governor Hartadi Sarwono said yesterday.
While other central banks in the region are either debating or taking tentative steps toward ending stimulus, Singapore "has moved beyond mere policy renormalization to a managed tightening mode," said Deyi Tan, a Singapore-based economist at Morgan Stanley.