Philippine Stocks May Drop on 'Doji' Candle: Technical Analysis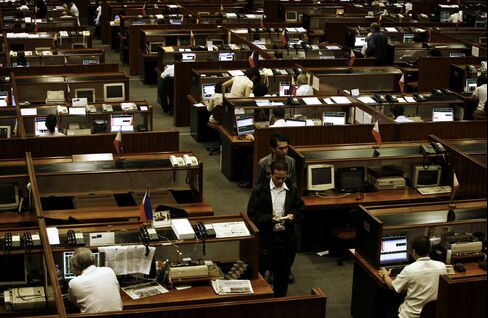 The Philippine benchmark stock index may drop after a "doji" formation in its candle chart yesterday, preventing the measure from closing above its 3,300 so-called resistance level, Accord Capital Equities Corp. said.
The Philippine Stock Exchange Index climbed to as high as 3,309.49 yesterday before ending the day at 3,299.90, less than half a point away from its 3,299.42 open. The gauge has risen 8.1 percent in 2010, making it the second-best performer in Southeast Asia.
"The doji is an indication of an approaching reversal of the current upward trend," Justino Calaycay, an analyst at Accord Capital, said in an interview in Manila. "It's a manifestation of the indecision among investors on the market's direction. We could see a correction in the short term."
Overseas investors yesterday sold a net 850.4 million pesos ($19 million) worth of shares, the most since Oct. 6. Shares climbed this year on speculation the central bank will keep interest rates low and funds sent home by overseas Filipinos, which make at least 10 percent of the economy, will increase more than 6 percent, based on the government's forecast.
Candlestick charts show an index or security's high, low, open and close each day, and may signal a reversal of a trend or a continuation. A doji is a candle is formed on a day when a security's open and close are almost the same, signaling the "indecision" among investors after a prolonged trend.
The doji candle shows the selling and buying pressures in the market are equal, according to Calacay. The appearance of sellers that are able to neutralize buyers in a rising market may indicate that a top has already been reached, he said.
In technical analysis, investors and analysts study charts of trading patterns and prices to forecast changes in a security, commodity, currency or index.