Hydro-Quebec to Sell C$4 Billion a Year in Bonds: Canada Credit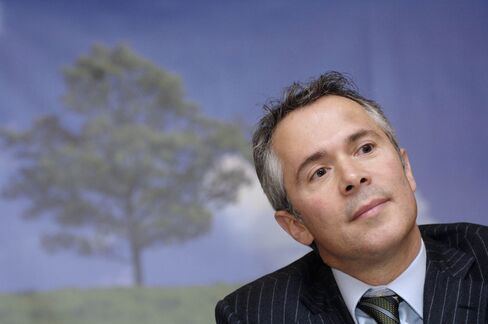 Hydro-Quebec will probably sell C$3 billion ($3 billion) to C$4 billion in bonds annually in the next five years to finance expansion of its power-generating capacity, Chief Executive Officer Thierry Vandal said.
Canada's fifth-largest borrower sold C$4.2 billion of debt last year, double the previous year, to help finance C$4.3 billion of capital investments, according to its 2009 annual report. Spreads on Hydro-Quebec debt widened versus benchmarks.
"This is going to be a busy time for financing activities," Vandal said in an April 9 phone interview from Montreal. "We are investing more than C$4 billion a year, and we have a lot of bonds coming due in the years ahead."
Hydro-Quebec is in the midst of a five-year, C$25 billion plan to build new generating stations that will help the utility boost power sales to U.S. states such as Massachusetts. Power exports to the U.S. last year accounted for 22 percent of the C$3 billion profit.
In February, Hydro-Quebec sold C$500 million in 5 percent debt in a reopening of a bond maturing in 2050. The bond, first sold in January 2009, has C$2.5 billion outstanding.
Vandal said the Montreal-based company will probably sell bonds maturing in as many as 40 years to take advantage of low interest rates, while matching its liabilities with assets such as dams. Hydro-Quebec has about C$11.9 billion of debt due by the end of 2014, according to Bloomberg data.
Favorable Rates
Hydro-Quebec's preference for long-term bonds is "typical of companies that are investing in capital assets that have long lives," said Robert Filippazzo, a vice president at DBRS Ltd. rating company in Toronto. "Hydro-Quebec is benefiting from fairly favorable rates."
DBRS rates Hydro-Quebec's long-term debt A (high), its fifth-highest rating. Standard & Poor's rates the company A+.
Elsewhere in credit markets, the extra yield investors demand to hold corporate debt instead of federal government bonds was unchanged at 118 basis points yesterday, the same as on April 9, according to a Bank of America Merrill Lynch index. The so-called yield spread was as low as 114 basis points on March 19. There are 100 basis points in a percentage point.
The Bank of Canada today sells C$3.5 billion in bonds maturing in December 2015. The previous auction of five-year bonds on March 3 had an average yield of 2.745 percent with a bid-to-cover ratio of 2.6 times.
Mortgage Rates
Royal Bank of Canada, the nation's largest lender, lifted its five-year fixed mortgage rate by 0.25 percent to 6.1 percent, the second increase in two weeks, according to a statement yesterday.
As of Dec. 31, Hydro-Quebec had C$37.1 billion in debt due in more than one year, according to the company's annual report. Quebec's government, which owns the utility, guarantees the principal and the interest on Hydro-Quebec's bonds.
The difference in yields between Hydro-Quebec's 5 percent bond due in February 2050 and the Canadian government 5 percent bond due in June 2037 narrowed to 80 basis points from 82 basis points yesterday, Bloomberg data showed.
The expectation for increased supply and higher interest rates has damped investor appetite for debt, said Benoit Lalonde, vice president of fixed income at Laurentian Bank Securities in Montreal. He said Hydro-Quebec debt trades about 10 basis points above Ontario debt of similar maturity.
Hydro-Quebec's 2050 bond has returned 1 percent this year, including reinvested interest, versus 1.4 percent for the Canadian government benchmark.
Living With Parity
Even though the Canadian dollar has gained 22 percent against its U.S. counterpart in the past 12 months, Hydro-Quebec isn't tempted to sell bonds denominated in the U.S. currency because interest rates at home are more appealing, Vandal said.
"We always look at coupons, and interest rates are good right now when you issue in Canadian dollars," he said. "We just sold a C$500 million tranche, and we are very satisfied with the conditions."
Vandal also said the utility has learned to live with currency parity, which erodes revenue from power shipments to the U.S.
"Not too long ago, when we exported power to the U.S., we got a 50 cent premium, but those days are gone," he said. "Everything I've seen suggests we will have a strong Canadian dollar for quite some time."
U.S. Treasury yields will slide to a six-year low relative to Canada's interest rates, according to Citigroup Inc., citing technical indicators. U.S. two-year yields will be 161 basis points less than rates on similar maturity Canadian bonds, analysts led by Tom Fitzpatrick in New York wrote to clients in a report dated yesterday, without giving a period for the target. The spread, currently at about 85 basis points, will approach the forecast level after it went past the so-called neckline on a head-and-shoulders pattern, according to the report.