U.K. Shuts Airports as Iceland Eruption Chokes Skies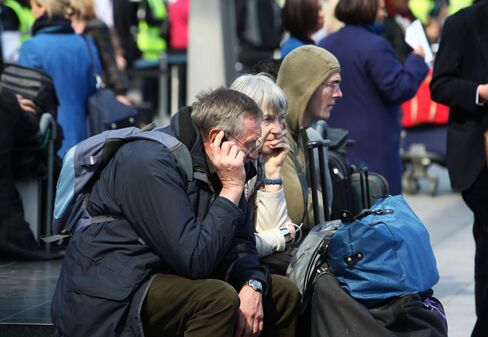 Airports in the U.K. and northern Europe shut down as a cloud of volcanic ash swept south from an eruption in Iceland, disrupting travel for thousands of people booked on flights with British Airways Plc and other carriers.
U.K. airspace will stay mostly closed until at least 1 p.m. tomorrow, flight controller National Air Traffic Services Ltd. said, extending restrictions that had been set to run until 7 a.m. Norway and Sweden shut airports, British Airways scrapped flights for the rest of the day and carriers including AMR Corp.'s American Airlines cut service.
Iceland's 5,500-foot, ice-covered Eyjafjöll volcano erupted for the second time in four weeks, prompting the evacuation of more than 800 people as river levels rose three feet. The island straddles tectonic plates on the mid-Atlantic ridge, making it one of the most geologically active places on the planet.
"Safety is our top priority," Kevin Briscoe, a spokesman for NATS, said in a phone interview. "Volcanic ash can have a pretty serious effect on aircraft engines. At the moment there is no indication of how long it will take to clear."
Disruption was worst in the U.K., which has more than 5,000 flights a day. Flights from the U.S. should have been grounded from 7 a.m. eastern time, coinciding with the closure of Britain's skies, NATS said. Any planes already in the air would be diverted elsewhere.
U.K. Rules Modified
NATS's extension of the airspace curbs included a provision that flights may be permitted from 1 a.m. to 1 p.m. from Northern Ireland and Scotland's Western Isles to Glasgow, Edinburgh and Prestwick, subject to individual coordination.
North Atlantic traffic to and from Edinburgh, Glasgow, Prestwick and Belfast also may be allowed in that period, NATS said. Airport operator BAA Ltd. said all its U.K. facilities would be closed until 1 p.m., and the Manchester Airport said flights there would remain suspended until further notice.
British Airways, Europe's third-biggest airline, said it can't be sure that services will resume tomorrow. Customers booked to travel on a canceled flight will be able to claim a full refund or rebook for a later date.
"Volcanic ash clogs up the engines, so it's not worth going anywhere near it," Philip Allport, a spokesman for the London-based carrier, said by telephone.
In 1982, all four engines on a British Airways Boeing Co. 747 flying to Perth, Australia, shut down as the aircraft encountered ash spewed from Mt. Galunggung in Indonesia. The plane fell for almost four miles before the pilot was able to restart three engines and make an emergency landing in Jakarta.
Flight Risk
Another Boeing jumbo lost all engine thrust in 1989 after encountering ash from Alaska's Redoubt Volcano, and four other airliners were damaged during the next three months, according to the Federal Aviation Administration Web site. An eruption Mt. Pinatubo in the Philippines in 1991 damaged at least 17 planes, most more than 600 miles away, according to the FAA.
Iceland has more than 200 volcanoes and 600-plus hot springs. When Eyjafjöll last erupted in 1821 the event lasted more than a year, according to the Global Volcanism Program at the Smithsonian Institution in Washington.
The latest eruption, which began early yesterday, is a further blow to a country struggling to rebuild a crippled economy after financial collapse prompted the world's fifth-richest nation per head in 2007 to turn to the International Monetary Fund.
The ash plume rose high into the atmosphere before being swept toward the U.K. by the prevailing air flow, said Brendan Jones, a forecaster at MeteoGroup U.K. in London.
'Very Diffuse'
"The eruption isn't huge by any means, but it's still an aviation threat because ash is very dangerous to jet engines," he said. "You wouldn't be able to detect it from the ground as it'll be very diffuse. The only real way that you know it's there is it quite often results in vivid sunrises and sunsets."
The U.K. Met Office's Volcanic Ash Advisory service shows the cloud covering most of Norway and Scotland, as well as parts of England, Ireland, Sweden, Finland and Russia. The plume is projected to spread east and south, extending over most of the British Isles, Scandinavia, the Benelux countries, Germany, Poland, the Czech Republic and the Baltic states over the next day, as well as parts of France and Russia.
Scottish terminals in Aberdeen, Edinburgh and Glasgow were first to close on the advice of NATS, followed by London hubs including Heathrow, Europe's busiest with upwards of 1,200 flights and 180,000 passengers a day.
Buses, Trains
Bus operator National Express Group Plc said all services from Heathrow to Scotland are full today and that extra vehicles will be added tomorrow. U.K. trains are running as normal.
All Norwegian terminals shut from 10 a.m. local time, according to Jo Kobro, a spokesman at Gardermoen airport near Oslo. North-Swedish bases closed, said Elisabeth Manzi at SAS Group, the Nordic region's biggest carrier. Sweden's remaining airspace closes at 6 p.m., excluding the Baltic Sea area.
Reykjavik Airport remains open.
Fraport AG, operator of the Frankfurt airport, has canceled about 100 of 1,400 daily flights, spokesman Thomas Ueber said in a phone interview, adding that an easterly wind may prevent further disruption. Airspace over Germany itself is "unaffected at this time," said Ute Otterbein, a spokeswoman for the DFS Flight Safety air-traffic control organization.
Westbound routes have been moved south to avoid the ash, according to Brussels-based Eurocontrol, the intergovernmental organization that oversees the region's flight paths. It said earlier that north German airspace might be affected.
Disruption to flights may last a further 48 hours, Kyla Evans, a spokeswoman for Eurocontrol, said by telephone.
Paris, London
France will close the Roissy-Charles de Gaulle and Orly airports near Paris by 11:00 p.m. at the latest, the country's civil aviation authority said in an e-mailed statement.
Passengers at Heathrow, where arrival and departure boards list all flights as canceled, said they understood the reasons for the shutdown. Terminals were mostly empty as travelers found out about the cancelation of flights before leaving home.
"I travel nonstop, so it's just one of those deals, although it's definitely a strange one," said Chris Watkins, a sales director at U.S. oil-equipment company Kimray Inc. who had been planning to travel to Jackson, Mississippi, via Dallas with British Airways. "Airlines aren't going to fly if they can't guarantee the safety of the passengers."
"I'd very much like to be back in Lyon by now," said Jean-Pierre Viaud, who is stranded at Stansted airport after spending three days in London on vacation. "What can you do about something like this?"
Ryanair Holdings Plc and EasyJet Plc, Europe's two biggest discount airlines, both warned of disruption from the ash.
Inter-continental services have also been affected. Japan Airlines Corp. flights headed to London and Amsterdam turned back to Tokyo, spokeswoman Sze Hunn Yap said by phone, while Singapore Airlines Ltd. said two flights from Copenhagen and Heathrow would depart early because of volcanic ash cloud.
American, Delta
American Airlines cancelled 21 inbound and outbound U.S. flights, or as much as 60 percent of its U.K. timetable, spokesman Tim Smith said in a phone interview. No other European services have been affected as yet, he said.
Delta Air Lines Inc. scrapped three flights out of Heathrow and one from Manchester, northern England, while Continental Airlines Inc. may reroute some European services, according to a statement on its Web site.
"As long as they can re-accommodate the passengers, there won't be much of a revenue impact," Hunter Keay, an analyst at Stifel Nicolaus & Co. in Baltimore, said in an interview with Tom Keene on Bloomberg Radio.
There were few delays this morning at Atlanta, Chicago O'Hare and Dallas-Fort Worth, three of the largest U.S. hubs, according to industry researcher FlightStats.com. Many U.K.- bound flights leave in the afternoon and evening local time.
Before it's here, it's on the Bloomberg Terminal.
LEARN MORE