Fleming's Magic Is No Match for Witless 'Armida': Jeremy Gerard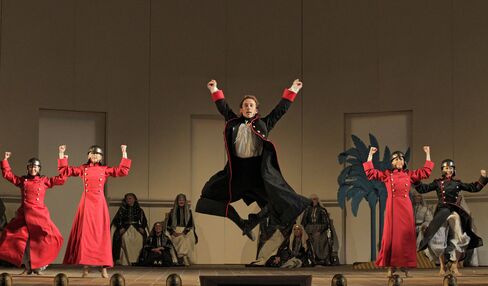 The Metropolitan Opera's first-ever production of Gioachino Rossini's 1817 "Armida," which had its premiere last night at New York's Lincoln Center, was a gift to soprano Renee Fleming. She should return it.
A tired and thinned-out audience directed a smattering of boos at director Mary Zimmerman when the lights came up after nearly four emotion-free hours.
"A Midsummer Night's Dream" meets "Ishtar," the young Rossini's desert songs are pretty enough. Set in the sand outside Jerusalem during the First Crusade, it involves a love-struck, wand-wielding sorceress who whisks away her boy toy knight Rinaldo, first to a spooky forest and then to a pleasure dome worthy of Coleridge, before the paladin eventually is retrieved.
At the curtain rise, a red-clad sprite descended from the proscenium upside down in a crimson sling. A vaudeville cliche, it was still promisingly sexy. The promise was short-lived as a stolid white semi-circular set came together with seven small windows through which the Dome of the Rock could be seen in the distance. Even with a few palm trees adding some green, this was not the oasis conjured by Torquato Tasso, whose epic poem inspired Rossini and librettist Giovanni Schmidt.
Zimmerman already has struck out with flaccid productions of "Lucia di Lammermoor" and "La Sonnambula." Rossini gives her plenty of help and Zimmerman still turns it all into a static, humorless if occasionally campy stew.
Cut, Cut, Cut
Blame the director first for not demanding that an hour be cut from the show that none but the pious would miss. She could have started by reducing the tenor contingent from six to four. Most of the nearly two-hour first act was spent watching the company standing around onstage with nothing to do.
Fleming made her entrance at the warriors' encampment on a white chariot trimmed in gold, trailed by a servant tasked with shielding her from the sun with a dainty red umbrella.
The red-headed beauty was lovely in several louche gowns and mostly lovely in voice, though the crisp technical command heard on her 1993 recording of this opera was less in evidence these 17 years later.
"D'Amore al dolce impero" ("Nature always bows to the sweet rule of Love"), Armida's ravishing Act II scale-slalom, was the most telling reminder of this.
No such problem for Lawrence Brownlee, commanding as her knight, Rinaldo. Rossini provides the lovers several duets in which Brownlee just knocked it out of the park.
Black Widow
For Act II, Zimmerman's collaborators -- Richard Hudson, sets and costumes; Brian MacDevitt, lighting; and choreographer Graciela Daniele -- created what is supposed to be a "ghastly forest" but was just a big green dappled scrim over the same set, now inhabited by horned creatures with tails and black corsets who bounced around a lot.
Then Armida waved her wand and soon she and Rinaldo were at the pleasure palace, though one with a giant black widow spider on the wall.
A ballet about love (the way Cole Porter's "Let's Do It" is about love) goes on for nearly a half-hour -- what were they thinking? At least, Daniele offered the production's only glimpse of humor by having the ballet suddenly go Trock-a-delic, with men in skirts dancing and nuzzling other men in skirts.
Standouts among the embarrassment of tenors were John Osborn as a manly Goffredo, and Kobie van Rensburg and Barry Banks as Ubaldo and Carlo, sent to pry Rinaldo from Armida's clutches.
Riccardo Frizza conducted competently, if uninspiredly, and the Met orchestra responded in kind.
"Armida," which was underwritten by the Sybil B. Harrington Endowment Fund, will be performed nine more times through May 15. Information: +1-212-362-600; http://www.metopera.org Rating: *1/2
What the Stars Mean:
****       Do Not Miss
***        Excellent
**         Average
*          Poor
(No stars) Worthless
(Jeremy Gerard is an editor and critic for Bloomberg News. The opinions expressed are his own.)
Before it's here, it's on the Bloomberg Terminal.
LEARN MORE