Illinois 'Poster Child' of Debt Crisis Draining State Services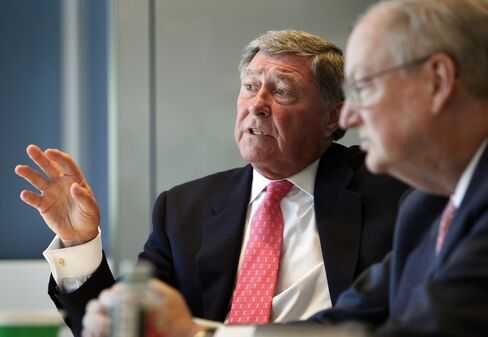 Illinois, the second-lowest-rated U.S. state after California, must fend off a "financial implosion" as its unfunded liability for retiree benefits threatens spending for other services, a group of community leaders warned.
The Civic Committee of the Commercial Club of Chicago, led by former and current executives, is pressuring Governor Pat Quinn and other state leaders to control growth of pension costs they say put the state at risk of fiscal collapse. Members of the group, which estimates the state's retirement-related liabilities at $130 billion, are speaking out as Illinois enters its general-election season.
"We need every citizen of this state to stand up and be outraged over the way these politicians of both stripes over a long period of time have spent our money," said W. James Farrell, chairman of the Civic Committee's state finance task force, in an interview in Bloomberg's Chicago bureau. "We need to hold them accountable."
Illinois, with the largest unfunded pension and health care liability among U.S. states, is a "poster child" for municipalities that have borrowed money to cover up budget deficits without addressing spending issues, said R. Eden Martin, president of the committee. Since the U.S. economy went into a recession in 2007 the $2.8 trillion municipal bond market has been a "slow-motion collapse of a very large building," as cities and states borrowed, Martin said.
'Collapse' To Come
"I don't think we've seen the last of the collapse yet," Martin said. "These debts are going to have to be paid or we're going to have defaults."
The group says the state is "moving closer and closer to a financial implosion" as its retiree liabilities rise. Pension debt alone increased to almost $90 billion at the end of the 2009 budget year from $14 billion in 1998, the committee estimates. This has begun to "crowd out" spending for education, health care and other government services, Martin said.
State lawmakers approved legislation in March to reduce costs of its pension system. Under the legislation, new employees must work longer and face caps on the amount of salary that can be used to calculate their pensions.
Quinn is expected to sign the bill tomorrow, said Kelly Kraft, a spokeswoman for the governor.
"This legislation will save Illinois taxpayers tens of billions of dollars over the next 35 years and marks a critical step toward making our government more accountable and fiscally sound," Kraft said in a statement.
New Hires Affected
The law applies only to new hires, though, and Farrell said the benefits for existing workers also must be cut to reduce the amount owed. If not, Illinois eventually may not be able to pay any benefits promised to state workers, he said.
"They're only interested in what they can do in the next budget year," said Farrell, former chairman of Illinois Tool Works Inc., based in the Chicago suburb of Glenview.
Illinois Comptroller Dan Hynes reported this month that the state's unpaid bills rose to $4.5 billion from $3.4 billion a year ago. The state will find it more difficult and more expensive to borrow if the budget liability isn't addressed, said Farrell.
Illinois, with an unfunded pension and health care liability currently at $54 billion, is the worst of any state because it has only funded 54 percent of liabilities, according to a February report from the Washington-based Pew Center on the States. The report said U.S. states face a $1 trillion gap between what they have saved and what they have promised to retired workers for pension and health-care benefits.
Awareness Campaign
The Civic Committee will spend "millions of dollars" this year to raise awareness among voters and put pressure on officials running for office, Farrell said. The state's deficit is about $9.3 billion, or 33 percent of revenue, Fitch Ratings said in a March 29 report.
Illinois sold $3.47 billion of taxable bonds in January to make the state's pension contribution for this year as Quinn sought ways to preserve cash. The state is scheduled next week to sell $700 million of taxable Build America Bonds, created as part of last year's federal stimulus package.
The state's credit is rated A2 by Moody's, its sixth-highest grade, and the equivalent A+ by S&P. Fitch Ratings ranks the state A- and said last month that it may also reduce the rating. Only California is lower, at Baa1 from Moody's and A from S&P. S&P put the state's rating on $25 billion of general obligation debt on watch for a possible rating cut March 26.
Before it's here, it's on the Bloomberg Terminal.
LEARN MORE