Don't Look Down From New Tower With Best London Views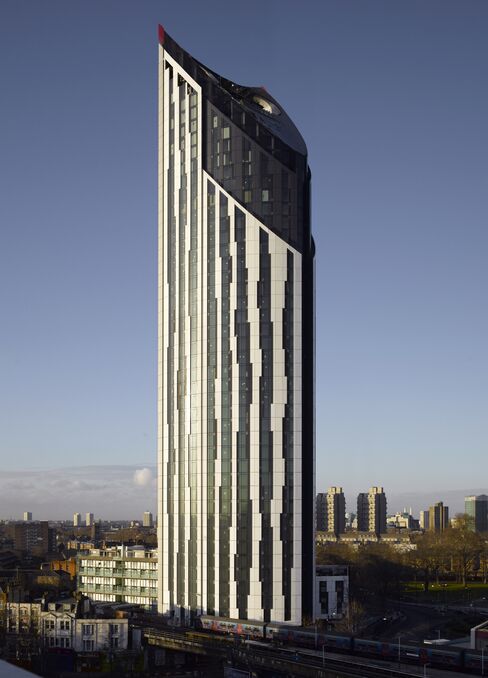 Strata, a luxury-apartment building in London's Elephant and Castle district, will offer residents the best views of the city when it opens in July -- as long as they don't look down.
Buyers were told that by 2014, the condemned public-housing projects and pedestrian tunnels next to the skyscraper would be transformed into thousands of modern homes on tree-lined streets with little traffic. It will now take 12 years longer, according to the local Southwark Council.
The tower, known as the Electric Razor because of its shape, will be the tallest of its kind in central London. One unit fetched 2 million pounds ($3 million) when the apartments were put on the market in 2007. It's meant to be the start of a long-awaited revival of the area led by the council.
"They've been promising, promising, promising for the last 15 years and have delivered nothing," said Janet Yatak, a 54-year-old unemployed local resident, while eating her breakfast in the Elephant and Castle shopping center. "The community's spirit has been broken."
Lend Lease Group, the Australian company in charge of redeveloping the district at a cost of 1.5 billion pounds, started preparing houses for demolition last month after the worst recession on record held up work by more than two years. They'll be replaced by 5,300 new homes, 800,000 square feet (74,000 square meters) of retail space and five parks.
"The quicker we can start, the better," said Daniel Labbad, chief executive officer of Lend Lease's Europe business, in a telephone interview. "But we need to ensure that the market is ready for residential."
Windowless Mall
Until now, the best-known building in this part of south London was probably the 45-year-old shopping center, Europe's first covered retail complex. In 2005, the windowless mall was voted the city's ugliest structure by readers of Time Out magazine. The council plans to tear it down.
Strata, Elephant and Castle's new landmark, will have room for stores and restaurants below its 408 apartments. The 42-story tower, constructed by New York-based Brookfield Asset Management Inc., will have a height of 148 meters (486 feet), beating the record for a central London residential property held by the Shakespeare Tower in the Barbican neighborhood.
Wind Turbines
The lipstick-shaped crown will have three wind turbines that will provide about 8 percent of Strata's energy needs, according to its Web site. The building is 1.3 miles (2.1 kilometers) from the City of London, the capital's main financial district.
"We sold the building on its own merits," said Justin Black, head of development at Brookfield's European business, in a telephone interview. "We have no direct involvement and therefore no control over the regeneration."
The Electric Razor is one of two skyscrapers that Brookfield is erecting in London. The other, a 64-story office tower in the City of London called the Pinnacle, was commissioned by investors based in Saudi Arabia.
Strata rises above the Heygate Estate, a group of concrete apartment blocks that's become a sprawling ghost town since it was earmarked for demolition in 2004. Most of the 1,212 homes there were boarded up after the council started re-housing tenants two years ago to prepare for the project's demise. Only 24 are still occupied.
Rows of back gardens are now used as dumping grounds. One of the few that's stayed in bloom is being cared for by an elderly Greek couple who have stayed on the estate with their son. Convenience stores that once served residents are abandoned. Barbed wire is everywhere.
'Big Mess'
Natalie Cole, a 27-year-old security worker, has lived on the estate all of her life and now shares a house with her parents and grandfather. "It's really just a big mess," she said. "It's less attractive now, more of a sad place to live."
Elephant and Castle was named after an inn dating from the mid-18th century, according to the official Web site. The department stores, theaters and music halls that characterized the district led to its reputation as the Piccadilly of south London, until heavy bombing in World War II destroyed many of the buildings.
After the war, Elephant and Castle was transformed. The terraced streets and gutted buildings were replaced by high- density housing and the shopping mall, while two huge roundabouts kept the cars moving.
Struggling Retailers
The plan to revive the area failed. The raised walkways of the housing estates and nearby underground tunnels fueled crime, while the homes and stores decayed and traffic became the dominant feature. Some businesses in the shopping center, owned by Birmingham-based St. Modwen Properties Plc, say they are now struggling to survive.
"Things have got worse here" since people started leaving the Heygate Estate, said Ali Sabanci, the 49-year-old owner of Jenny's Burgers, a fast-food restaurant that offers a full English breakfast for 3.40 pounds. "I haven't got any customers."
St. Modwen said the mall is fully occupied and attracting record numbers of people.
Elephant and Castle's makeover was proposed by Southwark Council in 1998. Within four years, the venture that was created to oversee the project had collapsed.
New Partner
The council didn't appoint another partner, Lend Lease, until July 2007, by which time the property market was approaching its peak. By the fourth quarter of that year, companies in the industry were prevented from raising money because banks stopped lending.
Sydney-based Lend Lease and the council said last month they expect to agree on contractual terms in June.
Construction work is unlikely to start this year, Labbad said. Once it agrees terms with the council, Lend Lease must seek planning permission and then secure debt finance. The developer is also working on the regeneration of London's Greenwich Peninsula and the Athlete's Village for the city's Olympic Games in 2012.
"It's not about getting debt; it's about how much that debt costs you," Labbad said.
Labbad wouldn't say how much Lend Lease is investing in the Elephant and Castle project. The total cost will probably be higher than the 2006 estimate of 1.5 billion pounds, Steve Platts, head of property at Southwark Council, said in an interview.
Multiplex Group, another Australian developer, started building Strata before the company was bought by Brookfield in 2007. A year earlier, Multiplex said the tower would be the start of one of Europe's largest regeneration projects, changing an "unloved, overwhelmed area" into an "exciting, vibrant and distinguished quarter of central London."
'Unconcerned' Buyers
Most of the people who have purchased apartments in Strata aren't concerned about the time it's taken to improve the surrounding area, Brookfield's Black said. "They would obviously like things to happen quicker," he said.
The council "now anticipates completion in 2026," said Platts. Southwark plans to redevelop the Aylesbury estate, a housing project that's more than twice the size of the Heygate, at the same time. Lend Lease's Labbad said the Elephant and Castle project was "always planned as a 10 to 15-year development."
Most of the homes for sale in the Elephant and Castle today are privately owned properties in social-housing blocks. Two-bedroom apartments go for about 200,000 pounds, according to Web sites advertising homes for sale in the area.
Duplex Penthouse
The average price paid for a studio apartment in Strata with maximum space of 58 square meters was 253,700 pounds, while a three-bedroom home with as much as 173 square meters cost 776,200 pounds, according to Brookfield. Four properties on the highest levels are still unsold, including a 3-bedroom duplex penthouse priced at 2.5 million pounds.
Paul Damonte, a 45-year-old money broker, paid 360,000 pounds in August 2007 for a one-bedroom apartment on the 31st floor. "If the regeneration goes ahead as promised, then I have a fantastic investment," he said in a telephone interview. "If nothing changes, it's still very central."
Like other buyers, Damonte won't get the keys to his new home until the whole building is completed. Values of apartments in Strata have recovered to 2007 levels and some properties may even have appreciated, said Savills Plc, the London broker that's handling 20 to 25 re-sales at the development.
"We could probably sell the apartments over again, at the same price or more," said Brookfield's Black.
Before it's here, it's on the Bloomberg Terminal.
LEARN MORE