BlackRock Lured by 4% Treasury Notes Shunned at Pimco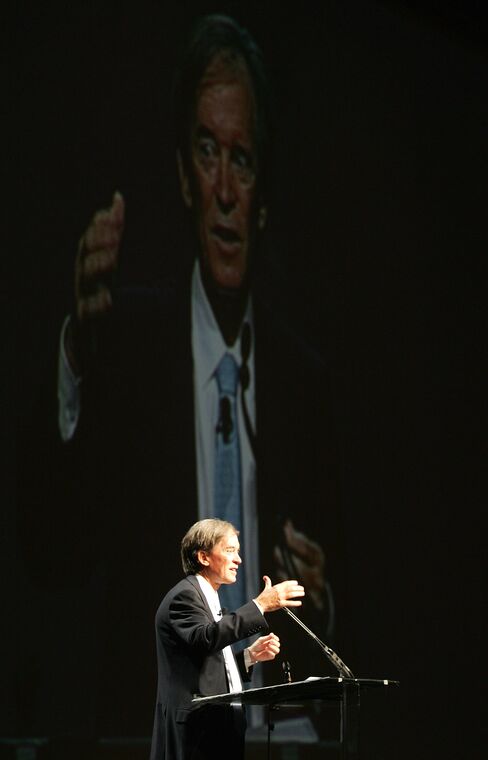 The highest 10-year Treasury note yields since 2008 are proving too good to pass up for BlackRock Inc. even as Pacific Investment Management Co. says the best is over for bonds.
"We're more comfortable owning longer Treasuries," said Stuart Spodek, a managing director at New York-based BlackRock. The world's biggest money manager, with $3.35 trillion in assets, is becoming bullish because "there isn't inflation in the pipeline" and the gap between short- and longer-term yields is "remarkably steep," Spodek said in an interview last week. As recently as October, he said the "easy money has been made" in government debt.
For Pimco, which runs the world's biggest bond fund, record budget deficits and sales of government debt will eventually spur inflation, drawing the almost three-decade bond market rally to a close, Bill Gross, the Newport Beach, California-based firm's co-chief investment officer, said in a March 25 interview with Tom Keene on Bloomberg Radio.
The difference underscores the challenge facing President Barack Obama as the U.S. sells more than $2 trillion of debt and the Federal Reserve withdraws emergency funding measures that propped up the economy during the worst financial crisis since the Great Depression.
Fed's Dilemma
While gains in jobs and consumer confidence show the worst may be over in the U.S., some Fed policy makers expressed concern that raising interest rates too soon may choke off the recovery because unemployment is high and credit remains tight for individuals and small businesses, minutes of the central bank's March meeting released April 6 showed.
Last week, bulls were rewarded. Yields on 10-year notes, which hit an 18-month high of 4.01 percent on April 5, fell to 3.88 percent by April 9. Two days earlier, when the government sold $21 billion of notes due in 2020, there were $3.72 of bids for every $1 of securities sold, the most since at least 1994, data compiled by Bloomberg and the Treasury Department show.
"If you're a fixed-income investor, where else are you going to get that kind of return without taking a lot of credit risk?" said George Goncalves, head of interest-rate strategy in New York at Nomura Holdings Inc., one of 18 primary dealers that trade with the Fed. "Everyone's a value investor at the right price."
Inflation Outlook
While inflation has been in check since 2008 as the seizure in credit markets cut consumer spending, data the past two weeks suggest that it may slow even as the economy begins to generate jobs. That will allow Fed Chairman Ben S. Bernanke to keep rates at record lows to nurture the recovery, according to Goldman Sachs Group Inc. economists.
The government's monthly jobs report on April 2 showed average hourly earnings fell 0.1 percent last month, the most since at least 2006. The Labor Department may say April 14 that consumer prices excluding food and energy rose 1.2 percent in March from a year earlier, the smallest annual increase since February 2004, according to the median estimate of 32 economists surveyed by Bloomberg News.
Wal-Mart Stores Inc., the world's largest retailer, reduced prices on more than 10,000 items after sales at U.S. stores dropped. The Bentonville, Arkansas-based company plans to cut more in coming weeks and months, Linda Blakley, a Wal-Mart spokeswoman, said April 9 by telephone.
Relative Bargain
That suggests 10-year notes, a benchmark for everything from mortgages rates to corporate bonds, are a relative bargain with yields exceeding Treasuries due in two years by 2.82 percentage points, compared with the average of 1.06 percentage points since 1990, according to Spodek.
"There isn't inflation in the pipeline," he said. "The yield curve is remarkably steep."
Yields on 10-year notes fell 6 basis points, or 0.06 percentage point, last week to 3.88 percent, according to BGCantor Market Data. The price of the benchmark 3.625 percent security due February 2020 rose 15/32, or $4.69 per $1,000 face amount, to 97 30/32.
The last time yields fell as much was in the five days ended Feb. 26, when they tumbled 17 basis points to 3.61 percent, as reports showed sales of new and existing homes unexpectedly tumbled, consumer confidence dropped and spending grew less than forecast. Treasury prices then turned lower, sparking losses of 0.85 percent on average in March, after returning 1.98 percent in the first two months, Bank of America Merrill Lynch's U.S. Treasury Master Index shows
Ten-year yields fell 3 basis points to 3.85 percent at 12:45 p.m. in New York.
Bulls Encouraged
Bond bulls were encouraged last week when minutes of the Fed's March meeting were released.
"While recent data pointed to a noticeable pickup in the pace of consumer spending during the first quarter, participants agreed that household spending going forward was likely to remain constrained by weak labor market conditions, lower housing wealth, tight credit, and modest income growth," minutes of the March 16 Federal Open Market Committee meeting released in Washington showed.
The central bank has kept its target rate for overnight loans between banks at a record low of zero to 0.25 percent since December 2008.
Consumer credit fell $11.5 billion in February, the most in three months, the Fed said in an April 7 report. The decline in the measure of credit card debt and non-revolving loans was worse than the lowest estimate in a Bloomberg News survey of 34 economists.
Rate Outlook
The Fed will probably keep rates unchanged into 2011 as inflation slows, Jan Hatzius, Goldman's chief economist, wrote in a note to clients published April 8. Fed funds futures traded on the Chicago Board of Trade show traders place a 35 percent chance of the central bank tightening credit in September, down from 41 percent last month.
The preferred measure of inflation for the Fed, the personal consumption expenditure index excluding food and energy, rose 1.3 percent in the year ended Feb. 28, below the average of 2.2 percent since 1990, Labor Department data show. Policy makers never raised rates with the index below 1.6 percent. Ten-year yields exceed the measure by 2.58 percentage points, up from 0.65 percentage point in January 2009.
"One key reason why we expect monetary policy to remain easy is our forecast of very low, and probably falling, core inflation," Hatzius wrote.
Yield Forecasts
The consensus is still for rising yields as a recovering economy and debt sales by the government to finance a record budget deficit sap demand for fixed-income assets. The median estimate of 58 economists and strategists surveyed by Bloomberg News from April 1 to April 8 is for 10-year yields to reach 4.24 percent at year-end.
Obama's proposed budget calls for a $1.6 trillion budget deficit in 2010, up from last year's record $1.4 trillion gap. That may cause the U.S. to issue $2.43 trillion of debt, according to a February survey of 10 of the 18 primary dealers of U.S. government securities that are obligated to bid at the government's auctions.
"The thing that concerns me is unsustainable deficits," said William Irving, a money manager who helps invest $170 billion of bonds for Fidelity Management & Research in Merrimack, New Hampshire. Even so, unemployment rates hovering at about 10 percent and persistent weakness in real estate markets may keep yields from moving much higher, Irving said.
Potential Returns
Gross increased holdings of bonds from non-U.S. developed nations in his Total Return Fund for a fourth month in February, to the highest level since May 2004, according to data on the company's Web site on March 17. The $220 billion Total Return Fund gained 7.49 percent on average each of the past five years, beating 98 percent of its peers, data compiled by Bloomberg show. The firm is a unit of Munich-based insurer Allianz SE.
"Bonds have seen their best days," Gross said in the March 25 interview. Pimco is advising investors to buy the debt of countries such as Germany and Canada that have low deficits and corporate securities with relatively high yields.
Because of reinvested interest, a trader who bought Treasuries due in 10 years on April 9 would still earn 0.11 percent if yields were to rise to the forecast level, according to Bloomberg data. Two-year notes would lose 0.06 percent if yields increased to 1.73 percent, the median estimate in a separate survey, from 1.06 percent last week.
Should yields rise much above current levels, higher interest costs would become a drag on the economy, prompting yields to fall and limiting potential losses on government debt, said Michael Materasso, senior portfolio manager and co-chairman of the fixed-income policy committee at Franklin Templeton.
Franklin Templeton, which oversees more than $200 billion of bonds, has moved to a "neutral" position on U.S. government securities, with an emphasis on longer-term Treasuries, from "underweight" in December, according to Materasso. That means the firm owns about the same percentage of Treasuries in its portfolios as is contained in benchmark indexes, compared with a smaller percentage four months ago.
The 10-year yield at 4 percent "looks like a high water mark," he said.