Thai 'Perfect Storm' May Drive Investors to Bonds From Stocks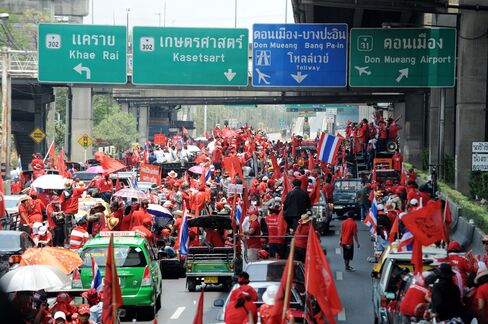 A "perfect storm" is gathering in Thailand, as once surging stocks threaten to drop, boosting record corporate bond sales that are withstanding the political turmoil, according to Standard Chartered Plc.
There have been 48 company debt sales in Thailand this year, more than double the same period last year and the most since Bloomberg began compiling data in 1999. Borrowers including Thai developer Sansiri Pcl and restaurant chain owner Central Plaza Hotel Pcl are tapping the market for the first time in almost 12 months as real estate tax breaks spur new developments and consumer spending increases.
"There's a perfect storm brewing right now with a stock market that's been rising and people just waiting for a correction," said Ratch Sodsatit, head of Standard Chartered's Thai capital markets unit in Bangkok. Investors seeking to avoid volatility will "shift their focus" to bonds, which offer higher returns than cash, he said.
Thailand's stock market fell the most in almost six months yesterday after the government declared a state of emergency in Bangkok on April 7 because of political protests by the United Front for Democracy Against Dictatorship. The SET Index slid 3.5 percent to close at 783.93, erasing gains that have made it Asia's best-performing benchmark since round-the-clock political rallies began on March 12.
Sodsatit said he expects the index to fall back to 650 from 800 levels.
Economic Growth
Thai property and consumer companies have more than doubled bond sales to $796 million this year, according to Bloomberg data, capitalizing on an economy that is growing faster than expected, even with the protests. The Finance Ministry raised its economic growth forecast for 2010 to as much as 5 percent on March 29 after the $261 billion economy contracted 2.3 percent in 2009.
The government agreed to extend tax incentives on home purchases for two months on March 23, boosting the business plans of companies such as luxury condominium specialist Sansiri, which said it will start 26 residential projects this year, up from an initial 20.
Bangkok-based Sansiri, the country's second-biggest housing developer by revenue, doubled its bonds outstanding when it sold 1 billion baht ($30.9 million) of 3.5-year notes in February.
Domestic investors, jaded by bank deposit rates as low as 0.5 percent, are the most active buyers of corporate debt in Thailand and aren't fazed by the political situation, Australia & New Zealand Banking Group Ltd. debt syndicate director Winston Herrera said.
Numb to Turmoil
"This political turmoil has been ongoing for a while and people are numb to it," Herrera said in a phone interview from Hong Kong. "Compared to some of the political situations which have occurred in Indonesia and the Philippines, this looks pretty tame."
Central Plaza Hotel Pcl, whose portfolio includes Bangkok's Central Grand Plaza Hotel and local rights to restaurant chains Baskin-Robbins and Kentucky Fried Chicken, expects revenue to grow 15 percent this year as the economy recovers, Senior Vice President Ronnachit Mahattanapreut said last month. It tapped the debt capital markets for the first time since July in February, selling 1 billion baht of 3.5-year bonds whose yield over similar-maturity Thai government debt has narrowed 3 basis points from a high of 64 basis points.
Best Performers
Thai dollar bonds are Southeast Asia's best performers this year, returning 8.35 percent compared with nearest rival Vietnam at 4.98 percent, according to HSBC Holdings Plc indexes. The extra spread over Treasuries investors demand to own Thai bonds has fallen to the lowest since November 2007, JPMorgan Chase & Co. data show.
"The spread rally has been significant and today we're seeing spreads the lowest they've been in some time," Sodsatit said. "We'll see a period of consolidation at these levels."
PTT Pcl, Thailand's biggest energy company and one of the country's most prolific bond issuers, sold 6.6 billion baht of bonds this year in two tranches of 2.6 billion baht and 4 billion baht, Bloomberg data show. The yield on both fell to their lowest ever yesterday as the notes' price rose to 100.494 cents on the dollar and 100.337 cents on the dollar respectively.