Kathleen Turner Talks Texan as Bush-Basher Ivins: Jeremy Gerard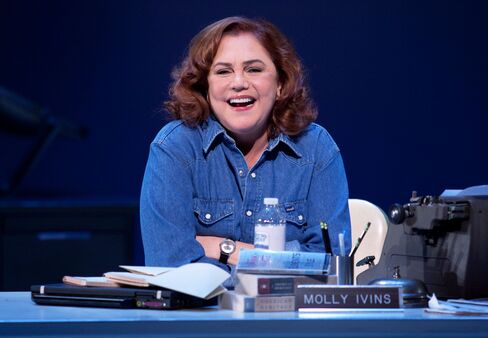 Molly Ivins once wrote of conservative Dallas congressman Jim Collins, "If his IQ slips any lower, we'll have to water him twice a day."
Such exquisite slander was mother's milk to Mollyites who followed her in the pages of the Texas Observer and the Dallas Times Herald, among other perches. It was Ivins who called George W. Bush "Shrub," an epithet that stuck.
There was also a six-year stint at the New York Times, which for the free-wheeling Texan turned into some kind of Gitmo -- and then fodder for yet more gleeful character assassination.
So I can see why Kathleen Turner would be attracted to such a legendary character, whom she plays in "Red Hot Patriot: The Kick-Ass Wit of Molly Ivins." The solo show (a silent second actor occasionally appears) is having a rousing world premiere at the Philadelphia Theatre Company.
Turner enjoys an Ivins-like reputation as a take-no- prisoners wit with a mouth on her. She even looks a bit like the writer, in denim shirt and jeans, red leather cowboy boots and almost-big red hair.
"My mother said I looked like a St. Bernard among greyhounds," she cracks. "I was quick enough even then to know that was not a compliment."
Stuffed Armadillo
The one-act is set in an artfully nondescript newsroom designed by John Arnone. The stuffed armadillo on her desk doubles as a dash of color in the muted surroundings.
I wish there were more color in twins Allison Engel and Margaret Engel's playwriting. They're journalists with affection for their subject but no clue as to how a play -- even one where so many lines were already written -- gets built.
Director David Esbjornson mostly leaves the words and the star alone. Both could use some help if this show is to have a future, possibly in New York.
Through April 25 at 480 South Broad St., Philadelphia. Information: +1-215-985-0420; http://www.philadelphiatheatrecompany.org Rating: **
What the Stars Mean:
****       Do not miss
***        Excellent
**         Good
*          Poor
(No stars) Worthless
(Jeremy Gerard is an editor and critic for Bloomberg News. The opinions expressed are his own.)
Before it's here, it's on the Bloomberg Terminal.
LEARN MORE