Fed Sees Inflation Slowdown Tempering Need to Reverse Stimulus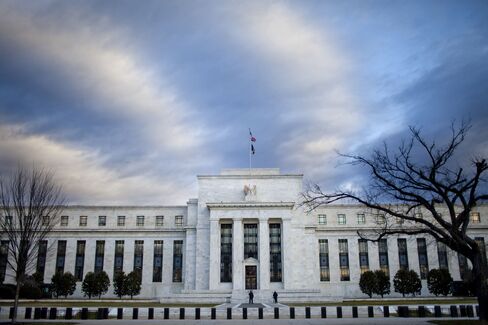 Federal Reserve policy makers last month saw an inflation slowdown across the U.S. economy that may persist in the coming months, tempering any need to reverse record-low interest rates.
At the same time, the Fed said its pledge to keep the main rate low for an "extended period" wouldn't keep it from taking action when needed to keep inflation in check, according to minutes of the March 16 Federal Open Market Committee meeting released yesterday. A few officials warned of the risks of increasing borrowing costs too soon.
The inflation outlook, coupled with Fed officials' concerns about unemployment and long-term joblessness, signals Chairman Ben S. Bernanke and his colleagues are still looking for evidence of a sustained rebound from the worst recession since the 1930s. Fed staff economists reduced their 2010 and 2011 forecasts for inflation excluding food and energy, projections that were already below 2009 rates.
"If you expect moderate growth and high unemployment and decelerating inflation, which is still likely to be the best guess at the moment, you won't be interested in raising interest rates right now," said former Fed Governor Lyle Gramley, a senior economic adviser at Potomac Research Group in Washington.
Bernanke will discuss challenges for the world's largest economy in a Dallas speech today. At the meeting last month, central bankers left the benchmark federal funds rate target, covering overnight interbank loans, in a range of zero to 0.25 percent, where it has been since December 2008. Fed officials cited the job market, lower home prices and tight credit as restraints on the recovery, the minutes said.
Long-run Goal
A price gauge favored by the Fed, the personal consumption expenditures price index, minus food and energy, rose 1.3 percent for the year ending February, slowing from a 1.5 percent rate in January. Fed officials have a longer-run goal of 1.7 percent to 2 percent for the full PCE price index.
"Participants saw recent inflation readings as suggesting a slightly greater deceleration in consumer prices than had been expected," and recent readings on core inflation "were generally lower than they had anticipated," the Fed minutes said.
In addition, some policy makers saw "widespread" moderation in price changes "across many categories of spending," and anecdotal reports showed planned wage increases by employers were "small or nonexistent," the report said.
At the meeting, some officials said the "extended period" language "was explicitly contingent on the evolution of the economy rather than on the passage of any fixed amount of calendar time."
Tighten Credit
The Fed could decide to tighten credit "promptly if evidence suggested that economic activity was accelerating markedly or underlying inflation was rising notably," the minutes said. Should the economic outlook worsen or inflation decline further, the extended period's duration "might last for quite some time and could even increase."
Kansas City Fed President Thomas Hoenig cast a dissenting FOMC vote in January and March, preferring to jettison the "extended period" language and to say instead that rates are likely to be low "for some time."
"They're trying to diminish the significance of it by pointing out that they can move quickly if they need to," said Stephen Stanley, chief economist at Pierpont Securities LLC in Stamford, Connecticut, and a former Fed researcher. "But I don't think that they're prepping the markets to take that language out, much less prepping the markets to move."
Compelled to Tighten
Stanley said he's predicting the Fed will be surprised by economic data and will be compelled to raise interest rates in September.
While indicators released since the meeting show a further strengthening of the economy, that may not be sufficient to pull policy makers closer to tightening credit and exiting record monetary stimulus, said John Ryding of RDQ Economics LLC.
The minutes gave a "fairly cautious" outlook, said Ryding, a former Fed researcher and former Bear Stearns Cos. chief U.S. economist, who is expecting the central bank to start raising rates in March 2011. "It ought to, in my mind, allay some fears of an earlier move by the Fed."
The meeting preceded the Labor Department's April 2 report that the economy added 162,000 jobs in March, the third gain in five months and the most in three years. The unemployment rate held at 9.7 percent, close to a 26-year high.
Fastest Pace
A report this week showed that service industries expanded in March at the fastest pace since May 2006, indicating the U.S. recovery is spreading beyond manufacturing. The Institute for Supply Management's index of non-manufacturing businesses rose to 55.4 from 53 the prior month. Readings above 50 signal expansion.
The economic news has helped boost U.S. stocks. The Standard and Poor's 500 Index closed at 1,189.44 yesterday, its highest level since Sep. 26, 2008.
Still, based on the Fed's view of the economy, policy makers are planning on raising rates in 2011, Stanley said. "If you could tie the guys at the Fed down and inject them with truth serum, they'd say early 2011."
Before it's here, it's on the Bloomberg Terminal.
LEARN MORE