Battling Collectors Push Chinese Ink Painting Up to $5 Million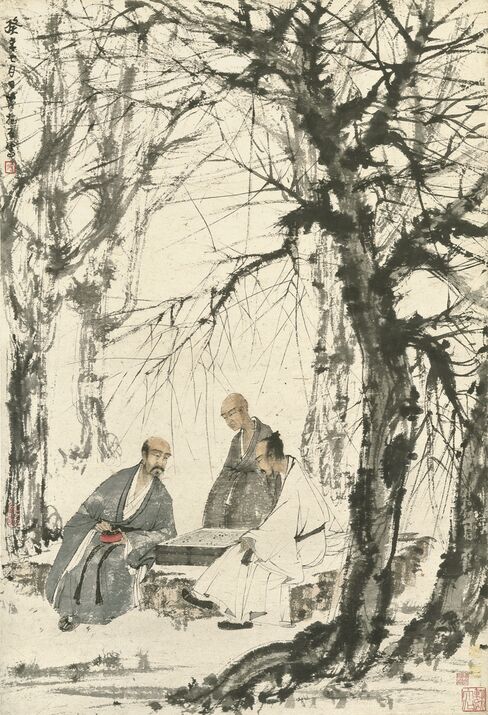 An ink depiction by Fu Baoshi of three men mulling over a game of Go fetched HK$38.7 million ($5 million) in Hong Kong, the priciest item at an auction of classical Chinese paintings marked by fervent mainland buying.
"Chess Playing," painted by Fu (1904-1965) seven decades ago, was won by Beijing-based antique collector and dealer Wu Qun after a 10-minute tug-of-war that escalated at a HK$2 million-a-bid clip. The piece was sold for more than five times its top estimate and was one of several fiercely contested items at yesterday's packed sale that tallied HK$418 million, the most in this category for host Sotheby's.
"The prices are reasonable for such quality," said Wu, an auction regular who bought a 6-century-old Tibetan stembowl for HK$23 million last April, in an interview at the venue.
Calligraphy and painting with diluted-ink on paper are the most-revered art forms in Chinese culture. Works by masters such as Fu, Zhang Daqian and Qi Baishi often depict the Chinese landscape and village life and are prized for their ethereal quality. The auction record for a classical Chinese painting was for a landscape by Bada Shanren (1626-1705) that fetched 84 million yuan ($12.3 million) in Beijing last year.
Other items that sparked fierce bidding were an ink-and-color painting of a crouching tiger by Qi Baishi (1864-1957) that fetched HK$32 million and a landscape piece by Zhang that sold for HK$21.9 million against a presale top estimate of HK$4.5 million. Nine lots fetched $1 million or more.
Estimates don't include commission.
Classical Revival
For years leading up to the 2008-2009 global credit crisis, these classical Chinese works were auctioned for a fraction of works by artists in their 30s and 40s. Their prices only soared during the rout when collectors fled what they saw as the more speculative contemporary-art market and bought rarer works by deceased masters such as Fu to protect their wealth.
"As long as the Chinese economy keeps growing, prices of these classics will go up," said Zhou Xin, a Shanghai-based dealer. "Now that people realize what cultural treasures these are, there will be no turning back."
At one stage of yesterday's auction, a crowd of about 100 bidders and bystanders clogged the doorway of the salesroom that seated about 300 people. Most were from the mainland, with a smattering of Taiwanese and Japanese.
A highlight of the sale was the 30-piece collection of paintings by Hong Kong antiques doyen Robert Chang. Only 17 pieces, including the tiger, found buyers.
'Overpriced Collection'
"His collection was overpriced," said Zhou, 29. "It's as if he didn't really want to sell them."
The auction continues today with the sale of watches and jewelry, including a 5.16-carat internally flawless fancy-vivid blue diamond from the De Beers Millennium Collection that Sotheby's expects to fetch as much as HK$46 million.
The five-day event has tallied HK$785 million so far and ends on April 8 with the sale of an imperial pearl necklace and other antique Chinese ceramics.
Sotheby's and rival Christie's International hold biannual auctions in Hong Kong that are barometers of Asia's art market.
Before it's here, it's on the Bloomberg Terminal.
LEARN MORE