'Andrew Jackson' Dispatches Weasly Pols, Indians: Jeremy Gerard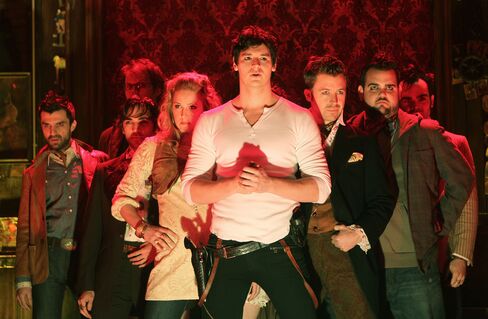 Almost a year after New York's Public Theater first presented "Bloody Bloody Andrew Jackson: The Concert Version," this raucous, engaging musical about the seventh U.S. president returns, 10 minutes trimmer but visually expanded for a bigger space.
Set mostly in Jackson's 19th-century South, it's nonetheless a show of such immediacy that no one will mistake it for a dry history lesson. With themes of Manifest Destiny, genocide, inside-the-Beltway politicking and fevered populism, it's a show of and for our times.
"Bloody Bloody Andrew Jackson" spins the tale of young man whose parents were killed by Indians. Jackson would come to epitomize American expansionism. He hated the Northeast establishment, "King" George Washington, bankers run rampant and, most of all, the Indian tribes slowing the young country's inevitable progress.
"I'm the will of the People and I alone know what's right!" Jackson (Benjamin Walker, in an appealing performance that recalls the young Bill Murray) tells his former Indian ally. "I wish you'd built symphonies, in cities, man, and put on plays and showed yourselves to be a little more essential. You know, to the culture?"
History as Metaphor
Alex Timbers's script (he also directed) pays no heed to linear time; funny-smart and funny-dumb references to Foucault, Sontag and de Tocqueville abound. The songs, by Michael Friedman, wink as knowingly to Elvis as to the purposefully self-conscious genre of emo rock.
Donyale Werle's scarlet set spills beyond the proscenium with crystal chandeliers, red lights, plentiful taxidermy, ropes, gilt-framed portraits, you name it -- turning the Newman Theater into a Victorian toy theater as designed for "The Twilight Zone." The exemplary actors, members of Les Freres Corbusier, are outfitted in a mishmash of styles, all of them parodies, by Emily Rebholz, and the music is played by a gifted rock trio augmented by company members.
Timbers, along with music director Justin Levine and choreographer Danny Mefford, have assembled a rare thing: a rousing historical spectacle of eerie prescience.
Through April 25 at 425 Lafayette St. Information: +1-212-967-7555; http://www.publictheater.org Rating: ***
What the Stars Mean:
****       Do Not Miss
***        Excellent
**         Average
*          Poor
(No stars) Worthless
(Jeremy Gerard is an editor and critic for Bloomberg News. The opinions expressed are his own.)