Superbowl Triumph Brings Wine, Osteopaths Back to New Orleans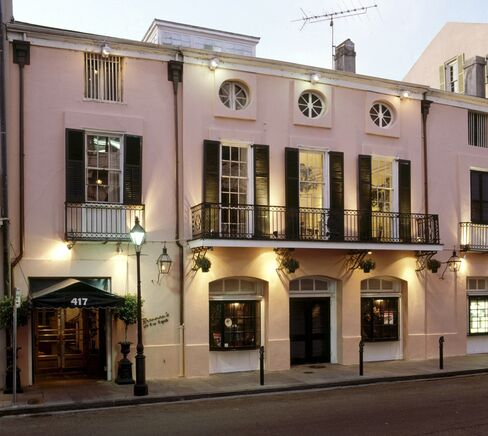 "Ever since the Saints won the Super Bowl people have stopped asking if the streets of New Orleans are still full of water," said Ted Brennan, whose family owns Brennan's in the French Quarter. "You can't imagine how important that game was. People are coming back, eating in the restaurants, and ordering good wines again."
The last time I spoke with Ted and his brother Jimmy was after Katrina hit in 2005 and destroyed vast quantities of restaurant wine, mainly from heat spoilage after the electricity went out.
On the night after Katrina blew through, Jimmy Brennan and his chef Lazone Randolph kept a vigil with loaded pistols to ward off looters intent on robbing their 30,000 bottle wine cellar of its treasures -- all eventually condemned by the health department. Antoine's lost 16,000 bottles, Emeril's 6,000.
"We're back up to about 5,000 bottles now, which is $500,000 wholesale," said Jimmy Brennan. "And prices are coming down fast. It used to be very difficult to buy 2005 and 2006 Bordeaux and Burgundy, but now there's a lot of wine unsold because of the economy worldwide. They got to get rid of that wine."
Jimmy, 68, says that the older New Orleans restaurants (Brennan's opened in 1946 and moved to Royal Street in 1955) "held our own" after Katrina and during the recession. "Everybody's ordering in the medium price range, with very few high notes."
He prides himself on low markups. "You get a lot more bang for your buck in New Orleans than you would in New York, Boston, or other cities where they jack up the prices," he said. "If I pay $10 for a wine wholesale, I charge the guest $30; if I pay $50 or more, I just double the price."
Sourcing Bottles
He said long-term relationships with importers and distributors allow the restaurant access to "pretty much whatever we want."
In making my rounds last month of old and new restaurants in town, I found full houses and a palpable post-Super Bowl bonhomie I had not felt since Katrina hit in 2005. Groups are starting to book conventions in the city again.
"We finally got the osteopaths back!" said Jimmy Brennan. "You know, doctors tell you not to drink too much but they're the ones sucking up the best bottles in our cellar."
Sara Kavanaugh, sommelier at the Grill Room at the Windsor Court Hotel, agrees.
"I love the osteopaths," she said. "They order big Bordeaux and Burgundies. Our average wine sale is about $100 to $120 a bottle, but the osteopaths go for $150 and up."
Wine & Spine
Some of them, she said, are members of the Wine & Spine Society, an informal organization of wine-loving surgeons begun in the mid-1980s by Henry Bohlman, professor of orthopedics at Case Western Reserve School of Medicine in Cleveland.
Thirty of them had a wine dinner at the Grill Room recently and drank pricey Burgundy and Cotes-du-Rhone wines.
The Windsor Court's wine cellar was saved during Katrina because the hotel had its own generator, and Kavanaugh, 29, has been filling in gaps on the wine list with Burgundies, Bordeaux, and Champagnes.
"We have one guest who comes to New Orleans every other month and always orders Krug Clos du Mesnil like it's water," she said. The Champagne is $2,200 on the list. "We also have to have the big California cabernets like Cakebread, but we just replenish them when we run out."
I asked the Brennans and Kavanaugh what wines they think go well with Creole food, which can be very rich, largely seafood, and often spiked with Tabasco sauce.
Need Power
"With Creole food you need a little power," said Jimmy Brennan. With dishes like Eggs Sardou -- with artichokes, creamed spinach and Hollandaise -- he recommended a riesling with good acid, while the spicy turtle soup was better with "a big fat California chardonnay."
And for the restaurant's signature bananas Foster?
"Krug Champagne, man, Krug Champagne."
With chef Drew Dzejak's cuisine at the Grill Room, Kavanaugh also favors riesling or flinty sancerre.
"With oysters I like a salty white Bordeaux like Chateau La Rame," a blend of semillion and sauvignon blanc, she said. With desserts, she suggests sparkling moscato d'Asti.
"It goes with everything," she said. "I could bathe in it."
I agree with Brennan and Kavanaugh that the spicier or richer white wines with some mineral elements help cut through the rich seafood dishes here.
Le Foret
At a fine new restaurant named Le Foret, on Camp Street, four of us ordered disparate dishes like crabmeat ravioli with heirloom beet salad and a lemon-horseradish sauce; blue crab in a ginger broth with spicy tortellini and herbs; and grilled rainbow trout with lobster, olives, and arugula in a shellfish sauce.
With these I chose a Dr. Konstantin Frank Dry Riesling 2007 ($38) from New York's Finger Lakes, whose green apple fruit flavor and crisp acids complemented the various flavors in our food.
It was a lovely spring day, the humidity was low, and no sign of rain. Life is good again in the Big Easy.
(John Mariani writes on wine for Bloomberg News. The opinions expressed are his own.)
Before it's here, it's on the Bloomberg Terminal.
LEARN MORE