Loopy 'Addams Family' Toasts Inner Ghoul in Everyone: Interview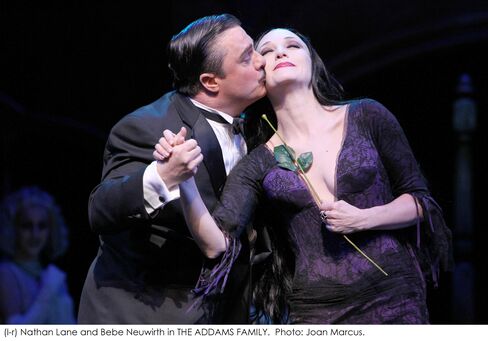 On Broadway, it's just another day at the Addams family manse: Gomez and Morticia are off canoodling while their weird progeny are in the cellar stretching. On the rack.
As manacled son Pugsley yelps with pleasure, the usually dour daughter Wednesday yanks the lever and sings with ecstatic abandon about the joys of newfound love:
"Puppy dogs with droopy tails!/Unicorns with dancing mice!/Sunrise in wide open spaces/Disney World -- I'll go there twice!" Creeeeaak!
Composer and lyricist Andrew Lippa's song announces the musical's driving conflict: Wednesday has fallen for a "normal" guy from Ohio, and his parents' arrival chez Addams is about to turn their morbidly funny, intensely familiar world inside out.
That familiarity has been as much invented here as taken for granted. When "The Addams Family" was having its tryout this past winter in Chicago, Lippa and his collaborators, the "Jersey Boys" team of Rick Elice and Marshall Brickman, made a startling discovery.
"We thought the audience knew these people better than they did," Lippa said, during breakfast near his home on Manhattan's Upper West Side. "We had to give them the 'Comedy Tonight' number, introducing them to each character."
Back in 1962, "Comedy Tonight" probably saved "A Funny Thing Happened on the Way to the Forum." Noticing that preview audiences seemed confused about what to expect from the musical, Stephen Sondheim added the song to explain in the most entertaining terms exactly who everyone was.
New Opening
The new opening for "The Addams Family," which stars Nathan Lane and Bebe Neuwirth as Gomez and Morticia, is one of five songs that Lippa added to the score since leaving Chicago in January.
"The Addams Family" is based on the sublimely strange drawings by Charles Addams that first appeared in the New Yorker magazine. One of my favorites shows Wednesday having a temper tantrum on her bed as Grandmama explains to Morticia, "Oh, she's furious because they put her on the honor roll at school."
The creepy clan became pop-culture icons through the sitcom that ran on ABC television from 1964 through 1966 and, later, two films in the early '90s -- all reducing Addams's morbid, death-obsessed humor to a more palatable kookiness.
Laughs or Death
"We knew the audience was going to come in with a certain set of expectations," said Lippa, best known for the jazz-inflected score he wrote for "The Wild Party." "And we knew it was going to be funny." The challenges came in providing a hook to bring the audience into the story and, especially for Lippa, adding the unexpected element of having the characters sing. The drawings helped but took him only so far.
"An amusing scene only exists as a frame, designed to land in and of itself, whereas if you're writing a play you have to deal with the consequences of a dramatic situation," he said, "You're dealing with a family where unhappiness seems to be the goal -- and yet they love their kids, have a healthy sexual life, allow extended family to live with them." In other words, they are, in their hermetically sealed world, utterly normal.
Lippa, 45, was born in Leeds, England and raised in a "normal" suburban Detroit household. As we talked, he showed remarkable calm for a Broadway neophyte with a $16.5-million show riding on his songs.
'Where Did We Go Wrong?'
"In fourth grade I asked my parents if I could go to shul with my friend," he recalled. "My Jewish parents are like, 'What happened to our child?' When Morticia and Gomez notice something different about Wednesday, they say, 'Where did we go wrong?' It's a replay of that moment in my life."
That off-center attitude could also sum up the show, which is such a giddy combination of goofy and macabre I half expected the lovers to break into "Some Demented Evening."
Lippa's roots are in pop music and his heart may just be in Tin Pan Alley: His songs have a clever, sharp edge but usually resolve in words and tones that are sentimentally satisfying. A few weeks ago he joined several colleagues in penning odes to Stephen Sondheim on the master's 80th birthday.
"Great, I thought, I'm going to write for Sondheim, to be performed in front of Sondheim?" Lippa recalled. He stayed true to form, one that all who see his newest show will recognize.
"It was a comic song about falling in love with Steve that was touching at the end," he said. "I guess that's my hallmark."
(Jeremy Gerard is an editor and critic for Bloomberg News. The opinions expressed are his own.)
Before it's here, it's on the Bloomberg Terminal.
LEARN MORE