Indonesia Stock Index Climbs to Record on Interest Rate Outlook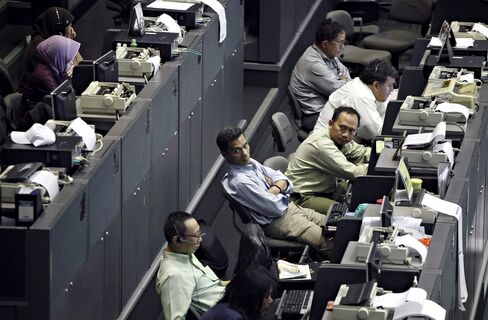 April 5 (Bloomberg) -- Indonesia's benchmark stock index, Asia's best-performing major market this year, climbed to a record on expectations the central bank will keep interest rates at a record low tomorrow, helping to boost the economy.
PT Astra International, the nation's largest auto retailer, also surged to an all-time high. PT Bank Central Asia advanced the most in more than two weeks, leading gains among banks. The central bank will keep its key interest rate at 6.5 percent tomorrow after inflation slowed to 3.43 percent in March, according to 16 out of 17 economists in a Bloomberg News survey.
"Our macro economic conditions are still solid and that's been driving foreign buying," said Soni Wibowo, vice president of PT Bahana TCW Investment Management, which manages about $1.7 billion in assets. "Financing is cheap, that's why we're seeing strong demand for cars and motorcycles."
The Jakarta Composite index rose 2 percent to 2,887.25, breaking its previous record close of 2,830.26 on Jan. 9, 2008. The measure has climbed 15 percent this year as the central bank raised its economic growth forecast and Standard & Poor's upgraded the nation's sovereign debt ratings.
Foreign investors moved more funds to Indonesian stocks in March, buying a net 4.9 trillion rupiah ($541 million) of shares after selling 1.6 trillion rupiah in the first two months this year, according to data from the Jakarta stock exchange.
Currency Gains
The rupiah has risen 3.7 percent this year, making it one of the top three gainers among the 10 most actively traded currencies in Asia. Bank Indonesia on March 8 raised its economic growth estimate to 5.6 percent from 5.2 percent, while Standard & Poor's upgraded the nation's sovereign debt ratings to the highest level in 12 years.
Astra increased 4.9 percent to 46,700 rupiah, closing at a record. Bank Central Asia, Indonesia's largest by market value, gained 5.5 percent to 5,750 rupiah. The stock also rose after the company said today it plans to start operating its motorcycle financing venture in the third quarter. PT Bank Danamon Indonesia, controlled by Temasek Holdings Pte and Deutsche Bank AG, increased 2.8 percent to 5,600 rupiah.
"Astra benefits from low interest rates, as about 80 percent of domestic vehicle sales are funded by financing companies," said Handiman Soetoeyo, an analyst at PT FinanCorpindo Nusa, a Jakarta-based brokerage. "Banking shares are worth collecting because interest rates are still low."
Meanwhile, PT Bhakti Investama, an Indonesian investment company, surged 24 percent to 1,020 rupiah, the highest level since Jan. 8, 2008, after it said it agreed to buy a majority stake in an offshore oil and gas block in Papua.
To contact the reporter on this story: Berni Moestafa in Jakarta at bmoestafa@bloomberg.net
To contact the editor responsible for this story: Linus Chua at lchua@bloomberg.net