Harvard Twins Who Sued Facebook Row Against Cambridge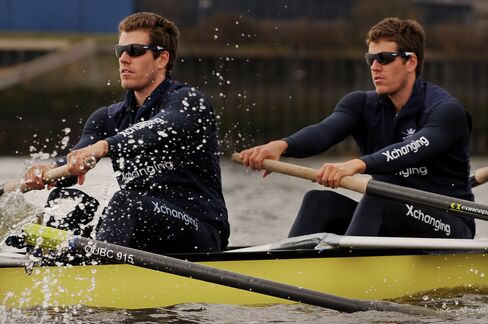 Cameron and Tyler Winklevoss took on Facebook Inc. as Harvard students when social networking was still new. Now, they're taking on one of the oldest challenges in sports.
The 28-year-old identical twins from Greenwich, Connecticut, will row for Oxford University in the 156th edition of the Boat Race against Cambridge. The crews will meet on the 4.25-mile (6.8-kilometer) course through west London in two days.
The 6-foot-4-inch Olympians were selected for the Oxford boat after a seven-month training and selection regime. They took exams for their MBA degree last week. Neither Oxford nor Cambridge allows their students to forgo their studies because of the race, which is sponsored by back-office service provider Xchanging Plc.
"It's a pretty full-on schedule," Tyler Winklevoss said in an interview on London's Putney Embankment, where both teams will start in front of 250,000 spectators on the banks.
The twins' boat, which includes rowers from Britain, Ireland, the Netherlands, Germany and Canada, is the bookmakers' favorite. William Hill Plc says Cambridge is the 9-4 underdog, with the Dark Blues 1-3 to be victorious. That means a successful $3 wager on Oxford would return $1 and the original stake.
Long Days
The Cambridge crew, which includes four Britons, two Americans and three Canadians, last won in 2007. Last year, the Light Blues lost by 3 1/2 boat lengths.
Tyler Winklevoss said their days start around 6:30 a.m. with indoor training, followed by lectures for 3 1/2 hours. The afternoon brings more exercise, ending at 6 p.m.
"And then eat, study, sleep," said Tyler, a right-hander who plays the drums.
The brothers, who are enrolled at Christ Church college in Oxford, England, were introduced to rowing by an Irish coach when they were 15. They were U.S. national pairs champions in 2005 and 2007. They won a gold medal in the eight boat at the 2007 Pan American Games and finished sixth in the coxless pairs final at the 2008 Beijing Olympics.
"It is a do-able schedule," said Cameron Winklevoss, the left-handed of the twins who plays the guitar. "But certain things have to give, like perhaps a social life, or meeting up with your friends once in a while. That takes a bit of a beating."
The addition of overseas students such as the Winklevoss twins to the race adds to the prestige of the event, former oarsmen say.
'A Spectacle'
"It raises the interest," said Telecom Plus Plc Chief Operating Officer Andrew Lindsay, who was the president of the Oxford boat club in 1998 and won an Olympic gold two years later in Sydney. "If you didn't have foreign people coming, you wouldn't have such a high standard. As a spectacle for the public, it's much more interesting."
The discipline needed to be successful in a physically demanding sport has helped the brothers in their legal dispute with Facebook, they said.
They founded ConnectU as Harvard students in 2003, and hired Facebook founder Mark Zuckerberg to help build the dating Web site. The brothers sued him in 2004, saying Zuckerberg had stolen their idea for the company. They accused him of delaying the ConnectU project while secretly building Facebook.
Millionaires
The dispute was settled in 2008 for $65 million in cash and Facebook shares, according to San Francisco-based newspaper The Recorder. The paper wrote in February 2009 that details of the settlement had been accidentally disclosed in a marketing brochure for the law firm that had represented the brothers in the past.
Facebook, the largest social networking site, was valued at $11.5 billion in a new index created by SharesPost Inc., a marketplace for trading in private companies, in March.
"We don't think too much about what we would do differently," Tyler said, when asked about the lawsuits. "We're still ongoing with that saga. But I think you just have got to fight for what you believe in is right and stay true to that, and be willing to stick it out. It's a lot like rowing in some ways."
The future may be a combination of both rowing and business for the Winklevoss brothers. They may return to London for the 2012 Olympics.
'New Challenges'
"We have a high level of curiosity, and we're always looking for new challenges," Cameron said. "That might be a combination of rowing and business in the near term. Perhaps a little more school. At some point, you have to hang the oar up and after that, we'll probably look for the next challenge. Maybe some kind of start-up."
Last year, Oxford beat Cambridge to win the title for a fourth time in five years. Cambridge leads the series 79-75. There has been one tie in the competition, which started in 1829 when a Cambridge student wrote to an Oxford friend proposing a race.
"We've clearly invested a lot of effort and time into the whole process," Cameron said, when asked what it would mean if Oxford won. "It would be great if we could have a good day Saturday."