Easter Brings Gospel, Emo Rock, Fading Violetta to N.Y. Weekend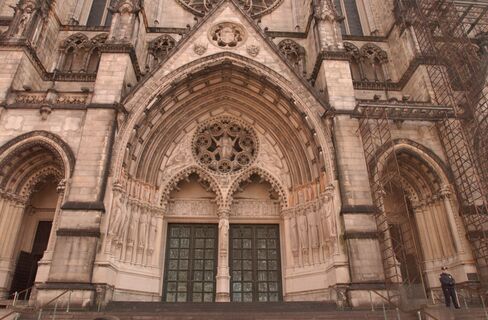 Start off the Easter weekend tonight with Take 6 at the Blue Note. This 7-time Grammy Award-winning a cappella sextet epitomizes the glory of gospel with smooth harmonies and loads of heart.
For the more common kind of nourishment, head to Scott Conant's latest restaurant, Faustina, for any of his palate pleasing pasta dishes.
The Blue Note is at 131 W. 3rd St. Information: +1-212-475-8592; http://bluenotejazz.com/newyork
Faustina is at 25 Cooper Square; +1-212-475-3400.
If, on the other hand, your taste runs to the opposite of heavenly, the Public Theater has brought back Les Freres Corbusier's rousing, hugely entertaining emo-rocker starring our ethically challenged seventh president, "Bloody Bloody Andrew Jackson." (And you're still just around the corner from Faustina.)
The Public is at 425 Lafayette St. Information: +1-212-967-7555; http://www.publictheater.org
Saturday
The Asia Society offers an unprecedented opportunity to see art treasures from the earliest kingdoms of Vietnam, beautifully displayed and many exhibited outside the country for the first time. While influenced by traders from far-flung capitals like Rome, the art chiefly reflects Buddhist and Hindu cultures. Look for serene representations of the Buddha and Shiva, and subtly colored ceramics salvaged from a 15th-century shipwreck.
The museum's Garden Court Cafe, in a tree-filled atrium, offers a pan-Asian menu that includes mini crab cakes, spicy lentil soup and an array of teas.
The Asia Society is at 725 Park Avenue at 70th St. Information: +1-212-288-6400; http://www.asiasociety.org
Saturday Night
Angela Gheorghiu brings her usual flair to Violetta, the doomed courtesan who runs out of money and air by the end of Verdi's "La Traviata," when she sings her last addios at the Metropolitan Opera.
Never one to run out of words offstage, the Romanian, affectionately known as Draculette in her younger years, added drama to her by not being in total harmony with conductor Leonard Slatkin at the opening on Monday night. (Slatkin has since withdrawn from the production and will be replaced tonight by the evidently indefatigable Marco Armiliato, right after leading the matinee of "Aida.") Also starring tall tenor James Valenti as Alfredo, the impetuous lover, and the magnificent Thomas Hampson as his stylized father.
Afterward, sing "Libiamo!" under the glowing red eyes of the black dragons over the bar at Shun Lee West.
The Met is at Lincoln Center, Broadway at 65th Street. Information: +1-212-362-6000; http://www.metoperafamily.org
Shun Lee West is at 43 W. 65th St.; +1-212-595-8895.
Easter Sunday
Finding gorgeous music in Manhattan on Easter Sunday is about as hard as finding a pizza joint any other day; just follow the sounds of Bach, Handel and the other usual suspects, with the occasional Messiaen thrown in, to the nearest church. Two of our favorites: First, the Congolese setting of the "Sanctus" from "Missa Lubba," at All Souls Church.
Afterward, welcome spring with the Upper East Side's best spaghetti primavera and addictive fried zucchini at Elio's.
All Souls Church is at 1157 Lexington Avenue at 80th St.; +1-212-535-5530; http://www.allsoulsnyc.org
Elio's is at 1621 Second Avenue near 84th Street; +1-212-772-2242.
And across town, no place can touch the sonorous acoustics of the Cathedral Church of St. John the Divine, the country's largest (and most welcoming) gothic house of worship. The morning service will feature William Byrd's joyful "Haec Dies" played by a brass ensemble and Edward Bairstow's lively "Sing Ye to the Lord."
Over on Broadway, Vareli restaurant is a happy new addition to the Morningside Heights dining scene. Try light, crunchy fried cauliflower spiked with pepper flakes and fork-tender short-rib tagine. There's also a well-chosen and well-priced wine list.
St. John the Divine is at 1047 Amsterdam Avenue at 112th St.; +1-212-212-316-7490; http://www.stjohndivine.org
Vareli is at 2869 Broadway between 111th and 112th Streets; +1-212-678-8585.
(With assistance from Daniel Billy and Manuela Hoelterhoff. Jeremy Gerard is an editor and critic for Bloomberg News. The opinions expressed are his own.)
Before it's here, it's on the Bloomberg Terminal.
LEARN MORE