IPhone-Weary TV Broadcasters Gear Up to Fight FCC for Airwaves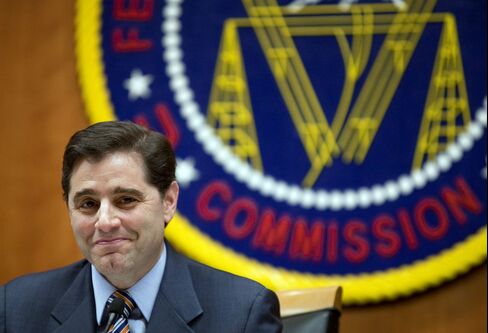 TV broadcasters are getting ready for a fight over a U.S. government attempt to redistribute airwaves and help wireless carriers cope with a surge in traffic from bandwidth-guzzling devices like the iPhone.
Ion Media Networks Inc., the biggest local TV station owner, and at least three others are resisting a Federal Communications Commission plan to take back spectrum awarded to them by the government and auction it to carriers. About 500 broadcasters went to Capitol Hill this month to lobby members of the House and Senate, and they plan more in the weeks ahead.
Ion, Nexstar Broadcasting Group Inc., Sinclair Broadcast Group Inc. and LIN TV Corp. say they're depending on that spectrum so they can offer live TV via mobile phones. The FCC says carriers such as AT&T Inc. need the airwaves more as smartphones like Apple Inc.'s iPhone cause the amount of data sent through U.S. networks to more than double annually.
"Why is the iPhone entitled to more spectrum than local broadcasters?" said Nexstar Chief Executive Officer Perry Sook, whose Irving, Texas-based company owns or provides services to 62 stations. "When the snowstorm hit Washington, did people rush to an iPhone app to find out what was going on? No, they turned to their local broadcasters."
Washington's biggest snowfall in more than a century may not be enough to sway the FCC. The agency's plan to improve U.S. broadband Internet services calls for the government to reclaim about 40 percent of broadcasters' spectrum, which the commission says is possible because it is largely unused now. The government would compensate them with an unspecified share of the auction proceeds, which may total as much as $27 billion, according to Brattle Group in Washington.
More Mobile TV
The prospect has done little to appease broadcasters.
"I applaud the FCC's goal of wanting a broadband solution for the country, but I personally believe mobile-TV has to be part of that," Brandon Burgess, CEO of West Palm Beach, Florida-based Ion Media, told a group of reporters this month. His company owns or operates 60 U.S. TV stations.
Broadcasters are counting on mobile TV to supplement their audiences and advertising sales. Local TV ad revenue plunged 24 percent last year, to $12 billion, triple the pace of the drop in national network spending, according to data from New York- based ad tracker Kantar Media.
The four companies represent 207 of the more than 1,700 TV stations across the U.S. Their concerns reflect broader resistance to the FCC's plan, said Dennis Wharton, spokesman for the National Association of Broadcasters, the Washington-based trade group that represents broadcasters including ABC and NBC.
Possible Clash?
"I haven't heard one broadcaster say 'I'm interested in giving back my spectrum,'" Wharton said. Instead, they're pushing for the government to give up its own underused airwaves.
The opposition sets up a clash with the FCC as the Senate prepares for hearings on the broadband proposal in April. FCC Chairman Julius Genachowski said Feb. 24 that the country's goal, after falling behind Japan and Korea in land-line broadband service, should be to lead the world in wireless Internet service. Currently there isn't enough spectrum to meet demand, he has said.
AT&T CEO Randall Stephenson concurs. He said this month that high-quality wireless Internet service will only be possible with more airwaves. Spokeswoman Claudia Jones declined to comment beyond his remarks, made at the CTIA wireless industry trade show in Las Vegas.
"It is clear that we need to make more effective use of broadcast spectrum, and that we need to find a way to put a significant amount of this spectrum to use for mobile broadband," Steve Largent, CEO of CTIA, said in an e-mailed statement. "The chairman's approach is a significant step in that direction."
Slicing Up Spectrum
The FCC's plan still needs Congressional approval. In the wake of the NAB's lobbying, House Energy and Commerce Communications Subcommittee Chairman Rick Boucher and Senator Olympia Snowe have said they support the broadcasters. The broadcasters probably will ultimately surrender most of the spectrum the FCC seeks, said Rebecca Arbogast, an analyst at Stifel Nicolaus & Co. in Washington.
"The writing is pretty clear on the wall," said Arbogast. "There's such a tremendous appetite for wireless broadband right now, and it's less clear that there's an appetite for traditional broadcasters."
Seizing the broadcasters' spectrum won't disrupt existing TV services, the FCC said, and only 10 percent of the U.S. population watches free TV using an antenna. The agency expects to attract "sufficient broadcaster participation," said Jen Howard, a spokeswoman at the FCC.
No Interference
U.S. airwaves can transmit everything from television signals and mobile-phone calls to FM radio and military communications. The airwaves are sliced into different frequencies, or bands, for specific uses so your phone call doesn't interfere with a top-secret spy mission.
Today, about 300 megahertz of spectrum has been set aside for free over-the-air television. According to the broadband plan, if no broadcasters come forward, the FCC may raise the fees it charges them and prod broadcasters into condensing some of their channels to clear spectrum for broadband. Broadcasters say they won't concede easily.
"To give up our spectrum, in my way of thinking, puts us out of business," said Nexstar's Sook.