3-D Suppliers Work Flat Out for China After 'Avatar'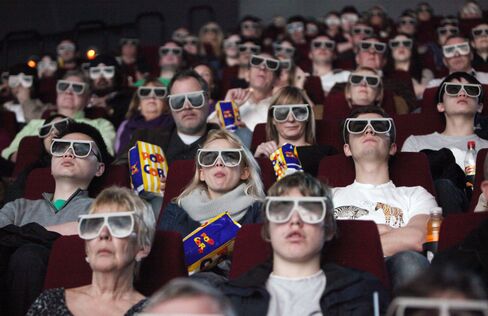 April 1 (Bloomberg) -- Makers of digital movie equipment are forecasting a surge in sales as Chinese and European cinemas upgrade to tap the popularity of 3-D movies such as "Avatar."
Sales at Christie Digital Systems USA, the world's largest maker of digital projectors, may double to $400 million this year if it can meet demand, said Jack Kline, president of the Cypress, California-based company, a unit of Japan's Ushio Inc. Kortrijk, Belgium-based Barco NV, the second largest, estimates revenue will climb 50 percent to $200 million.
The upgrades in Asia and Europe are part of a worldwide trend in theater spending. The three largest U.S. chains are outfitting 14,000 screens for digital projection after raising $660 million. Cinemas charge more for 3-D movies and will benefit from the 19 films scheduled for release this year, up from 14 in 2009, according to researcher Hollywood.com Box-Office. Digital systems also cut costs by eliminating film reels and projectionists.
"We didn't expect China to expand so fast," said Andrew Robinson, managing director at Harkness Screens International Ltd., the largest maker of screens for digital cinemas. Closely held Harkness, based in Dublin, sold 500 screens in China last year, Robinson said.
Harkness is running its U.S. factory around the clock, seven days a week, Robinson said in an interview. A second plant in France is running 18 hours a day, he said. The wait for delivery is 10 weeks, up from the usual four, he said.
Like in the U.S., demand for 3-D theaters in China is increasing following the success of James Cameron's "Avatar," the highest-grossing movie of all time, said Weng Li, a spokesman for China Film Group, the state-run company that controls most cinemas and film distribution in that nation.
'Avatar' Effect
There are about 2,000 digital screens in China, including 800 that are equipped to show movies in 3-D, Li said in an interview. Even small cities in China are installing 3-D equipment, he said.
"Avatar" has generated $193.6 million in ticket sales in China since its release, the film's second-highest grossing nation behind the U.S., according to News Corp.'s Twentieth Century Fox.
China Film Group is seeking bids to add 500 digital projectors over the next four to six months, said John Wilmers, chief executive officer of Ballantyne Strong Inc., an Omaha, Nebraska-based seller of digital cinema equipment and services.
Time Antaeus Media Group, based in China, plans to add 500 to 700, Christie's Kline said.
Ushio was little changed at 1,586 yen yesterday on the Tokyo Stock Exchange. Barco NV rose 9 cents to 33.38 euros on Euronext Brussels. Ballantyne Strong advanced 10 cents to $5.40 in New York Stock Exchange composite trading.
'Jackass'
Rules in China may limit the benefits of 3-D popularity. Some 3-D movies may never be seen in the country because the government allows about 20 foreign films to be shown each year, according to the Motion Picture Association of America.
Consumers may also lose enthusiasm for 3-D as the format becomes more common, said Matthew Harrigan, an analyst with Wunderlich Securities in Denver.
"Do you really need to see 'Jackass' in 3-D," Harrigan said in an interview. "It wouldn't surprise me if we had a little bit of a lull at some point."
Cinema chains worldwide will spend about $1 billion over the next three to four years upgrading screens for digital projection, according to George Hawkey, an analyst at Barclays Capital in New York.
3-D Crunch
DreamWorks Animation SKG Inc.'s "How to Train Your Dragon" opened as the top film at U.S. and Canadian theaters last weekend, posting $43.3 million in ticket sales. The movie played in 3-D at more than half of the 4,055 theaters, according to Box Office Mojo, a Sherman Oaks, California-based researcher. It is competing for 3-D screens with "Alice in Wonderland" and "Clash of the Titans," which Time Warner Inc. is releasing this weekend.
"There is a crunch, no doubt," Harkness Screens International's Robinson said.
In the U.S., theaters will add about 2,500 3-D screens this year to some 3,500 already in place, said John Fithian, president of the National Association of Theatre Owners. The conversion in the U.S. is being financed through a fee studios pay to theaters for movies that are shown on digital screens. Studios will save money as they phase out 35mm prints of movies, which cost about $1,200 each to produce.
Cinema operators benefit because digitally equipped theaters don't need employees to change reels, said David Passman, chief executive officer of Carmike Cinemas Inc., the fourth-largest U.S. chain. All of the projectors in a multiplex can be controlled by a single employee at a computer, Passman said.
Digital Financing
Carmike Cinemas, based in Columbus, Georgia, has 2,288 screens, almost all of them digital, with 500 equipped for 3-D films, Passman said.
Digital Cinema Implementation Partners, a collaboration of Regal Entertainment Group, AMC Entertainment Holdings Inc. and Cinemark Holdings Inc., last month completed financing to convert 14,000 screens to digital projection.
Cinedigm Digital Cinema Corp., a provider of digital services and equipment, has raised $100 million to cover digital conversions for smaller chains, the company said in October.
To contact the reporter on this story: Michael White in Los Angeles at mwhite8@bloomberg.net.
To contact the editor responsible for this story: Anthony Palazzo at apalazzo@bloomberg.net