Hits, Smart Money Ditch Off-Broadway For Tonys: Jeremy Gerard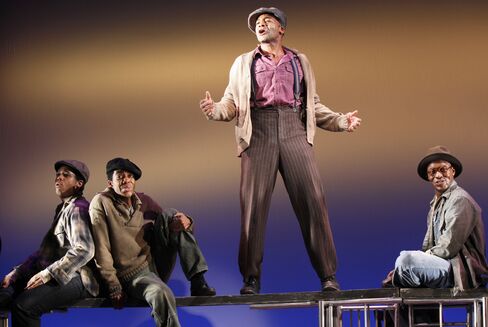 The producers of two new hit musicals, "The Scottsboro Boys" and "Yank!" say they'd rather gamble on Broadway than move into an off-Broadway theater.
The costs are lower, but so are potential profits -- and prestige.
Things have changed plenty in New York since I first started sneaking into plays in the late 1960s.
Back then, the musical "Promises, Promises" began a four-year Broadway run. At the same time, a serious new drama like Israel Horovitz's "The Indian Wants the Bronx" could open off-Broadway at the brand new Astor Place Theater, have a profitable 177-performance run and launch a career (in this case, of an explosive young Al Pacino).
That two-tiered system is all but dead.
Today the money -- and there's a lot of it floating around just now -- is going exclusively to Broadway, where investors will roll the dice for a chance to stand on the stage with a star or two during the broadcast of the Tony Awards.
As executive director of the Vineyard Theatre, Jennifer Garvey-Blackwell is a big believer in off-Broadway. The nonprofit company, operating in a 132-seat theater near Union Square, has developed the Tony Award-winning musical "Avenue Q" and the Pulitzer Prize-winning play "How I Learned to Drive," among others.
Biggest Hit
Earlier in her 13 seasons at the Vineyard, Garvey-Blackwell's options included moving to a commercial off-Broadway house such as the Lucille Lortel when one of her shows struck box office gold.
Today, with "Scottsboro Boys," the biggest hit in the Vineyard's history, it's Broadway or bust.
"Off-Broadway is not an option," Garvey-Blackwell said. The musical, the last show written by the "Chicago" team of composer John Kander and lyricist Fred Ebb, who died in 2004, sold out its entire run, including a two-week extension through April 18.
But "Scottsboro" is a high-risk show about nine young black men charged with raping two white women in the '30s American South. The audience for Broadway musicals isn't typically looking for such strong brew; after all, isn't that what off-Broadway is for?
Not these days.
"It's not a business anymore," said Ben Sprecher. "The economics just don't work. The expenses are too high, the profit margins are too low and the talent won't go there."
Cosmetics Store
Sprecher once presided over three of off-Broadway's best-known theaters: the Lortel, in the West Village, the Variety Arts, in the East Village and the Promenade on the Upper West Side. Today, the Promenade is a Sephora cosmetics store and the Variety Arts is a condominium.
The Lortel, where Lotte Lenya once sang Pirate Jenny in "The Threepenny Opera," is used almost exclusively by the nonprofit MCC Theater. And Sprecher is producing the Broadway-bound musical "Rebecca," based on the Daphne du Maurier novel, which he plans to open first in London next season.
The stagehands union doesn't hold sway over off-Broadway, eliminating one major expense. But other costs, including pay for actors, stage managers, press agents and others, are nearly as high as Broadway's.
So if "Scottsboro Boys," has a future, it will be on Broadway. Garvey-Blackwell said the Vineyard's budget for musicals is $600,000 to $800,000. Moving to Broadway will cost upwards of 10 times that amount.
'Yank!' Too
The producers who raised $325,000 for the nonprofit York Theatre Company's $440,000 production of "Yank!" also want to move to Broadway when it ends its sold-out run this weekend in the Theater at St. Peter's Church in midtown.
Except for its gay lovers, "Yank!" is a conventional romantic musical set against the backdrop of World War II. It has love songs, snappy subplots, big production numbers and an undercurrent of intrigue.
"Direct to Broadway is our first choice," said Stuart Wilk, one of three managing partners for "Yank!" in a producing pool of eight. "Going to a regional theater before coming to Broadway is the second choice."
Some of their advisers have mentioned off-Broadway, Wilk said, calling it "the choice that won't die."
Laying Blame
Off-Broadway managers have themselves to blame for the change, Sprecher said, by charging ticket prices on a par with Broadway. Instead of growing profits, that move scared audiences and investors away.
Wilk and his partners are looking for a theater under 1,000 seats and figure it will cost $5 million to move their show to Broadway. Raising that $5 million may not be nearly as hard as finding the first $325,000 for the York production. Like the creative people who only want to work in a Tony Award-eligible theater, venture capital is following the same pattern.
"The talent only wants to go where you can get a Tony, and the talent drives the business," Sprecher said. "When everyone at the party tells you you're drunk, you'd better sit down."
That's a pittance by today's standards, when new shows like "The Addams Family," which opens next week at the Lunt-Fontanne, cost $16.5 million. That's about the same amount investors put into "A Tale of Two Cities," which opened in the fall of 2008 and closed after 60 performances.
The producers lost their entire investment. And no one in the cast got a Tony nomination, let alone an award.
Before it's here, it's on the Bloomberg Terminal.
LEARN MORE