Rock With Caligula's Hoopster, Dance With Shadows: N.Y. Weekend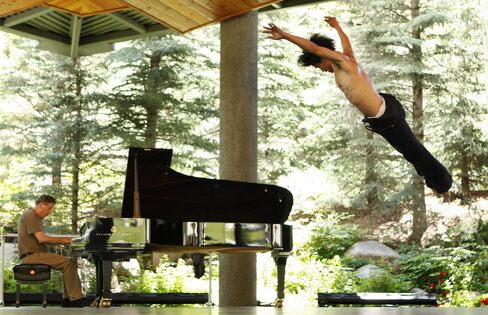 It's spring and time to shake it (or at least to watch someone else shake it).
First stop: La MaMa, mother lode of East Village performance art and general stage mayhem, for "Caligula Maximus." Equal parts circus, rock musical, burlesque show and alt-theater extravaganza, the show packs a lot into 70 memorable minutes that are light on narrative and heavy on energy, not to mention skin. Ryan Knowles plays everybody's fave debauched Roman emperor. His Caligula is a cruel and hedonistic master of these revels, killing, maiming and simulating sex acts on his last day on earth.
Porn star Justine Joli is topless for the duration, while toned Hula Hoop ace Tricia Storie does her thing completely in the buff. You just may find yourself fantasizing what they look like with their clothes on.
Before or after, complete the retro East Village experience with burgers and beer at Phebe's.
La MaMa is at 74 E. 4th St. Information: +1-212-475-7710; http://www.lamama.org
Phebe's is at 359 Bowery; +1-212-358-1902.
If you're Uptown, follow your ears to Radio City Music Hall. Texas rockers Spoon have proven their staying power with such recent hits "You Got Yr. Cherry Bomb" and (apparently with no apologies to Cole Porter) "Don't You Evah." Stay in the Texas groove afterward with a large slab of meat at Del Frisco's.
Radio City Music Hall is on Sixth Avenue at W. 50th Street. Information: +1-212-247-4777; http://www.radiocity.com.
Del Frisco's is at 1221 Sixth Ave; +1-212-575-5129.
Saturday
During a trip to Cambodia in 2000, cultural philanthropist Anne Bass was so moved by the young dancer Sokvannara "Sy" Sar that she sponsored his studies at the School of American Ballet. He ended up dancing with the Pacific Northwest Ballet. Bass's documentary, "Dancing Across Borders," started out as videos she sent to Sy's family but captures the larger journey. The film will run at Quad Cinema today through April 1.
After the flick, renew your acquaintance with the perfectly cooked house made pastas at Il Cantinori.
The Quad is at 34 W. 13th St. Information: +1-212-255-8800; http://www.quadcinema.com.
Il Cantinori is at 32 E. 10th St., +1-212-673-6044.
Baryshnikov's Place
Since 1978, Myrna Packer and Art Bridgman have been making dances that push the form while digging deep into their marriage. Their work has steadily grown more complex as they incorporate electronic gadgetry in a way that enhances the essential humaneness of their work. "Double Expose," finds them interacting in a playfully noirish world of shadows (their own), video images (their own) and animation (you get the idea). Ken Field performs the accompanying score.
Osteria Gelsi serves moderately priced stylish Italian dishes and trendy drinks in an otherwise bleak neighborhood, foodwise.
Bridgman/Packer Dance is at the Baryshnikov Arts Center, 450 W. 37th St. Information: +1-212-868-4444; http://www.bacnyc.org.
Osteria Gelsi is at 507 Ninth Avenue at W. 37t St.; +1-212-244-0088.
Sunday
The chamber music group Sinfonia New York, under John Scott, presents "A Pergolesi Offering: Music of Sacrifice and Redemption." The program includes Pergolesi's glorious vocal setting of the Stabat Mater, composed in 1736 as an update of that old fogey Domenico Scarlatti's 1715 version.
JG Melon, nearby, is a reliably friendly pub stop before or after. A blackboard menu lists the usual bar food; go for the beefy $24.25 sirloin steak served with cottage fries and a salad.
The Church of the Epiphany is at 1393 York Avenue at 74th Street. Information: +1-212-866-0468; http://www.gemsny.org
JG Melon is at 1291 Third Avenue at 74th Street; +1-212-744-0585.
(With assistance from Philip Boroff and Daniel Billy. Jeremy Gerard is an editor and critic for Bloomberg Muse. The opinions expressed are his own.)
Before it's here, it's on the Bloomberg Terminal.
LEARN MORE