U.S. Expands Homeowner Aid to Stem Foreclosure Wave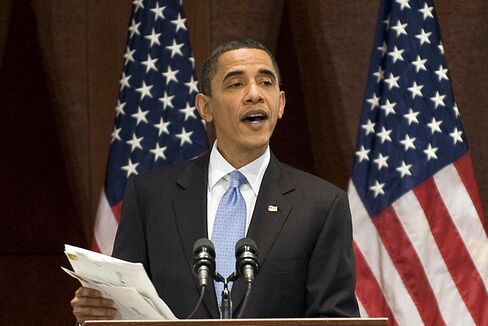 The Obama administration announced programs to help U.S. homeowners avoid foreclosure, including subsidies for borrowers who owe more than their home is worth.
The plan expands Treasury Department and Federal Housing Administration efforts and uses funds from the $700 billion Troubled Asset Relief Program. The administration faced a week of criticism from lawmakers and watchdog groups who say the government hasn't helped enough homeowners stave off foreclosures.
The proposal is part of a broader effort to help the economy recover from the worst recession since World War II, said Diana Farrell, deputy director of the White House's National Economic Council. The Obama administration will work to make sure "the nascent recovery is sustained" and to preserve confidence in Fannie Mae and Freddie Mac, the government-sponsored enterprise mortgage companies, she said.
"We'll continue our very committed support to the GSEs," she told reporters in Washington today.
Foreclosures are expected to climb to 4.5 million this year from 2.8 million in 2009, according to RealtyTrac Inc., an Irvine, California-based research firm. The administration of President Barack Obama and banks including Wells Fargo & Co. and Bank of America Corp. have so far fallen short of meeting goals of the government's foreclosure-prevention program, according to a report by Neil Barofsky, the TARP special inspector general.
Changed Crisis
The Treasury will pay for the initiatives using money from $50 billion already set aside for housing programs. Of that, $14 billion will be allocated to the FHA programs. Herb Allison, the Treasury's assistant secretary in charge of the TARP, said the money is available because "the nature of the housing crisis has changed" since TARP was begun in October 2008.
The plan would increase payments to lenders that modify second mortgages. Banks' unwillingness to write down second liens has helped block efforts to prevent foreclosures, said Josh Rosner, managing director at Graham Fisher & Co., an investment research firm.
The administration proposed allowing more mortgages to be refinanced into FHA guarantee programs if the borrower is current on the loan. The lender would have to cut the amount owed by at least 10 percent to less than the value of the home. The first and second mortgages combined would have to be no more than 115 percent of the home's value.
Barney Frank, head of the House Financial Services Committee, said he welcomed the proposal. In an e-mailed statement, he urged executives from Wells Fargo, Bank of America Corp. and JPMorgan Chase & Co. to explain how they are working on the plan when they appear at an April 13 hearing.
'Vastly Inflated Value'
"Banks continue to carry second liens on their books at vastly inflated value," Rosner said. "If the government reduced their ability to overinflate these assets, the banks would be more willing to engage in principal reductions."
The program isn't likely to reduce earnings at the biggest banks, said analysts including Paul J. Miller at FBR Capital Markets in Arlington, Virginia and Todd Hagerman at Collins Stewart Plc in New York.
"We expect the impact to be minimal," Hagerman said in an interview today. "We've spoken to banks over the past couple of weeks and they've said they expect to accelerate their own home mortgage modification programs. We think the success in limiting foreclosures will come from here rather than the government programs."
The Obama administration didn't say how many homeowners would benefit specifically from the new programs offered today. Officials said the programs will help assist the three to four million borrowers expected to benefit over the life of the broader housing effort.
'Material Difference'
Farrell said the programs should make a "material difference" in the market. She acknowledged that the initiatives won't reach every troubled homeowner.
"We're not going to stop every foreclosure," she said. "It wouldn't be fair. It would be too expensive and we probably wouldn't succeed in any case."
The Treasury plan will help unemployed homeowners reduce mortgage payments for three to six months while they look for work. If homeowners don't find a job in that time, or if they find a new job at a lower salary, they will be evaluated for further assistance.
Critics, including consumer groups and Republican lawmakers, said the administration hasn't yet done enough.
'Disappointed, Disheartened'
The three-month help for unemployed homeowners won't do enough to keep laid off workers from losing their homes, said Lucy Kolin, a board member of the PICO National Network, a coalition of faith-based community improvement groups. Her group has urged the administration to set up a loan program to help borrowers while they search for new employment.
"We are greatly disappointed and disheartened that the Obama Administration is offering little hope to unemployed homeowners facing foreclosure, who are by far the largest group of homeowners facing this," said Kolin, who is based in Oakland, California. "Why do they offer the big banks billions in loans in the TARP bailout program, but offer zero in loans to Main Street unemployed homeowners?"
Under the new programs, existing incentives will be expanded for borrowers with FHA-guaranteed loans, and relocation assistance payments will be doubled for borrowers who have to move out of residences. Servicers will be required to consider principal writedowns when modifying loans and the Treasury will offer incentives for principal reductions.
"We continue to support the government's efforts to prevent foreclosures," said Kevin Waetke, a spokesman for Wells Fargo, the biggest U.S. mortgage lender.