Viennese Meat Dishes Waltz Well With Elusive 'Blue Frank' Wines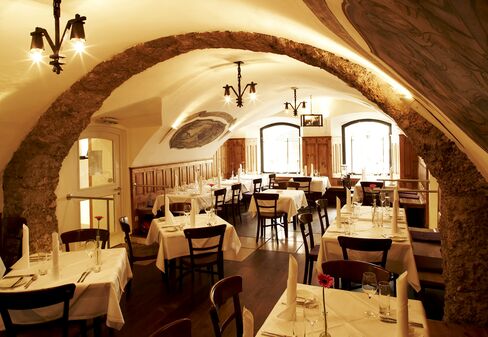 After a bitter cold morning in Vienna on a tour of "The Third Man" movie locations, I deserved lunch at Plachutta, which serves the city's best tafelspitz of boiled meats, horseradish and sour cream.
A pleasure as hearty as that demanded a good Austrian wine -- a sturdy red, not a wimpy white gruener veltliner.
I looked at the wine card and saw several blaufraenkisch labels, none of which I was familiar with. I chose blindly, a Johann Heinrich 2008, and was rewarded with a wonderful example of this little-known wine that makes it out of Austria only in small amounts.
With modest tannins, a distinctive dark, dried-cherry flavor and rarely more than 14 percent alcohol, blaufraenkisch is ideal with tafelspitz, Vienna's namesake Wiener Schnitzel and other Austrian meat dishes. I was surprised that young bottlings from 2007 and 2008 were showing such remarkable zest and balance.
Blaufraenkisch (called Lemberger in Germany and Kekfrankos in Hungary) means "blue Frank," referring to the grape's color and the Franks who established an empire in the Middle Ages. In Viennese dialect, as in English, "frank" also suggests something honest, and there is nothing flamboyant, over-oaked, overripe or flabby about these wines. The good acidity keeps the fruit in check. Occasionally a bit of cabernet sauvignon, merlot or zweigelt may be mixed in.
After drinking a number of examples of blaufraenkisch in Austria last month, I learned that the best come from Central and South Burgenland near the Hungarian border.
Scarce Supply
Within those regions, the best of the best are found in Pottelsdorf, Eisenstadt and Lake Neusiedlersee-Hugelland. They are not made in large quantities and most are sold within Austria, largely to restaurants.
At the beautiful Zirbelzimmer dining room of the Hotel Sacher in Salzburg, I enjoyed a blaufraenkisch that the sommelier said was one of the finest from the area around the villages of Deutsch Schutzen and Eisenberg, from the fifth-generation winery Kritzler. Its Perwolff 2005, which has a little cabernet sauvignon blended in, was clearly made with great care, its balance perfect, its aging in oak timed perfectly to moderate the tannins. It went beautifully with a dinner that included a beef consomme with root vegetables, and an Alpine loin and braised knuckle of lamb in a light garlic sauce.
At the charming, barrel-vaulted restaurant Blaue Gans in Salzburg, I had a choice of lighter or richer styles, the former aged in stainless steel, the latter in barriques, a type of French barrel.
Better by Law
"Austrian wines have improved during the last two decades because of changes in the Austrian Wine Act," said Christina Schachner, the restaurant's food and beverage assistant. "Quantity limitation and investments into modern producing standards such as steel cylinders, oak barrels and electronic devices improved the quality in general and the blaufraenkisch in particular."
As to the wines' aging, she said, "a classic blaufraenkisch reaches its drinking age after three to (better) five years. A good blaufraenkisch can also take up to ten years." Examples that old are hard to find, since the wines tend to get drunk soon after their release.
Austria has built up a considerable reputation in the world market with its gruener veltliners, a white wine I find rarely rises to the quality of red blaufraenkisch (although after sampling a few older vintages in Austria, I'm beginning to believe gruener gets better after five years or more in bottle).
Versatile Red
Austria produces enormous amounts of gruener and little of blaufraenkisch for export. But blaufraenkisch is well worth searching out, not as the noblest wine of eastern Europe but as one of the best buys and most versatile reds. In the U.S., where good wine shops carry one or two examples, blaufraenkisch rarely sells for more than $25, usually more like $17.
If you can find them, the 2001 and 2002 vintages were outstanding for Austrian red wines. And if you want a crash course in blaufraenkisch or any other Austrian wines, book a room at Vienna's Hotel Rathhaus Wein & Design, where the rooms are named after 39 vintners whose wines may be tasted with director Conrad Schropel on request and whose wineries may be visited during day-trips arranged by the hotel.
(John Mariani writes on wine for Bloomberg News. The opinions expressed are his own.)
Before it's here, it's on the Bloomberg Terminal.
LEARN MORE