'PIGS' Crisis Is Opportunity for Euro to Stand Up: Matthew Lynn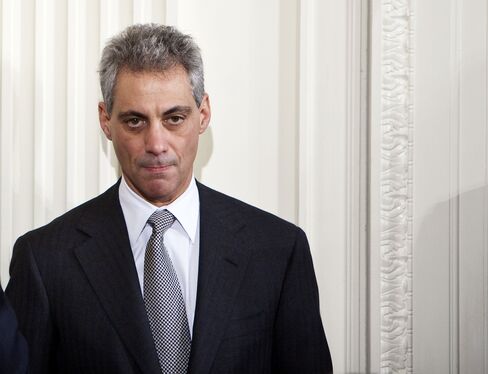 "You never want a serious crisis to go to waste," Rahm Emanuel, U.S. President Barack Obama's chief of staff, said during the 2008 credit crunch. "It's an opportunity to do things that you could not do before."
Somebody should phone the White House, and ask if Emanuel could be flown to Frankfurt for a few weeks.
The euro area and the European Central Bank are now dealing with what markets are calling the "PIGS" crisis: Portugal, Ireland, Greece and Spain. Sometimes Italy is added to the list, but its finances seem to be in slightly better shape.
The bond markets have picked on Greece, punishing the country for running up a budget deficit equal to 12.7 percent of gross domestic product. Now the focus is on other indebted countries in the euro area. Equity and currency markets are jittery as central bankers seek a lasting solution.
It's a crisis, no doubt. But the ECB should, perhaps, see it as an opportunity.
There has been confusion about fiscal responsibility since the euro was created a decade ago. This is the chance to set the record straight. Get this crisis right, and the euro could establish itself as the dominant world currency. Get it wrong, and by 2030 the only place you'll be able to get euro notes will be as souvenirs on EBay Inc.
The nub of the PIGS problem is very simple: For years, they have been able to incur debts in a currency that was far stronger, and had much lower borrowing costs, than the old national ones the euro replaced. Now the bill is falling due. Either they implement tough austerity measures, subjecting their economies to savage recessions. Or else they can quit the euro and introduce a new currency. Either way, the outlook is grim.
There is, however a three-step program, that would manage the crisis and strengthen the euro in the long term.
Here's what the ECB, with the backing of the euro-area governments, needs to do:
Step 1: Stand firm and refuse to offer a bailout.
The bond markets have been assuming that lending to the PIGS was much the same as lending to the U.S. or Japan. In the end, the central bank would always rescue them by printing more money. That was a big mistake.
Explain politely that nobody ever said that was how the euro would work. If you lend money to Greece or Portugal, you have to take a good look at that economy and reach a decision on whether the bond can be repaid, much as you would when deciding whether to buy a bond from Volkswagen AG or BP Plc. Corporations rarely get bailed out by central banks, and they can't devalue their currencies either. Within the euro area, the bond market needs to start functioning much more like the corporate-debt market, with each borrower assessed on its own merits.
Step 2: Organize an orderly default.
It's not going to be possible for the PIGS to meet their obligations. The debt burden is simply too great, well above the euro-area limit of 3 percent of GDP: Portugal's 2009 budget deficit was 9.3 percent; Ireland's was 11.7 percent; and Spain's was 11.4 percent.
If governments slash spending too much, they will drag their economies down too far and too fast. Tax revenue will collapse, making it even harder to repay the debts. They will just get sucked into a vicious circle.
There is a lot of pain to go round, and there is no reason why the bondholders shouldn't share some of it. Companies default on their bonds all the time. So do countries. The PIGS, under the guidance of the ECB, should simply declare a debt restructuring: They can announce a temporary suspension of interest payments, and offer bondholders 50 percent of their money back. It is precisely what would happen if a company was struggling to pay back its debts. There's no reason a euro-area country shouldn't do the same thing. So long as it is done in a controlled way, the situation is manageable.
Step 3: Create a mini-IMF.
In much of the world, the International Monetary Fund is called in when a country gets into a financial mess. It organizes a bailout, and effectively takes control of the nation's economic policies while a rescue package is put in place. The ECB needs to do something similar. If Greece or Portugal defaults on its bonds, it will be hard to raise funds.
In that situation, the ECB should provide bridge loans to get countries through the crisis, in exchange for imposing emergency economic reforms. That will include cuts to state spending and taxes, and rolling back regulations so that economies can grow again. As the IMF has proved, it is often a lot easier for an outside body to impose tough changes than it is for locally elected politicians.
Countries can claw their way back from a fiscal meltdown. The Irish have made a great start, cutting public spending dramatically, while holding corporate taxes down. In effect, they are swapping short-term pain for long-term gain, which is always a lot better than doing it the other way around.
When the euro was introduced in 1999, it wasn't clear whether member states would have to bail each other out and whether economic policies would be imposed from the center.
Those questions should now be answered decisively.
The euro can't survive if members can accumulate huge debts and get other countries to pick up the bill. And, when necessary, there needs to be tough economic medicine imposed by the ECB. The PIGS crisis is a chance to address those two points. The common currency will emerge stronger as a result.
(Matthew Lynn is a Bloomberg News columnist. The opinions expressed are his own.)
Click on "Send Comment" in the sidebar display to send a letter to the editor.